Susan J. Curtin Receives 2023 Richard F. Connolly, Jr. Award for Distinguished Service
The annual Richard F. Connolly, Jr. Distinguished Service Award was established in 2000 in honor of Mr. Connolly, a Ouimet Scholarship Alumnus and former President who has proudly served the Ouimet Fund for over 40 years. Mr. Connolly has been the driving force in starting the Francis Ouimet Award for Lifelong Contributions to Golf Annual Banquets, and has personally been their principal sponsor every year. He has also established an endowed Ouimet Scholarship in his family's name and was honored with the Ouimet Fund's Spirit of Golf Award in 2008. Dick Connolly is the embodiment of everything a Ouimet volunteer can be.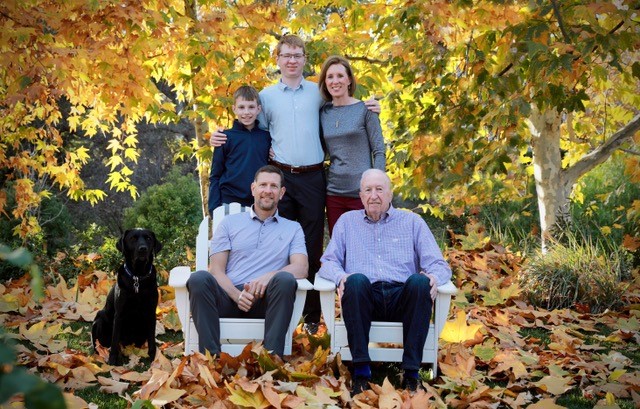 Sue Curtin and her family.
Susan grew up in Westlake Village, California. Having played a variety of sports, she was a self-starter in golf and, on her own, learned to play at a small public executive course. Following one year of Division I golf at Brigham Young University, college brought her east to her family roots in Worcester, MA where she continued her studies and graduated from the College of the Holy Cross. At the same time, Sue enlisted in the United States Coast Guard Reserve, where she served for four years as a Port Security Specialist. She carries on that dedication today, leading a national campaign for the future National Coast Guard Museum in Connecticut, the first and only national service museum established in New England, where Ouimet honoree Arnold Palmer will serendipitously be recognized for his service.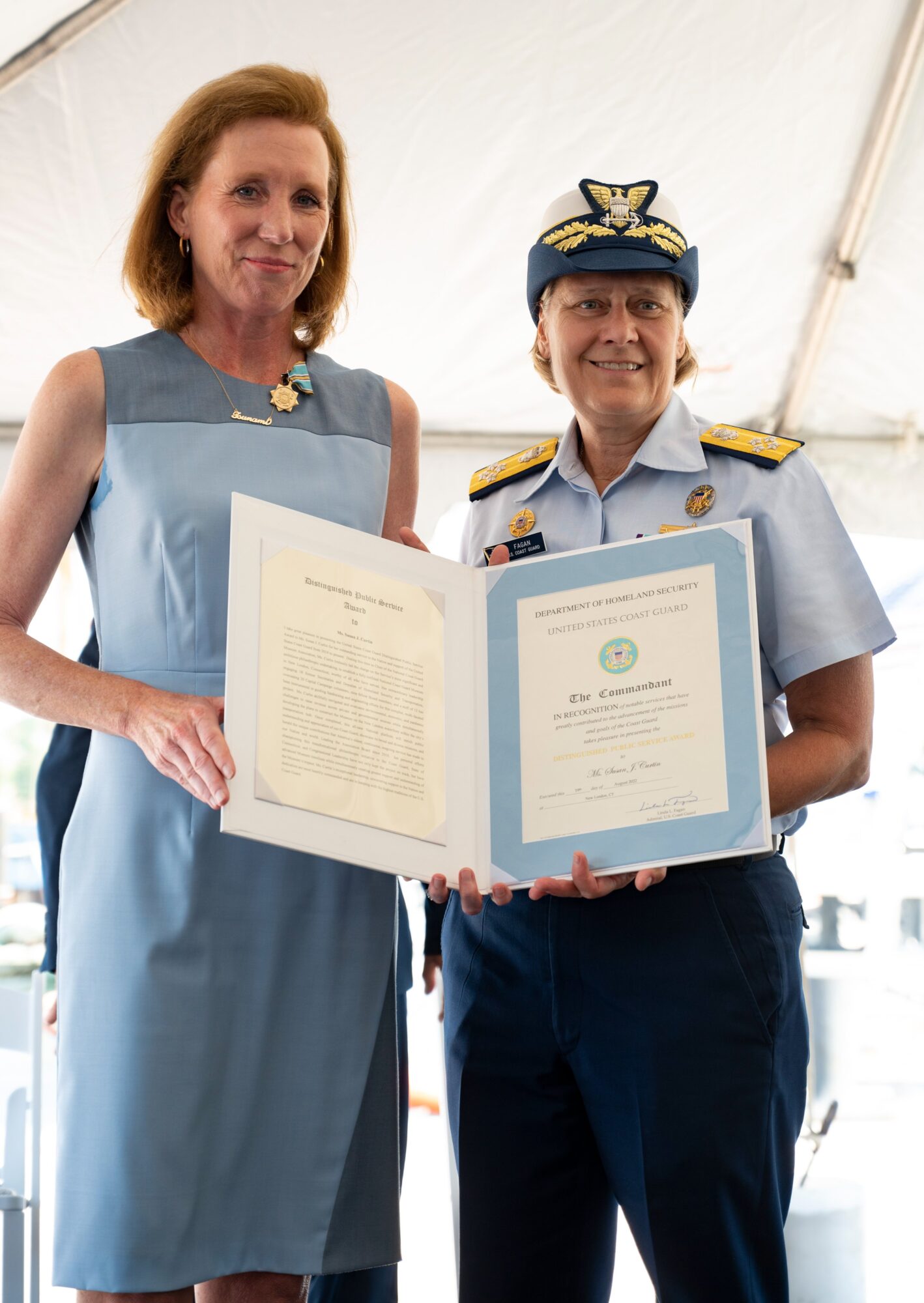 This year the Commandant of the USCG, Admiral Linda Fagan, presented Sue with the Distinguished Public Service Award. Aside from the Gold and Silver Life-Saving Medals, this is the highest public recognition bestowed by the service.
In addition to being president and co-founder of a private family foundation and managing partner in Power Family Enterprises LP, she has dedicated countless time serving on several boards.  These have included the Ouimet Fund, Golf Fights Cancer, the Executive Committee for Mass Golf, Trustee of the College of the Holy Cross, and board member at Boston Children's Hospital Trust. At Children's, Sue helped drive the development of the Cardiac Neurodevelopment Program. Inspired by personal experience with her son Jack, the program was created to research and treat the major unmet needs of children living with congenital heart disease.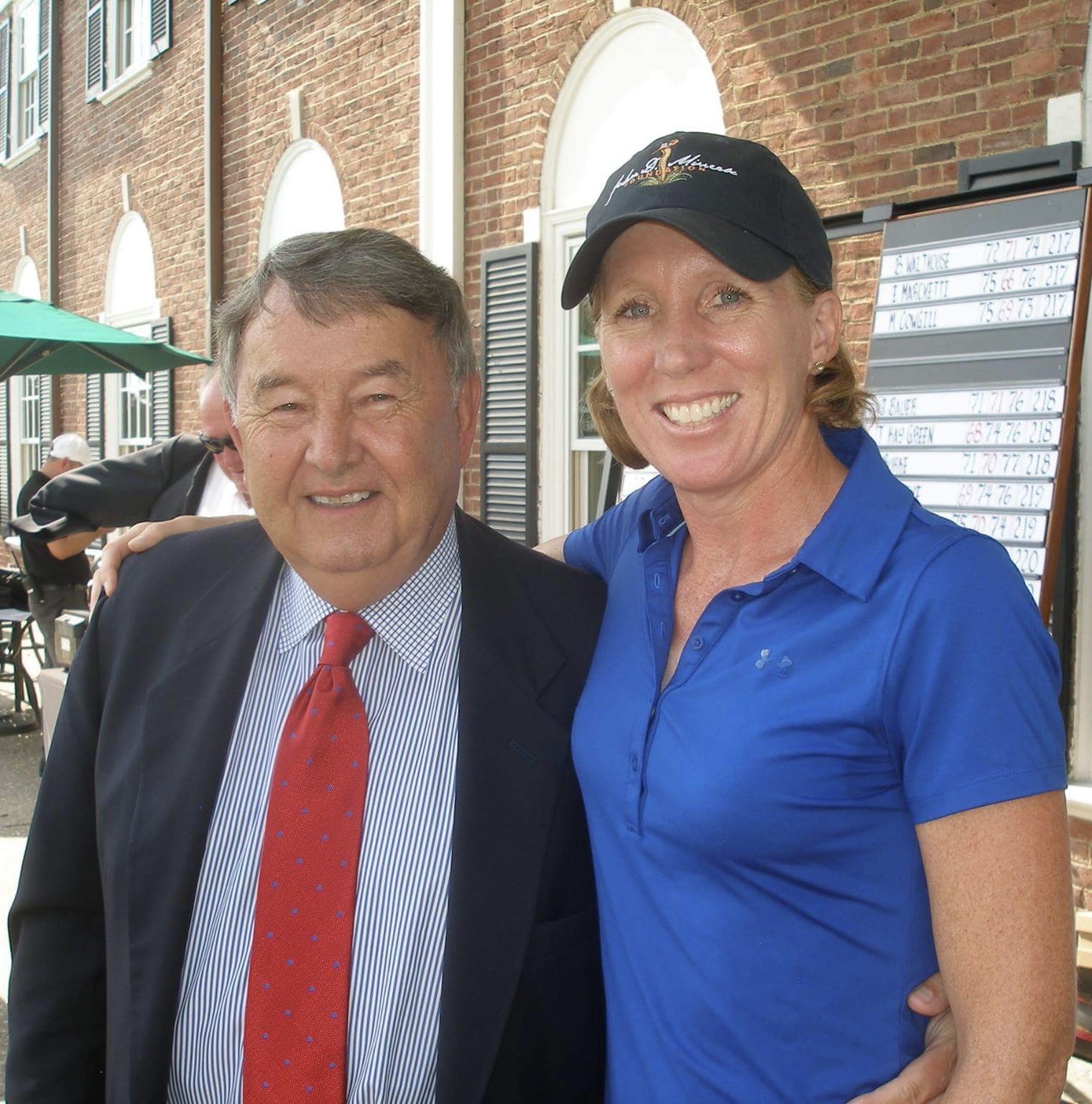 Richard F. Connolly, Jr. and Sue at the 2016 Ouimet Invitational.
A founding member of Boston Golf Club, Sue helped launch the John D. Mineck Memorial Foundation in honor of her dear friend and mentor.  Mineck was the co-founder of Boston Golf Club which boasts one of the largest caddie programs in New England with 10 Ouimet Scholar recipients this year. Subsequently, she is most proud of the efforts to establish the John D. Mineck Endowed Scholarship at the Ouimet Fund which awards an additional Ouimet scholarship to caddies and outside operations staff from Boston Golf Club.
In 2022, Sue, and her husband, Mike, who are both Ouimet Lifetime Members, led a group of Boston Golf Club friends with an opportunity to make an even greater impact in John's name.  The goal was to raise a collective $100,000 in new donations for the endowed scholarship.  Inspiring others with a lead donation, her efforts were rewarded with a total of $125,000- raised.  Competitive by nature this achieved Sue's goal of bringing the Mineck endowed fund measured by principal amount into the top ten of the 183 Ouimet endowed scholarships.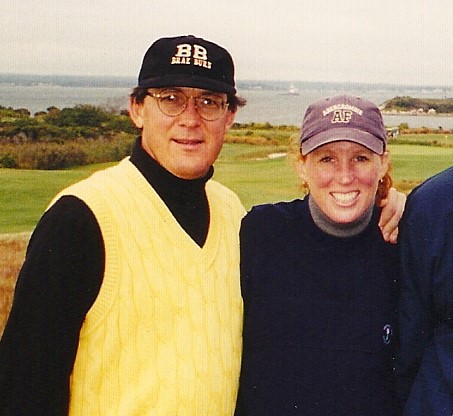 John Mineck and Sue.
"This is a such an honor to be recognized for the Richard Connolly award, especially as it relates to giving back to the game in honor of my mentor and dear friend John Mineck.  This recognition is really about Mr. Mineck, his legacy, and the impact he continues to have on this special community in golf."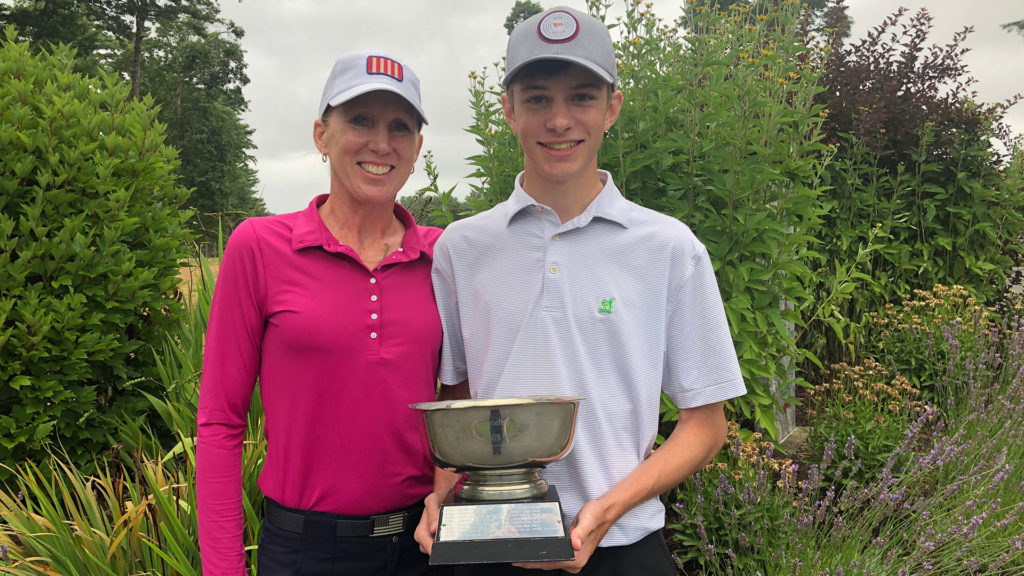 Sue with her son, James.
On the course, you will frequently find Sue competing both locally and nationally, including the Ouimet Invitational. In the last seven years, she's played in over ten USGA Championships and has won seven Championship titles in New England and Mass Golf events. Her most cherished golf accomplishment however is a record-setting ten consecutive wins with her son, James, in the Mass Golf Mother Son Tournament.