Legacy- The Ouimet Fund Podcast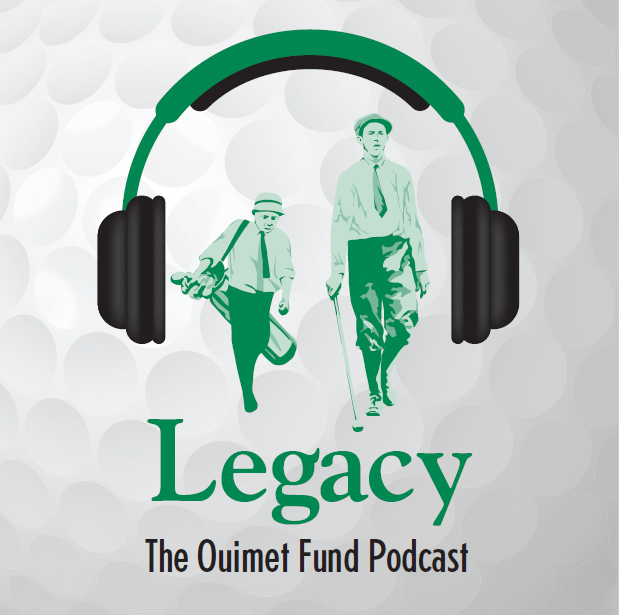 Legacy is the Francis Ouimet Scholarship Fund's podcast. Each episode will feature an interview with someone who has made a significant impact for, or has benefitted from, The Fund – and will dive into the stories of the people connected to Francis Ouimet's legacy. Led by Ouimet staff, these conversations will give greater context to The Fund's mission: awarding millions in need-based scholarships to young men and women who have worked in golf in Massachusetts. Along the way, we will hear unique stories of how golf has made an indelible impact on the lives of business leaders, entrepreneurs, and philanthropists, as well as media and golf personalities.
Recent Episodes
Richard F. "Dick" Connolly, Jr. is the Managing Partner of The Connolly Group at Morgan Stanley based in Boston. Dick is an acclaimed financial professional who has been managing investment portfolios for more than 50 years. Dick Connolly was a Ouimet Scholarship recipient at The College of the Holy Cross and considers the award one of the proudest moments of his life. As one of the top financial advisors in the country today, it all started for him as an eight-year-old caddie at Woburn Country Club. He has never forgotten where he came from, and how he was helped, and thus Dick and his wife Ann Marie have made a lifelong commitment to charitable giving.
In this episode, Dick discusses his dear friend Arnold Palmer, his love for golf and caddying, and of course, Woburn, Massachusetts and the family and friends who shaped who he is today.
Susan J. Curtin grew up in California, and returned home to her family's roots to attend The College of the Holy Cross and enlist in the United States Coast Guard Reserve. In addition to running a private family foundation and business, Sue has dedicated countless time to serving on several non-profit boards. A founding member of Boston Golf Club, which boasts one of the largest caddie programs in New England, she can frequently be found competing in local and national golf championships. For all her efforts on behalf of the Ouimet Fund mission, Sue is also the 2023 recipient of the Richard F. Connolly, Jr. Distinguished Service Award.
In this episode, Sue discusses her father, J.D. Power III, the family business, her golf and educational journey, her dear friend and co-founder of Boston Golf Club – the late John Mineck, as well as chairing the effort for the National Coast Guard Museum.
This episode features a discussion with entrepreneur Josh Belinsky, Co-Founder of Slate Milk, a rapidly growing all-natural canned chocolate milk and latte brand, founded by Josh and his good friend from Northeastern, Manny Lubin. Josh and the team at Slate have taken an idea – that the love of chocolate milk as an adult is not only okay, but can be a healthy alternative to other drinks – and turned it into a multi-million dollar business which is currently undergoing a $10.5 million Series A fundraising to widen its expansion. But long before Josh was a successful entrepreneur, he could be found at Blue Hill Country Club in Canton, MA, where he worked as a caddie for 10 years through high school and college. This experience led him to learn about the Ouimet Scholarship, which he earned as he entered his freshman year at Northeastern. Josh was such a standout Ouimet Scholar that he was chosen to be the Student Speaker at the 2018 Annual Banquet and wowed the crowd with his humor, his openness about his mental health struggles, and his entrepreneurial spirit. Today, Josh is on the Ouimet Fund's Board of Directors as a young Alumni leader, and has been giving back since graduation.
Tom Hynes is Co-Chairman of Colliers International Boston. Through more than 50 years in the industry, Tom has represented a wide array of clients and is an active participant in real estate organizations in the Greater Boston area as well as throughout the country.
Tom has an incredibly unique connection to the story of Francis Ouimet.  In 1999, Tom befriended the owners of Francis Ouimet's childhood home at 246 Clyde Street in Brookline, and said to them "When you're ready to sell your house, I'm your buyer." In 2019, the option to purchase came to fruition, and since then Tom has been working nonstop to renovate what has become a modern-day museum into an essential location in American sports history.
Ryan Carey is the President and Founder of Golden Age Golf Auctions, the world's leading golf collectibles and memorabilia auction house. Among some of the record-breaking items Ryan and his company have helped source and auction are multiple Masters winner trophies, tournament used items from some of the greatest golfers in history, and of course, the record setting sale – auctioning Tiger Woods' irons from the "Tiger Slam", often referred to as the greatest stretch of golf in history, which sold for $5.15 million dollars in the summer of 2022.
In this episode, we discuss the rise and global expansion of Golden Age Auctions, as well as how Ryan first began his partnership with the Ouimet Fund. Over the last six years, Ryan's work on behalf of The Fund has helped raise more than $1 million for need-based Ouimet Scholarships, something Ryan is deeply proud of. Through this work, Ryan has helped keep the Ouimet legacy in the forefront by spreading the story of Francis and Eddie to new supporters each year.
Maddy Belden is a PGA Professional, currently working as an Assistant Golf Professional at Salem Country Club. She has been around the golf industry her entire life, as her father was the Head Golf Professional at Worcester Country Club for 20 years.
Maddy attended College of the Holy Cross as a Ouimet Scholar and graduated in 2020 with a degree in International Relations. She was a four-year member and two-year captain of the Women's Golf Team at Holy Cross, and during college, Maddy interned with the New England PGA. Upon graduation, she took a position as an Assistant Professional at Brae Burn Country Club. In January 2022, Maddy was elected Class A PGA membership, and she currently serves on various boards and committees, including the National PGA Employment Committee and is the Secretary of the Massachusetts Chapter. She is determined to make golf more accessible and fun for women and girls.
Jesse Menachem is the Executive Director and CEO of Mass Golf. Raised in Framingham, MA, Jesse attended Indiana University as an Undergraduate and during his summers home from college worked as a USGA Boatwright Intern for the then Massachusetts Golf Association (now Mass Golf).
After being hired full time by the MGA in 2008, Jesse spent five years working in multiple departments throughout golf administration before being hired as the Executive Director of the MGA at the age of 27. Jesse is the youngest Executive Director in Mass Golf's 120-year history, and remains one of the youngest in the country to hold this position at a state or regional golf association.
Under his leadership, the staff size of Mass Golf has nearly tripled, and the organization is on the cutting edge across multiple departments – from the quality of the championships they run, to the scale of their communications and marketing efforts, to their work with the First Tee of Massachusetts and other charitable endeavors. He remains such a leader in the industry that in 2021, Jesse was named the President of the International Association of Golf Administrators, an organization which supports all state and regional golf associations across the country.
Jesse lives in Needham, MA with his wife Stephanie and three children.
Dr. Jacqueline Moloney is a current Professor and Chancellor Emerita of UMass Lowell. Dr. Moloney had a long and accomplished career during her nearly forty years at the University, and served as the first female Chancellor from 2015-2022 after coming up through the ranks as a faculty member, administrator, Dean and Executive Vice Chancellor. Throughout her career, Dr. Moloney has been recognized as a national leader in innovation and entrepreneurship in higher education. As Chancellor, Dr. Moloney led the University through the successful completion of its "2020 Strategic Plan", which she spearheaded in 2010 as Executive Vice Chancellor, resulting in UMass Lowell nearly doubling its enrollment to 18,000 students, transforming the student experience, revitalizing the campus infrastructure and quadrupling its scholarship endowment. Prior to coming to UMass Lowell, Dr. Moloney was a director of several non-profit agencies and programs in the Lowell area. Dr. Moloney currently serves as a member of the Graduate School of Education faculty, and as Senior Fellow and Advisor to the University's Donahue Center for Ethics and Social Responsibility.
A tremendous supporter of the Ouimet Fund and its mission, Dr. Moloney and UMass Lowell have hosted on-campus Ouimet events in the past, and each year nearly 20 Ouimet Scholars proudly attend the University. She is also a proud proponent of Ouimet Scholars and the Ouimet program at her beloved Vesper Country Club.
Don Hearn is the Executive Director of the Golf Course Superintendent's Association of New England and a close partner and friend to the Ouimet Fund. Don has spent his entire life and career devoted to golf, from his early days caddying at Woburn Country Club all the way through to his present day role running the daily operation of the GCSANE. Don graduated from Stockbridge Agricultural School at UMass Amherst, and throughout his impressive career, Don spent nearly forty years working at several top courses in Massachusetts, including as Head Superintendent of Weston Golf Club, Lexington Golf Club and Vesper Country Club.
While still acting as a Head Superintendent in Massachusetts, Don was elected President of the Golf Course Superintendent Association of New England in 1984, and in 2004 was awarded the organization's Distinguished Service Award. In 1987, Don was elected President of the Golf Course Superintendents Association of America, a nationwide organization leading their field. Among his many achievements in this role, Don led the organization in revamping its certification process and program, which to this day remains the mark of top superintendents throughout the country. He also excelled in the industry through service and leadership, having served as a member of the USGA Green Section committee and the Massachusetts Golf Association Executive Committee. Known to those close to him for his quick wit, he is widely respected by his peers, and continues to lead the Golf Course Superintendents Association of New England, especially in pushing for additional recognition for the hard work of the superintendent teams day in and day out at courses throughout the region.
Mark Frost is an American novelist, screenwriter, film and television producer and director. He is the author of The Greatest Game Ever Played, as well as the screenwriter and producer of the film adaptation of the book. He is also the co-creator of the mystery television series Twin Peaks and was a writer and executive story editor of Hill Street Blues.
Mark was born in Brooklyn to Mary Virginia Calhoun and actor Warren Frost. During his childhood, Mark was raised in Los Angeles and spent his adolescence in Minneapolis, and spent two years in an internship program studying and working at Minneapolis' Guthrie Theater. Mark subsequently enrolled in Carnegie Mellon University studying acting, directing, and playwriting.
Throughout his successful career, Mark has written novels, screenplays and theatre productions, however, in the Ouimet Fund world, Mark is most famous for having written The Greatest Game Ever Played, which captured Francis Ouimet's victory at the 1913 U.S. Open and the seminal moment in the beginning of American golf. The novel is remembered as one of the greatest sports books of all time. Mark subsequently wrote and produced the film adaptation, which starred Shia LaBeouf and was directed by Bill Paxton.
Mark has firmly established himself as a dear friend to the Ouimet Fund, the Ouimet community and the families of Francis Ouimet and Eddie Lowery. He and his wife generously created an endowed scholarship with the Ouimet program, which provides an award each year for a young man or woman studying art, dance, theater or film.