Legacy- The Ouimet Fund Podcast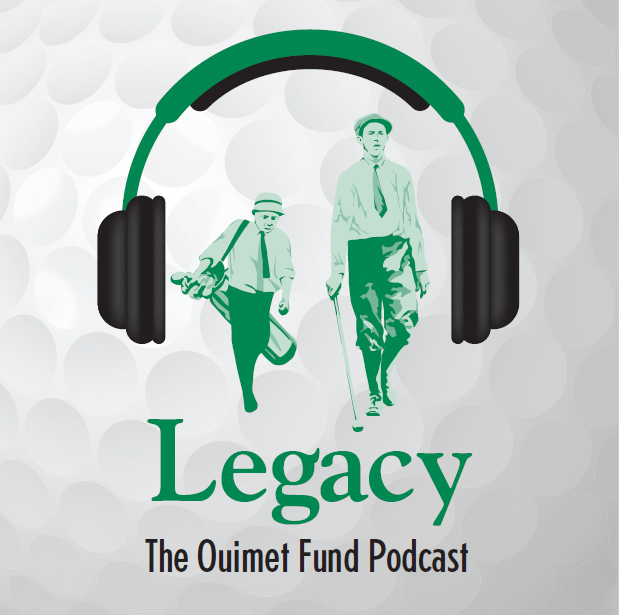 Legacy is the Francis Ouimet Scholarship Fund's podcast. Each episode will feature an interview with someone who has made a significant impact for, or has benefitted from, The Fund – and will dive into the stories of the people connected to Francis Ouimet's legacy. Led by Ouimet staff, these conversations will give greater context to The Fund's mission: awarding millions in need-based scholarships to young men and women who have worked in golf in Massachusetts. Along the way, we will hear unique stories of how golf has made an indelible impact on the lives of business leaders, entrepreneurs, and philanthropists, as well as media and golf personalities.
Recent Episodes
Richard F. "Dick" Connolly, Jr. is the Managing Partner of The Connolly Group at Morgan Stanley based in Boston. Dick is an acclaimed financial professional who has been managing investment portfolios for more than 50 years. Dick Connolly was a Ouimet Scholarship recipient at The College of the Holy Cross and considers the award one of the proudest moments of his life. As one of the top financial advisors in the country today, it all started for him as an eight-year-old caddie at Woburn Country Club. He has never forgotten where he came from, and how he was helped, and thus Dick and his wife Ann Marie have made a lifelong commitment to charitable giving.
In this episode, Dick discusses his dear friend Arnold Palmer, his love for golf and caddying, and of course, Woburn, Massachusetts and the family and friends who shaped who he is today.
Susan J. Curtin grew up in California, and returned home to her family's roots to attend The College of the Holy Cross and enlist in the United States Coast Guard Reserve. In addition to running a private family foundation and business, Sue has dedicated countless time to serving on several non-profit boards. A founding member of Boston Golf Club, which boasts one of the largest caddie programs in New England, she can frequently be found competing in local and national golf championships. For all her efforts on behalf of the Ouimet Fund mission, Sue is also the 2023 recipient of the Richard F. Connolly, Jr. Distinguished Service Award.
In this episode, Sue discusses her father, J.D. Power III, the family business, her golf and educational journey, her dear friend and co-founder of Boston Golf Club – the late John Mineck, as well as chairing the effort for the National Coast Guard Museum.
This episode features a discussion with entrepreneur Josh Belinsky, Co-Founder of Slate Milk, a rapidly growing all-natural canned chocolate milk and latte brand, founded by Josh and his good friend from Northeastern, Manny Lubin. Josh and the team at Slate have taken an idea – that the love of chocolate milk as an adult is not only okay, but can be a healthy alternative to other drinks – and turned it into a multi-million dollar business which is currently undergoing a $10.5 million Series A fundraising to widen its expansion. But long before Josh was a successful entrepreneur, he could be found at Blue Hill Country Club in Canton, MA, where he worked as a caddie for 10 years through high school and college. This experience led him to learn about the Ouimet Scholarship, which he earned as he entered his freshman year at Northeastern. Josh was such a standout Ouimet Scholar that he was chosen to be the Student Speaker at the 2018 Annual Banquet and wowed the crowd with his humor, his openness about his mental health struggles, and his entrepreneurial spirit. Today, Josh is on the Ouimet Fund's Board of Directors as a young Alumni leader, and has been giving back since graduation.