For so many in the Ouimet community, just hearing the name Tom Riordan elicits some form of emotional response, be it through a smile, a laugh, or a personal story.
Tom had a lifelong connection to golf and the Ouimet Fund that would be hard to top. As a teenager, Tom deeply enjoyed caddying at Wollaston Golf Club and, from his efforts, earned a Ouimet Scholarship to Boston College, where he played golf and eventually captained the team. In the years following graduation, Tom became the Head Golf Professional at New Seabury Golf Club (now The Club at New Seabury).
Although he spent most of his career in retail sales and marketing, Tom always remembered his roots in golf and proudly supported the Ouimet Fund each year. Tom would spend 18 years on the Board of Directors and be honored as the Richard F. Connolly, Jr. Award recipient at the 2019 Annual Banquet, where his family, friends, and colleagues came together to fund The Riordan Family Scholarship in his honor. Today, that scholarship is one of The Fund's largest endowments.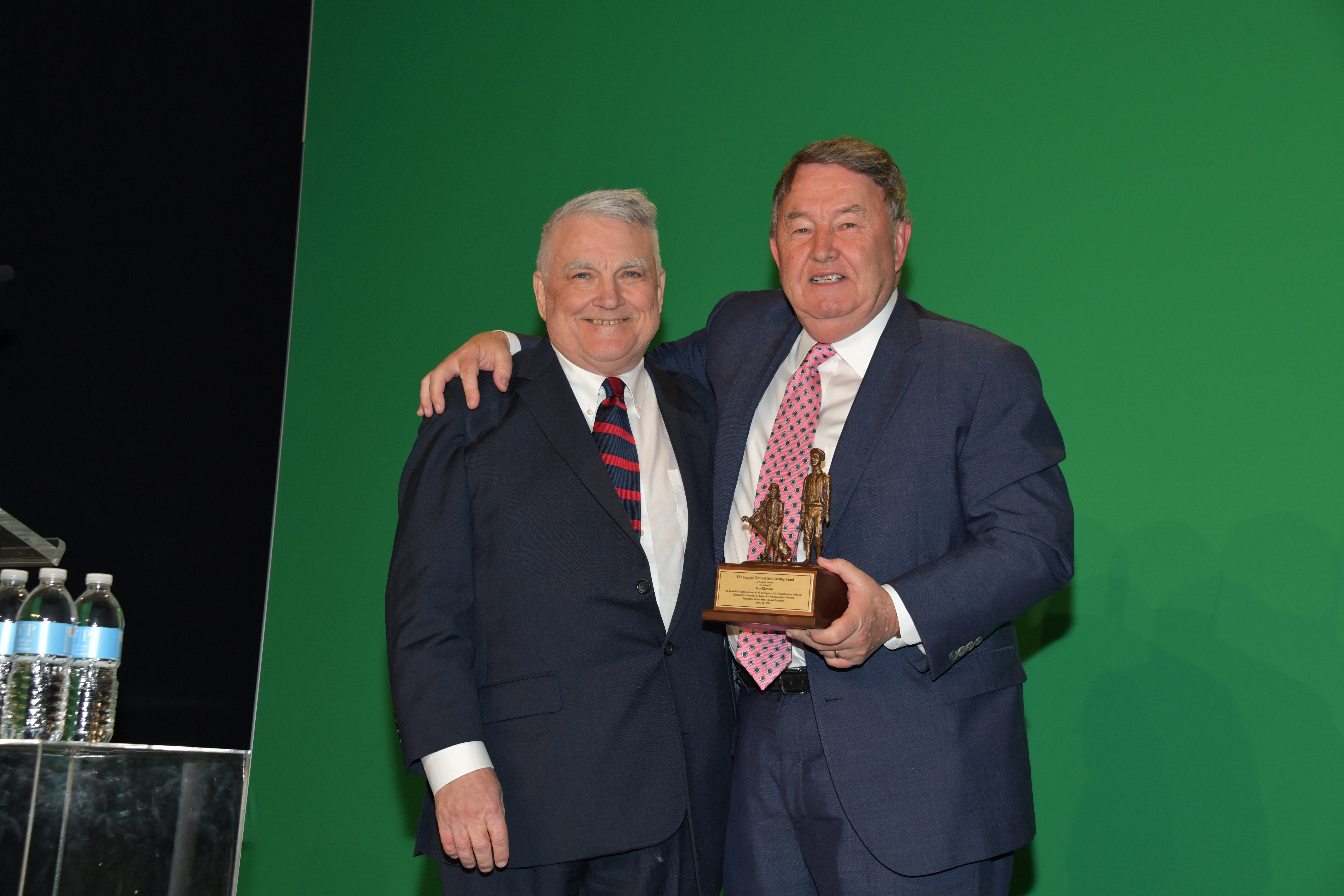 Tom Riordan received the annual Richard F. Connolly, Jr. Distinguished Service Award at the 2019 Annual Banquet.
Tom's son, Sean Riordan, sees the endowment as a continuation of his father's legacy.
"This endowment continues a lifelong passion of my dad's, supporting young men and women that work tirelessly on the golf course and enabling them to achieve their greatest potential," Sean Riordan said. "Sacconnesset is the perfect home for dad's scholarship; the club places an emphasis on its caddie program that reminded him of the good old days at Wollaston, where the caddie was an integral part of the golf experience. He would be proud to see the young men and women benefiting from a scholarship in his name."
Like his father, Sean is a Ouimet Alumnus and has been a Board Member since 2019. His desire to support The Fund and pay it forward stems from the example his father set throughout his life.
"The Ouimet Fund played an integral role in my dad's life," Riordan said. "It had the tangible impact of helping to advance his education. But more importantly, some may argue, his Ouimet Scholarship allowed him to continue working on the golf course when not in school. It was on the golf course where he learned lifelong skills that could never be learned in a classroom – how to engage with folks his age and much older, how to pick someone up when they are down, how to be a competitor. He was very aware of what Ouimet gave him and made it a point to ensure that any caddie he took was aware of The Fund. I am honored to now be a member of the Board and carry my dad's legacy of appreciation for and promotion of the Ouimet Fund."
Proceeds from the 2019 Annual Banquet contributed to the establishment of The Riordan Family Scholarship. When it was announced that Tom was being honored at the event, dozens of new sponsorships and tables were purchased, and hundreds of additional people were in attendance to support the man they loved.
Tom Riordan spoke at the 2019 Annual Banquet after being honored as the Richard F. Connolly, Jr. Award recipient.
"The 2019 Banquet was a ton of fun, and I felt a lot of pride," Riordan said. "My dad got a standing ovation, and everyone was chanting his name so loud he couldn't even speak. We knew his days were numbered, and his friends knew too, so that night was special."
In 2019, Tom passed away following a courageous battle with cancer.
Tom's legacy lives on each year through the Tom Riordan Memorial Tournament, held at Sacconnesset Golf Club. Friends of the Riordan family and Sacconnesset's outstanding caddie program participate in the golf event, with proceeds adding funds to the endowment.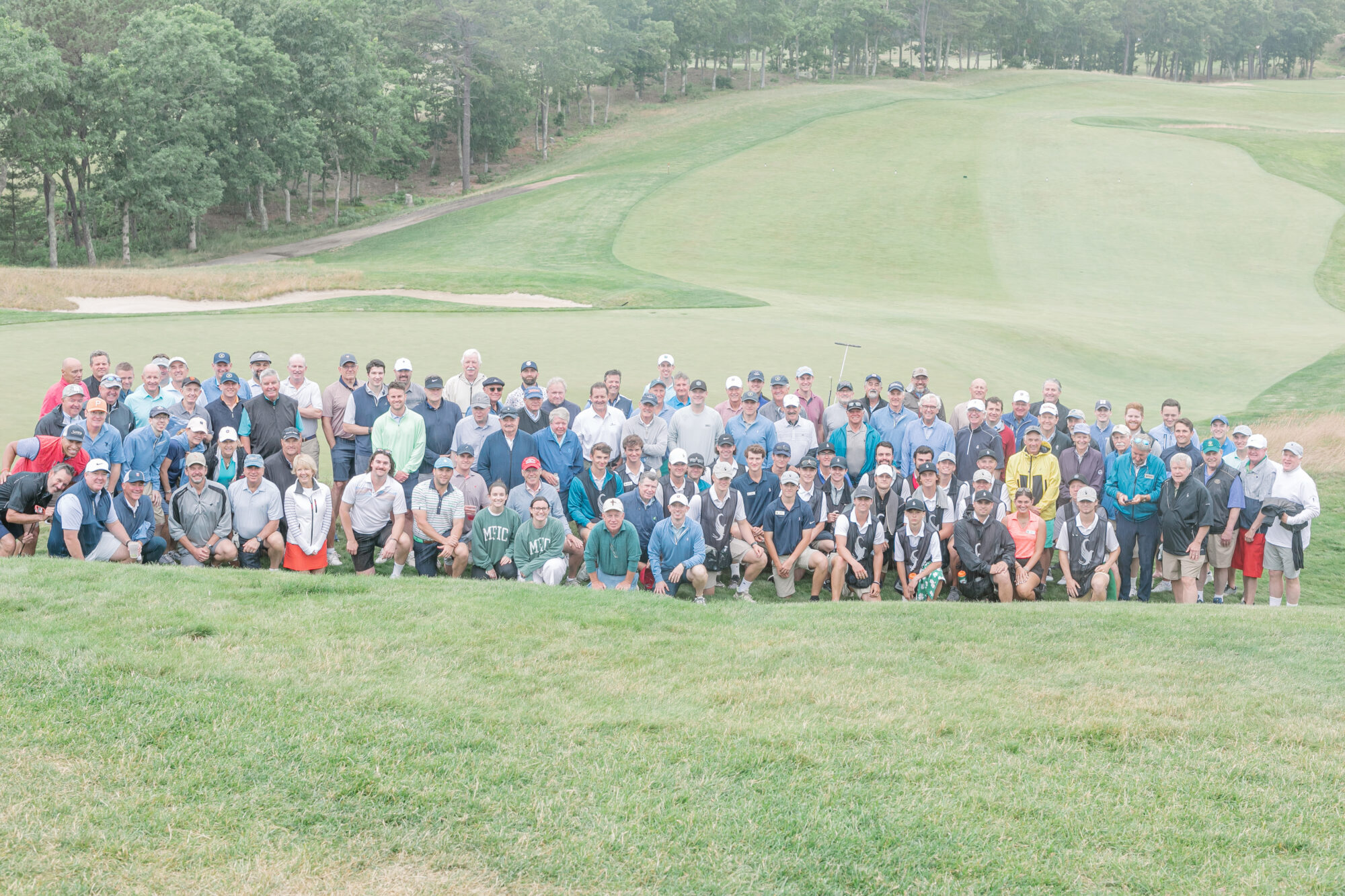 Sean Riordan with his family and friends at the 2022 Tom Riordan Memorial Tournament at Sacconnesset Golf Club.
"The primary focus is to honor my dad's legacy and get friends together for a fun time," Riordan said. "My dad was enthusiastic about Sacconnesset's great caddie program because the club's culture encourages members to take caddies and develop the young men and women out there."
This year's recipient of The Riordan Family Scholarship is Max Marinelli, a Central Connecticut State University senior majoring in Construction Management. He started caddying at Sacconnesset when he wasn't much bigger than the golf bags.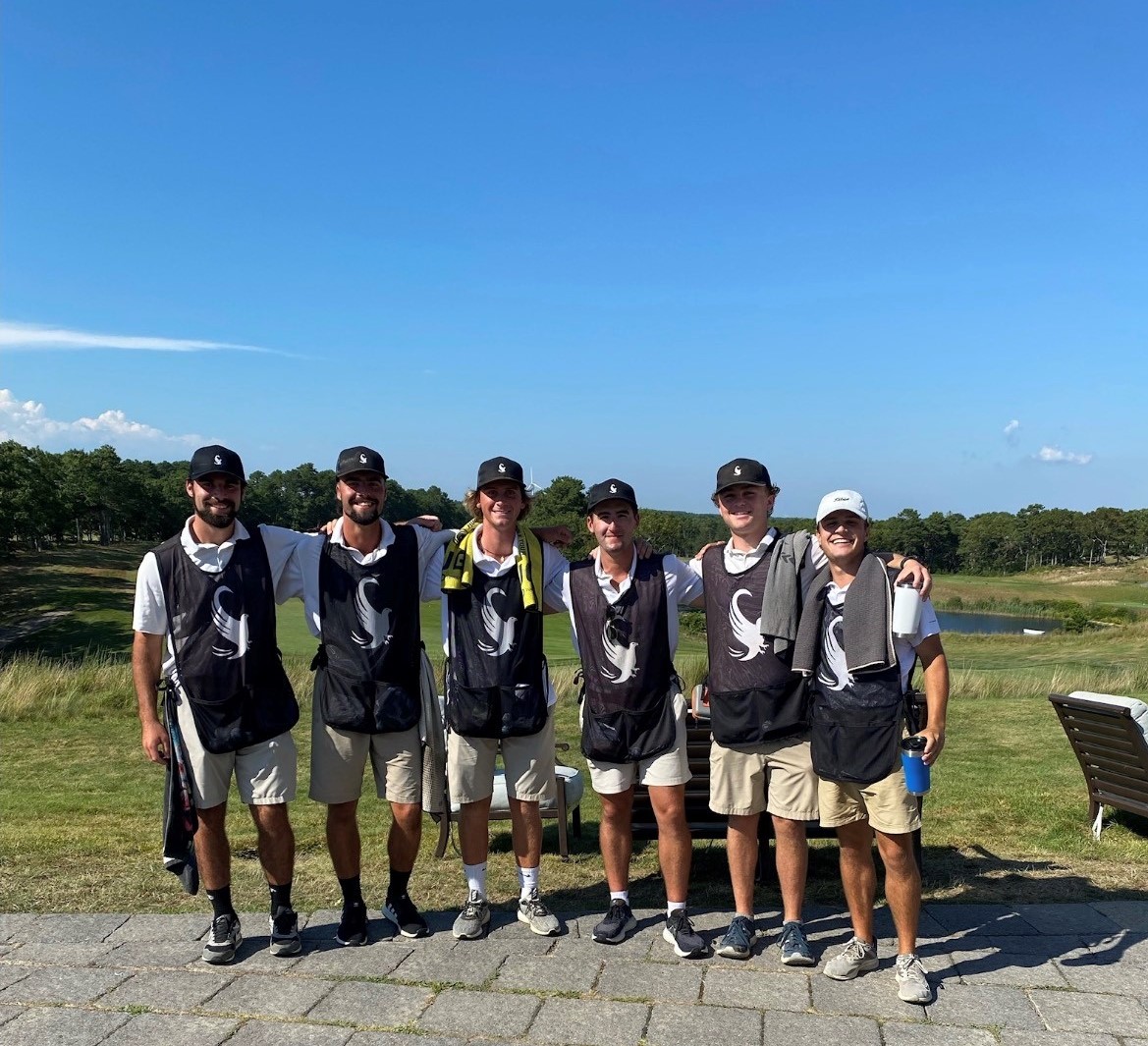 Max Marinelli with his twin brother and fellow Ouimet Scholar Dante Ritchey, with caddies at Sacconnesset Golf Club.
"My twin brother and I started working there together when we were five feet tall and barely 100 pounds," Max Marinelli said. "The older caddies showed us the ropes, and I have many fun memories from working there over the years."
Max worked there every summer through 2021 and views the staff and membership at Sacconnesset as an extended family. He credits caddying there for sharpening his etiquette skills and assisting him professionally.
"The greatest lesson I learned from working in golf is developing my social skills," Marinelli said. "My brother and I noticed in high school that our social skills were better than some of our friends because working with adults forces you to handle yourself differently. Being around people at the club taught me how to set goals and carry myself."
As is often the case with young people working in golf, Max personally connected with a member who helped shape his career path. The summer before college, he was caddying for a member who worked in construction management, and he gave Max his contact information at the end of the round.
"It wasn't my time yet to get an internship, and I was still deciding what I wanted to do, but we maintained a connection over the years," Marinelli said. "I called him last year, and he offered me an internship working for his company in construction management."
Max worked over 500 hours as an assistant project manager throughout his internship. The skills and confidence gained helped him secure a full-time job at Whiting-Turner immediately following graduation this June.
"I'm leaving college with my dream job thanks to that connection," Marinelli said. "Having that internship on my resume was a tremendous help in getting my full-time job."
Like Sean, Max feels a special connection to Sacconnesset. His older brother Mark was a longtime caddie there, and the Marinelli family hosts the Mark Ritchey Memorial Tournament yearly in honor of him, who passed away in 2018.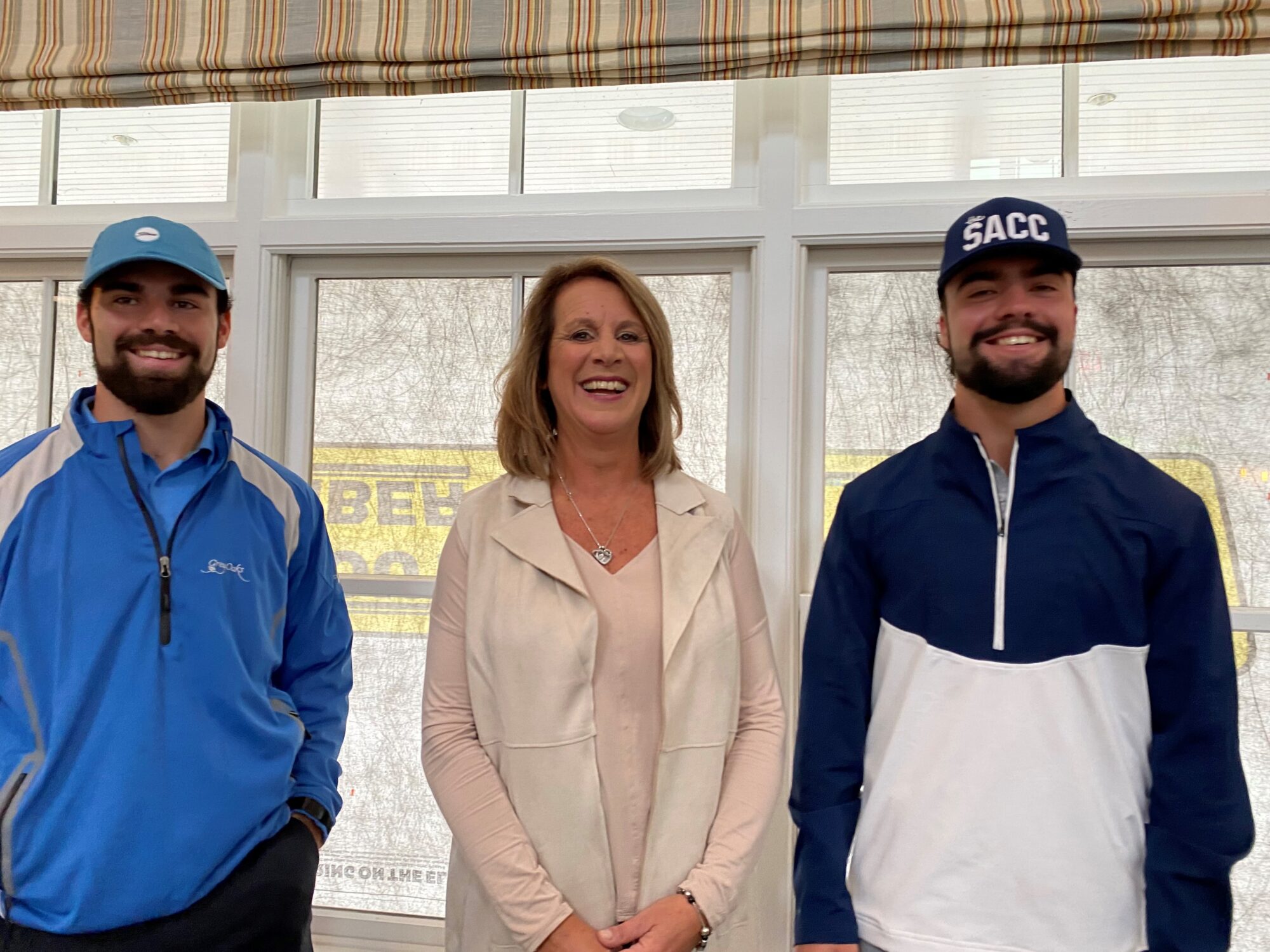 Max Marinelli, with his mother Michelle Marinelli, and twin brother Dante Ritchey at the 2022 Mark Ritchey Memorial Tournament at Sacconnesset Golf Club.
"We're not members at Sacconnesset, so the fact that they hold this tournament is a huge honor and shows the amount of respect the staff and members have for my family there," Marinelli said. "The membership plays a big role in allowing us to host it, and it's such a big help to our family."
Max was shocked to learn he received The Riordan Family Scholarship this year.
"I didn't expect it at all, and I felt instant relief," Marinelli said. "I had to take some summer and winter classes, so I was stressed about everything adding up. It's an honor receiving such significant support from The Fund, and it takes the stress off me."
In addition to relieving some financial concerns, Max feels connected to his brother with this award.
"It feels like my brother was a part of this, and it's nice to feel the support people have for him," Marinelli said. "I'm proud to be part of The Fund, and it makes me excited to one day be in a position to start donating myself."