In 2019, it became clear that the Ouimet Fund staff would no longer be able to facilitate the volume of outreach from Scholars and Alumni looking to expand their professional network. With more than 6,000 Alumni and 440 annual Scholars, trying to help each young person who reached out for professional connections, internship recommendations, or full-time hiring guidance was nearly impossible. However, the staff and board of directors were aware of the desire of those in the Ouimet community to further "pay it forward" for current Scholars and recent Alumni, and knowing the caliber of Ouimet talent, would likely want to hire those young people.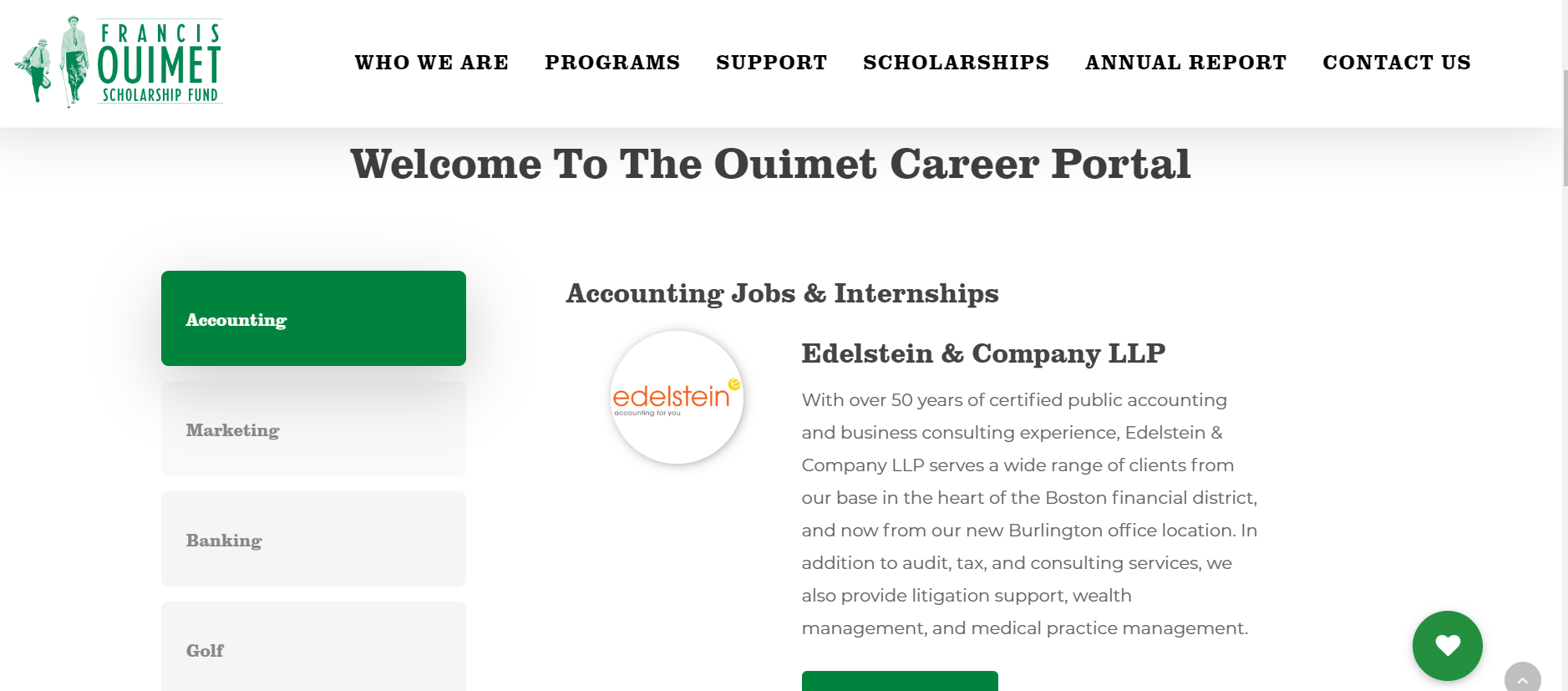 The Career Portal connects Ouimet Scholars with our partner companies who are looking to hire interns and full-time employees. It is password-protected and free of charge.
"We knew that if we just created the infrastructure, the talent of Ouimet Scholars and the vast network of Alumni and friends could allow new opportunities for career assistance within the Ouimet community," said Colin McGuire, The Fund's Executive Director. "All of a sudden, the Ouimet program could offer scholarship awards and help prepare these young people for life after college."
Thus, the career resource program, dubbed Ouimet Onward, was established in 2019 to offer professional development assistance. The program provides Scholars and Alumni the opportunity to focus on networking and career exploration to help them be successful in their professional careers. It was also important to offer this value to the recipients entirely free of charge.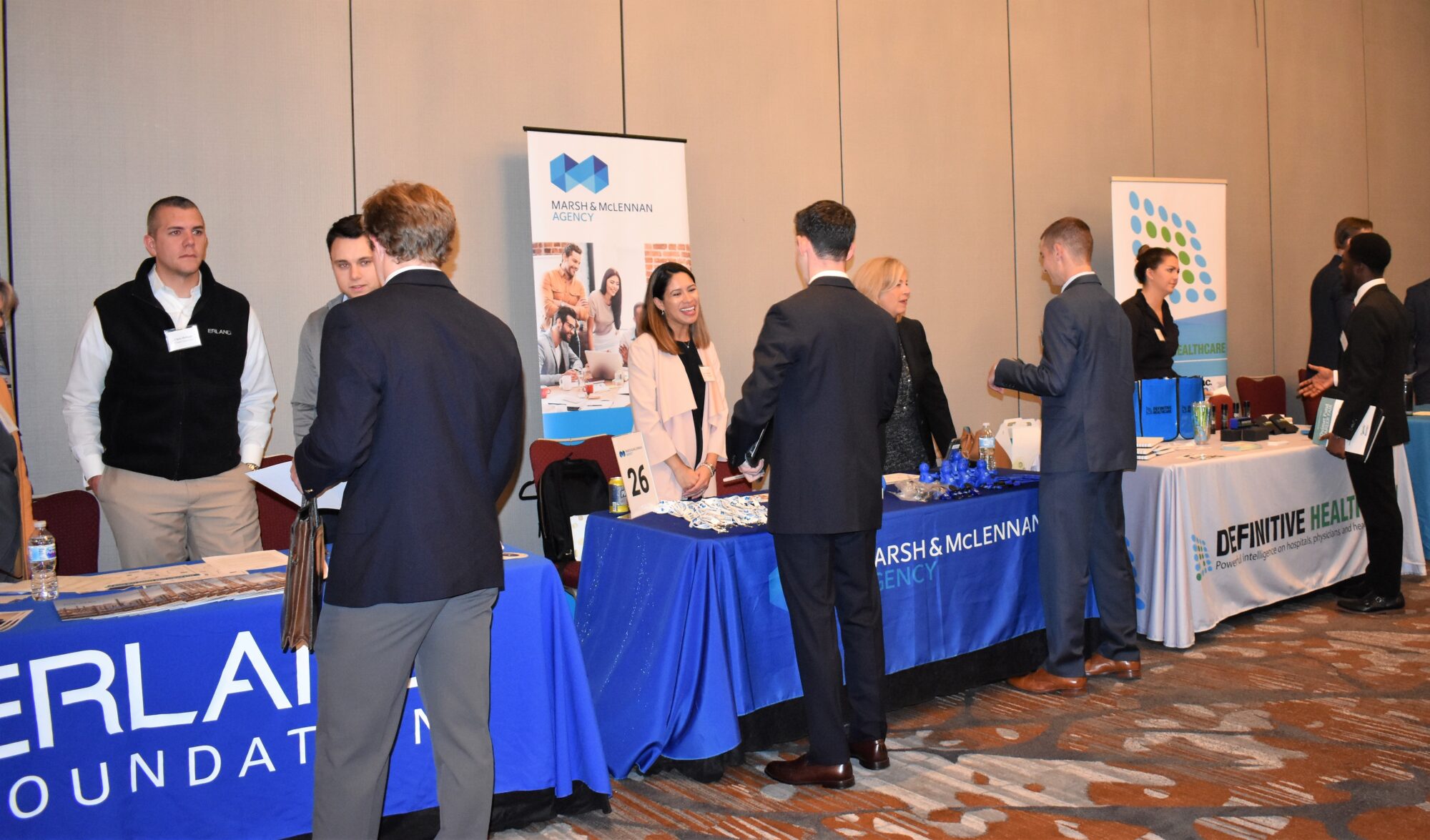 The Ouimet Fund's first in-person Career Fair in 2019.
In September 2019, The Fund hosted the inaugural Ouimet Onward event, the Ouimet Career Fair at the Boston Marriott Quincy. From Fortune 500 companies to local start-ups, 30 businesses were represented and more than 150 Ouimet Scholars and Alumni participated. The feedback from the event was overwhelmingly positive, and numerous Scholars secured job offers and internships as a result.
The Covid-19 pandemic necessitated a move to the Career Fair being held virtually through an online platform. Moving the Career Fair online enabled all Scholars to participate, including those attending school out of state, and featured 38 companies and nearly 200 Scholars and Alumni register for the one-day virtual event in 2022.
"Transitioning to a virtual Career Fair opened it up to those attending college out of state, and we were thrilled with the outcome," McGuire said. "If making the event virtual allows more companies and Scholars to be involved, then we will continue to host it that way."
The Fund is planning to host another virtual Career Fair in the fall of 2023, with hopes to expand the event. There is no limit to the number of participating companies, and as it is a "no cost" event, Ouimet staff welcomes any hiring manager who would look to fill internships and full-time roles with Ouimet caliber talent.
While it was disappointing to not be able to host the in-person Career Fair in 2020 and 2021, one benefit of this change was the creation and expansion of Ouimet Onward's online resources. In addition to events, Ouimet Onward offers a Career Portal which connects The Fund's partner companies with Ouimet Scholars and Alumni looking for jobs and internships. The password-protected Career Portal gives Scholars and Alumni access to job listings from partner companies looking to hire Ouimet Scholars and Alumni. Essentially, this Portal acts as a "Ouimet specific" job board.
Similarly, partner companies are provided exclusive access to "Ouimet-caliber" talent as representatives are given access to posting positions at their leisure. Hiring managers can use the Career Portal to target specific groups of Scholars and Alumni and invite them to apply for positions. Any friend of The Fund may access the Career Portal Position Posting by clicking here to submit a job post.
Submit a job for the Career Portal by filling out this form.
Beyond the assistance given directly to hiring needs, another expansion goal for Ouimet Onward was to assist with professional and life skills. As the program has expanded in 2023, Ouimet Onward added three new elements to bolster the resumes of those in the Ouimet community.
The first addition is access to YouScience, a virtual career aptitude testing platform which gives Scholars access to module training to identify their aptitudes and skills to match them with specific career pathways. Next, virtual Dale Carnegie courses were added to provide professional training to sharpen an individual's soft skills with different corporate training sessions. Beginning April 18th, four Dale Carnegie Courses will be offered to all Scholars throughout the year.
The final new element is Financial Literacy Courses through representatives of JP Morgan Chase, which will be held virtually throughout the fall of 2023 and finish with an in-person capstone event. Hosted as a complimentary benefit by a Ouimet Alumnus, this program aims to provide Scholars with the skills and knowledge necessary to make educated financial decisions.
"We have invested in expanding this program to benefit the Ouimet community. The Scholars, Alumni, mentors, and corporate partners all see tremendous value," McGuire said. "We want Ouimet Scholars and Alumni to continue succeeding inside and outside the classroom, and hope Ouimet Onward continues to assist them with their future goals."
For more information about Ouimet Onward, please click here.