For Ouimet Alumnus Tyler Santacroce, golf has been a central focus of his life as far back as he can remember. From working at Renaissance Golf Club to his time in the PGM Program at Penn State and learning from the best as an Assistant Professional at top courses across the country, Tyler has dedicated his whole life to working and loving the game of golf.
He recently achieved a lifelong goal and was named the Head Professional at St. Davids Golf Club in late 2021, the pinnacle of his accomplished career. However, when asked about his memories of the game, the Lawrence, Massachusetts native thinks back to a trip to Dick's Sporting Goods with his dad, where a particular display inspired him.
"At the time, my dad was in an adult softball league, so that's why we were there; it had nothing to do with golf," recalled Santacroce. "This was right after Tiger Woods won the Masters in 1997, and front and center was a display with junior clubs on sale, so we got them. That night I went to the range for the first time."
The rest is history. Tyler remembers enjoying that first session swinging a club, and he took an immediate liking to the sport. He picked up the game at Murphy's Garrison Golf Center, a public par-3 course and driving range in Haverhill, MA. He soon began taking lessons with Marc Spencer, a local legend who would become an influential mentor to Tyler.
"Marc was hugely instrumental in my interest in becoming a professional and finding that passion," remembered Santacroce. "I think back to being in sixth grade and getting a 30-second elevator pitch from him and knowing from there it was what I wanted to pursue."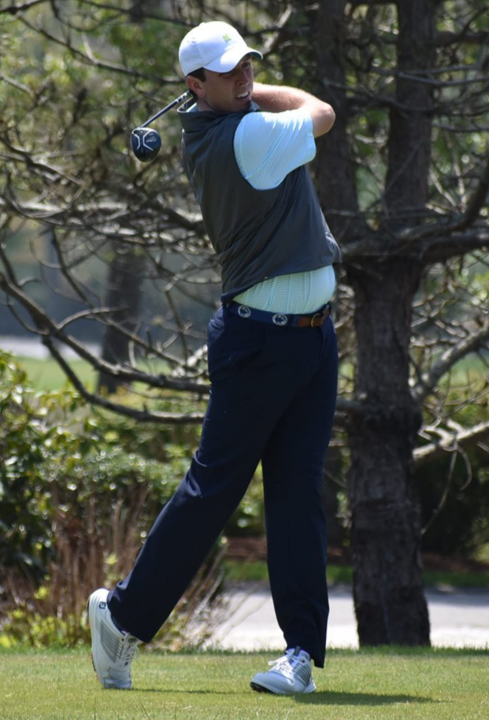 In that 30-second elevator pitch, Spencer explained that a career as a golf professional meant working six, sometimes seven, days a week – and don't expect many weekends off. He also encouraged Tyler to explore the PGA Golf Management Program offered at certain colleges, which was prescient. Years later, Tyler would enroll at Penn State in the well-regarded PGM program.
Before his days on campus at Penn State, Tyler spent six years caddying and working in the bag room at Renaissance Golf Club.
"Growing up, my family didn't belong to any golf club, so working at Renaissance was my first glance at private golf," said Santacroce. "You pull up to a private course, and the greens are in better shape, the course is well-manicured, the facilities are bigger and better. As a young man, I realized there's a whole other world to this sport."
He credits those years for his first exposure to working in golf and for teaching him numerous essential lessons. Tyler's time at Renaissance helped him both personally and professionally, and he is grateful for the supportive membership and professional staff to this day.
"I was fortunate to get out on some early loops with a few helpful members," described Santacroce. "Over time, I developed my 'regulars' – two or three members I caddied for throughout my entire time at Renaissance. They took good care of me and showed me the ropes, and I began to internalize the kinds of things working at a private club can expose you to."
Encountering various backgrounds and mindsets of all ages helped Tyler mature beyond his years. Interacting with members in social settings strengthened his ability to build and enhance relationships and improve his customer service skills. He also had a front-row seat for the life of a "golf professional."
"Career-wise, seeing how events are organized and getting a first-hand look at the outside operations and the 'big picture' was an enormous help," said Santacroce. "Being at one facility for a few seasons and seeing how different professionals approach challenges, schedules, and events in different ways was invaluable exposure."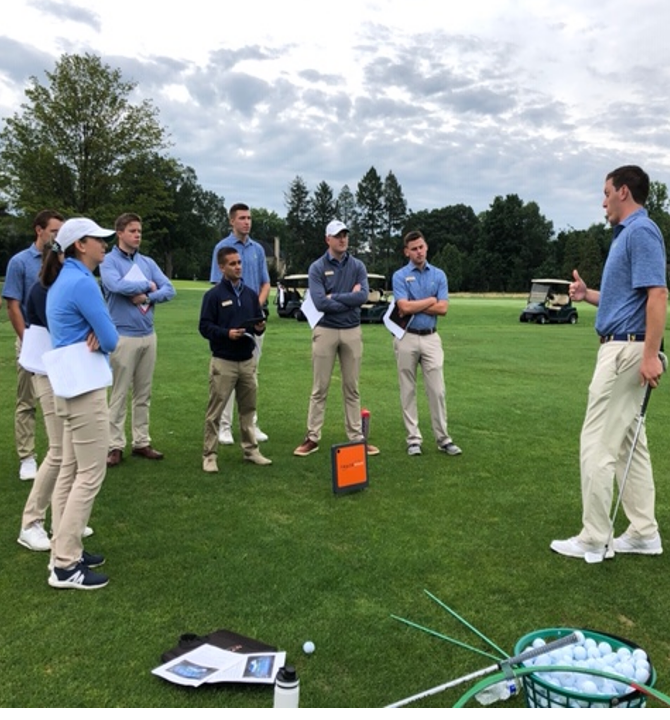 His time at Renaissance was also crucially important as it allowed Tyler to apply for a Ouimet Scholarship. He remembers doing his interview at Vesper Country Club with board member Jim Moriarty and is still thankful for the opportunities it granted. The first in his family to attend college, he credits The Fund for helping make his college dream a reality.
"I wanted to go to Penn State for their PGM Program, but out-of-state tuition meant I wouldn't have been able to afford it without the financial assistance from The Fund," described Santacroce. "The Ouimet Fund made it possible for me to attend, and there is no doubt I wouldn't be here without its support. The professional connections and industry opportunities I encountered came largely because of Penn State and because I could put Ouimet Scholar on my resume."
Upon graduating from Penn State in 2013, Tyler worked at RedStick Golf Club in Florida and Crooked Stick Golf Club in Indiana before serving as the Assistant Golf Professional for two of the Ouimet Fund's supporting clubs, The Kittansett Club and The Country Club.
As a Ouimet Alumnus, Tyler enjoyed the opportunity to assist young men and women going through the application process.
"I'm fortunate to be in a place where it's all come full circle, and I get to help out the next generation of Ouimet Scholars," said Santacroce. "Providing my support to these deserving young men and women and working with them has been great, and I hope to lead by example."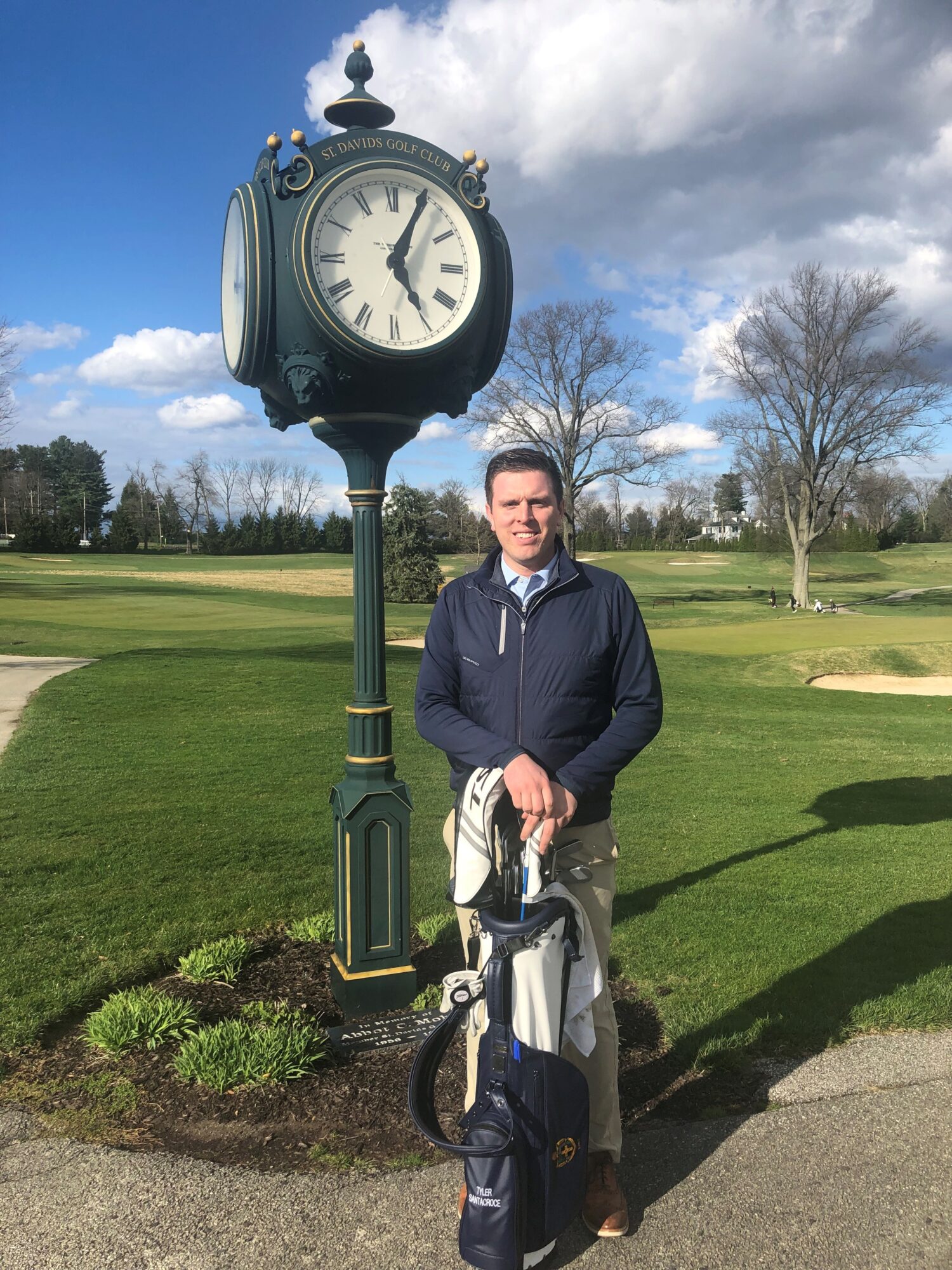 In December 2021, Tyler's years of hard work paid off. He returned to Pennsylvania and began working at the prestigious St. Davids Golf Club as the Head Golf Professional.
"It's been the long-range goal for a while and is something I've worked hard for," said Santacroce. "So, finally crossing that finish line and starting this next chapter has been really exciting. I have been able to reconnect with friends, colleagues, and my network from my time at Penn State, so it's all worked out really well."
St. Davids Golf Club is a proud supporter of the J. Wood Platt Caddie Scholarship, an industry friend of the Ouimet Fund with a similar mission. The organization provides higher education financial aid to deserving young men and women caddying at golf courses in Pennsylvania.
Tyler appreciates the similarities between the Ouimet and Platt organizations and enjoys the opportunity to continue paying it forward.
"As I begin meeting more of our caddies who are potential applicants for the J. Wood Platt Scholarship, I lean upon my experiences with Ouimet to help them along," remarked Santacroce.
Not only has Tyler utilized his Ouimet experience to assist caddies at St. Davids, but being a Ouimet Alumnus has also proven beneficial as he transitioned into his new role at the club.
"We have several members at St. Davids who are on the J. Wood Platt board of directors," described Santacroce. "When they saw on my resume that I am a Ouimet Scholar, they knew what that symbolized and the kind of reputation it carries. So, associating myself with Ouimet coming into a new club really set the table for them regarding the character I hope to bring to St. Davids."