With the 2022 U.S. Open returning to Brookline this week, the golf world's attention has turned to the famous venue on Clyde Street. One of the founding member clubs of the USGA, The Country Club has hosted numerous national championships; however, none are more legendary than the 1913 U.S. Open, when Francis Ouimet completed one of the most historic wins in sports history.
While Mr. Ouimet is remembered for his astonishing 1913 triumph, he stated that his proudest accomplishment is the scholarship fund founded in his name. "Of all the honors I've had, I can't think of one I prize more," Francis Ouimet said. And he showed it as he actively interacted with young Ouimet Scholars each year from 1949 until his passing in 1967.
Most in the modern Ouimet community only know Mr. Ouimet through stories or word of mouth; however, some had the good fortune of meeting him and can confirm all the legends and stories about his kindness and humility. The Fund spoke with three proud Ouimet alumni, who generously support the organization, to hear their unique tales of Mr. Ouimet.
"Twice in one year, a picture of Mr. Ouimet and me was in the paper," Larry Derito recalls, a Ouimet Alumnus who grew up working at Thorny Lea Golf Club in Brockton. "But he didn't want to be the center of attention. He was always a gentleman."
Larry grew up caddying at Thorny Lea and was selected as one of the Ouimet Scholars to caddie in the 1963 U.S. Open at The Country Club when it was still common for players to lean on local caddies. Larry happened to carry the bag of Dow Finsterwald and ended up in the center of the action on Sunday.
"There was no such thing as having traveling caddies back then, so I was chosen to caddie and got the luck of the draw getting Dow Finsterwald," Derito said.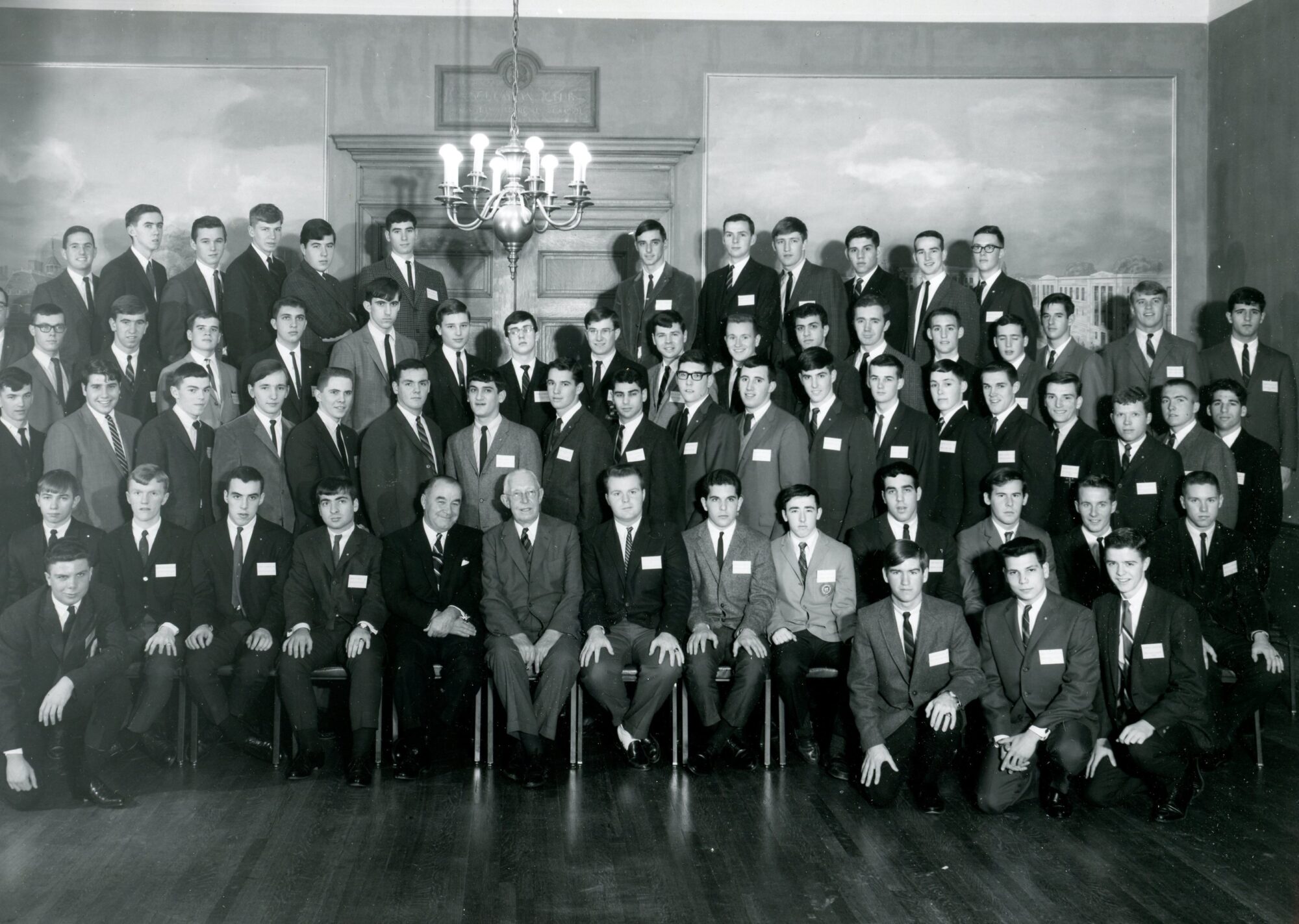 Francis Ouimet with the class of 1965 Ouimet Scholars, including Ro Fallon and Francis Jessoe.
At 17 years old, Larry found himself in the final group on the last day of the championship with one of the top players on the PGA TOUR – slowly becoming his own personal Eddie Lowery story. After ten holes, the Derito/Finsterwald team led by two strokes. However, high winds and inclement weather contributed to Finsterwald faltering and losing his lead.
"It was a sad ending to an amazing experience," Derito said. "That was as hard as I've worked in my life."
Early mornings, late practice sessions, and 18 sacred index cards holding stepped-out distances kept Larry busy the whole week. His hard work was rewarded with a memorable moment on the 17th hole when he was tending the flag for Jackie Cupit, who chipped in and forced a playoff with Arnold Palmer and Julius Boros.
"I took care of all the pins on the last four holes so I could be on television," Derito said.
It was at the U.S. Open that Larry was introduced to Mr. Ouimet and a picture of them was published in the Boston Globe.
"He was quiet and graceful," Derito said. "We shook hands, and he smiled in the photo and wished me good luck in the tournament."
A few months later, Larry attended the Ouimet Banquet at the Harvard Club, where he saw Mr. Ouimet again. Held around Christmas time, the dinner coincided with the 50th anniversary of Mr. Ouimet's win.
"There was so much talk of his win, and everyone was reliving it," Derito described. "He just sat there quietly enjoying it, dressed in a sports jacket and tie. Being 17 years old at the time, it was such a thrill for me."
Ouimet Alumnus Francis Jessoe also met Mr. Ouimet at the Ouimet Banquet. He attended each one while home from college on break and enjoyed the opportunity to see Mr. Ouimet.
"He was the guest of honor and chatted with all 50 of us," Jessoe said. "I looked forward to getting to mingle with him at those dinners."
Francis was also familiar with Mr. Ouimet's house, which he frequently passed on his way to school at Boston College.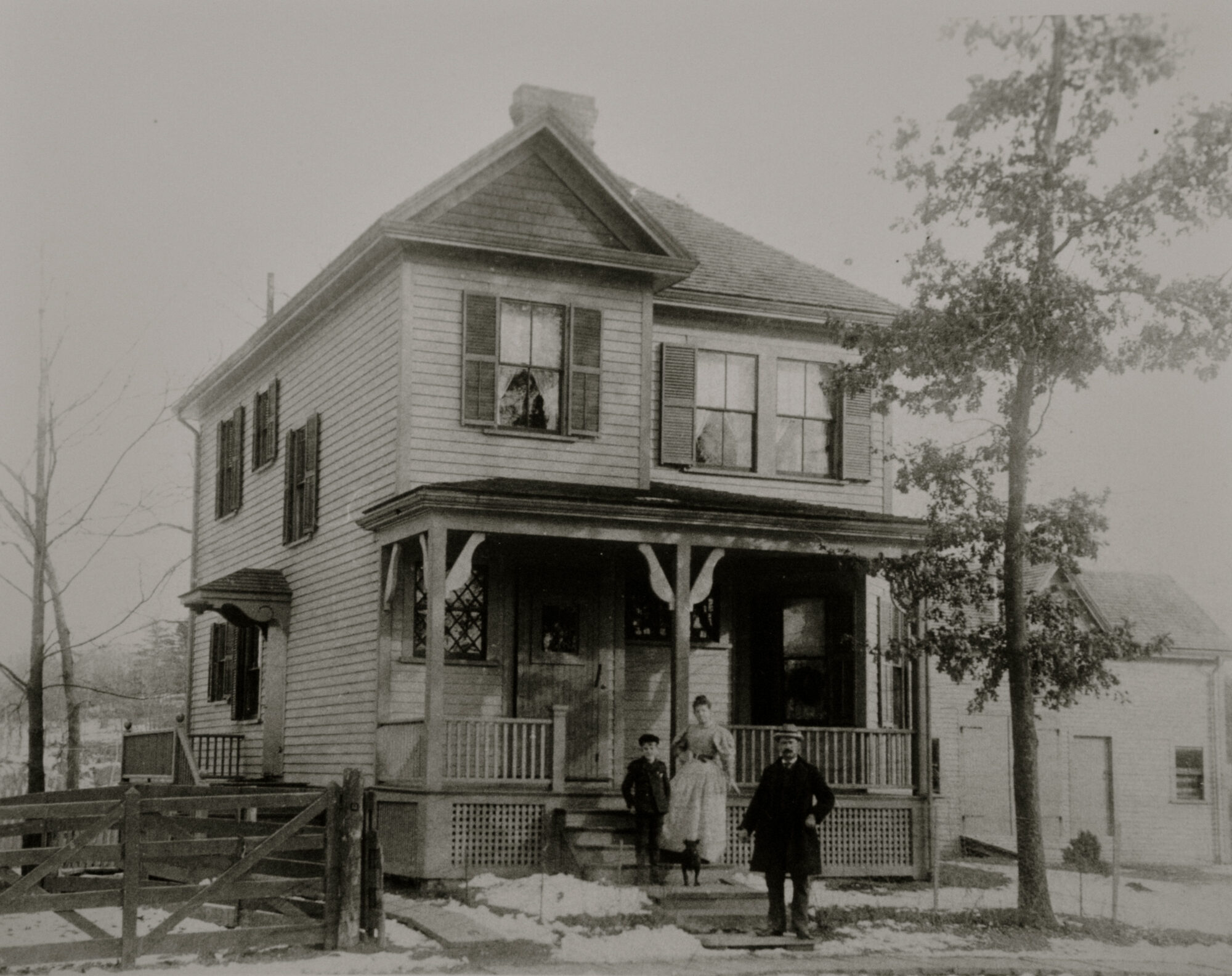 Francis Ouimet's childhood home on 246 Clyde Street, across from The Country Club.
"I would drive right by his house, and it always seemed so out of place on that street, which struck me as unusual," Jessoe recalled. "Located right across from the gates at The Country Club explains why he knew that course so well."
Francis also caddied in the 1963 U.S. Open in between his shifts at Stop & Shop.
"At the time, I was working at Stop & Shop and worked in the bakery until very late but had to get up early to caddie," Jessoe said. "It was a lot of work but incredible to be a part of."
Ouimet Alumnus Robert "Ro" Fallon had the pleasure of meeting Mr. Ouimet on the first tee at Weston Golf Club back in 1966 at a Ouimet Outing. As a young college freshman, Ro was intimidated playing in a group with three Ouimet donors. More intimidating were his playing partners insisting he take the tee first in front of everyone, including Mr. Ouimet.
"I was in the first group of the day, and there was no shotgun start, so everyone was watching," Fallon described. "I realized there was a quiet hush settling in, and everyone was suddenly focused on Francis Ouimet, who was making his way to the first tee to wish everyone well."
Ro shook Mr. Ouimet's hand and couldn't help but notice how much he looked and dressed like his famous portrait. With shaking knees, Ro teed up his ball and reminded himself to flatten his backswing and make good contact with the ball.
"I drove a massive hook that hit either the clubhouse roof or the building alongside the fairway with an echoing boom," Fallon said. "There was total silence, and I would have gladly crawled into a hole."
With 20-30 people staring, one voice broke the silence and rescued Ro from humiliation.
"Francis said, 'no matter, play on,' and that was that," Fallon said.
Those words, spoken by an "impeccably dressed man," calmed Ro's nerves and steadied him. Words to live by, in the name of Mr. Ouimet.
Francis Ouimet with Eddie Lowery at the 1963 U.S. Open at The Country Club.