As a youngster, Ouimet Alumnus and Dorchester native Dan Cullinane quickly learned proper golf etiquette. Ponkapoag Golf Course golf camp was his introduction to the game, which his uncles signed him up for and brought him to when he was eight years old. At the end of one of the days, in a thrilling putting contest, Dan found himself in the final round when his last putt lipped out, and he lost.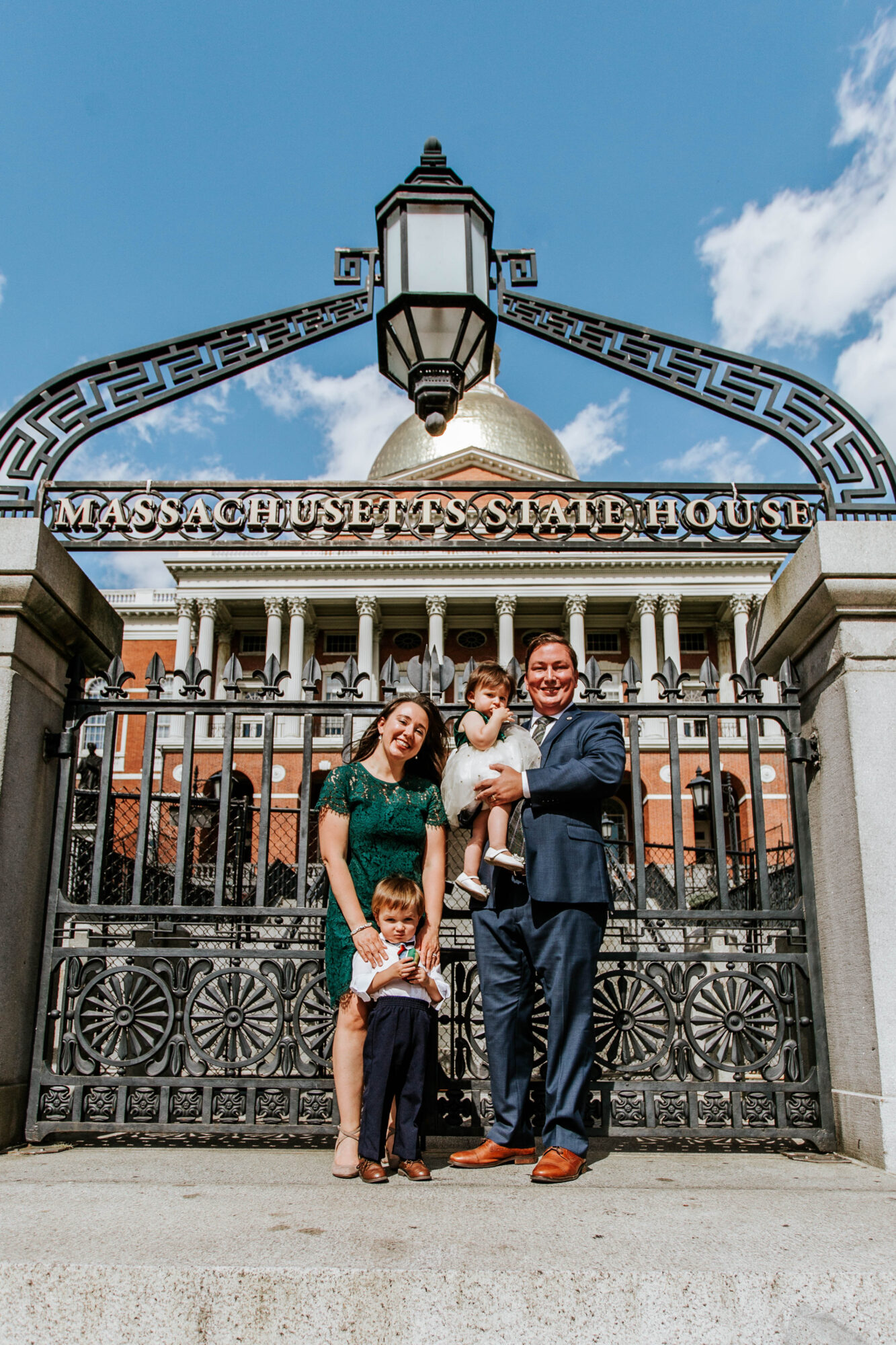 Dan Cullinane with his wife, Emily Torres-Cullinane, and their children, William and Isabel, outside the State House.
"I was so furious that I swung and buried my putter right into the practice green," Dan Cullinane recalled laughing. "So, my introduction to the game also turned out to be my introduction to golf etiquette, and I realized golf is the perfect microcosm for life because it is as frustrating as it is amazing."
In high school, Dan worked at William J. Devine Golf Course at Franklin Park through the City of Boston Caddie Scholar Program, caddying and doing course maintenance over the summers. The program also boasted a strong educational component, providing the participants with tutors and other adult mentors to assist them with personal growth and career development.
"I knew it would be the best job I ever had due to the community and the people," Cullinane said. "Mainly, we focused on current events and read the newspaper, but there was also a big lens toward career preparedness and thinking about what you might want to do with your life and the opportunities that might be available to you."
From a young age, Dan was interested in politics, but it wasn't until working with tutors at Franklin Park that he further investigated what a career in politics would entail. The program encouraged students to define their interests and focus on how to navigate and achieve their ultimate career goals.
"As a young person being part of a career-focused and diverse program showed me if you are genuine and put in the work, people will respond," Cullinane said.
The opportunity to take advantage of Franklin Park's golf course was another perk of the job.
"They encouraged us to play and appreciate the course and its rich history," Cullinane said. "Working there showed me golf wasn't just a game for the wealthy, and the diversity in that program was something special."
Through Franklin Park tutors, Dan was exposed to the Ouimet Fund and applied. The financial support he received helped him attend Providence College, where he graduated in 2007 as senior class president.
"I was the first in my family to attend college, and it was incredibly important to my parents," Cullinane said. "They would have done whatever it took to give me that opportunity, and reflecting back, my scholarship was an incredible source of financial relief for my family."
Dan took the Dale Carnegie course The Fund offered in 2005 and still distributes books from the course to every intern and staffer he works with to this day.
"Relationships are the foundation of your quality of life, and this is a tutorial that shows you how to build successful relationships," Cullinane said. "I encourage everyone, no matter how old you are, to take the course because learning how to be genuine in your communications will help you now and into the future."
Dan applied the skills he learned to work at Boston City Hall for Boston City Councillor Maureen Feeney during his college summers. He interned at the Massachusetts State House for then State Representative Marty Walsh during his senior year before Marty hired him as his Director of Constituent Services.
"I held my first sign for Maureen when I was about eight years old and grew up I viewed it as the highest calling to be able to give back to the community that gave so much to you," Cullinane said. "That was my first real interest in politics at a very young age, and to have that be fed and cultivated during my years at Franklin Park was incredible."
Dan considers Maureen a true mentor throughout his life and credits his years at Franklin Park for strengthening his interpersonal skills. Critical skills he utilized to win the special election for Senator Forry's open seat in the Massachusetts House of Representatives in 2013.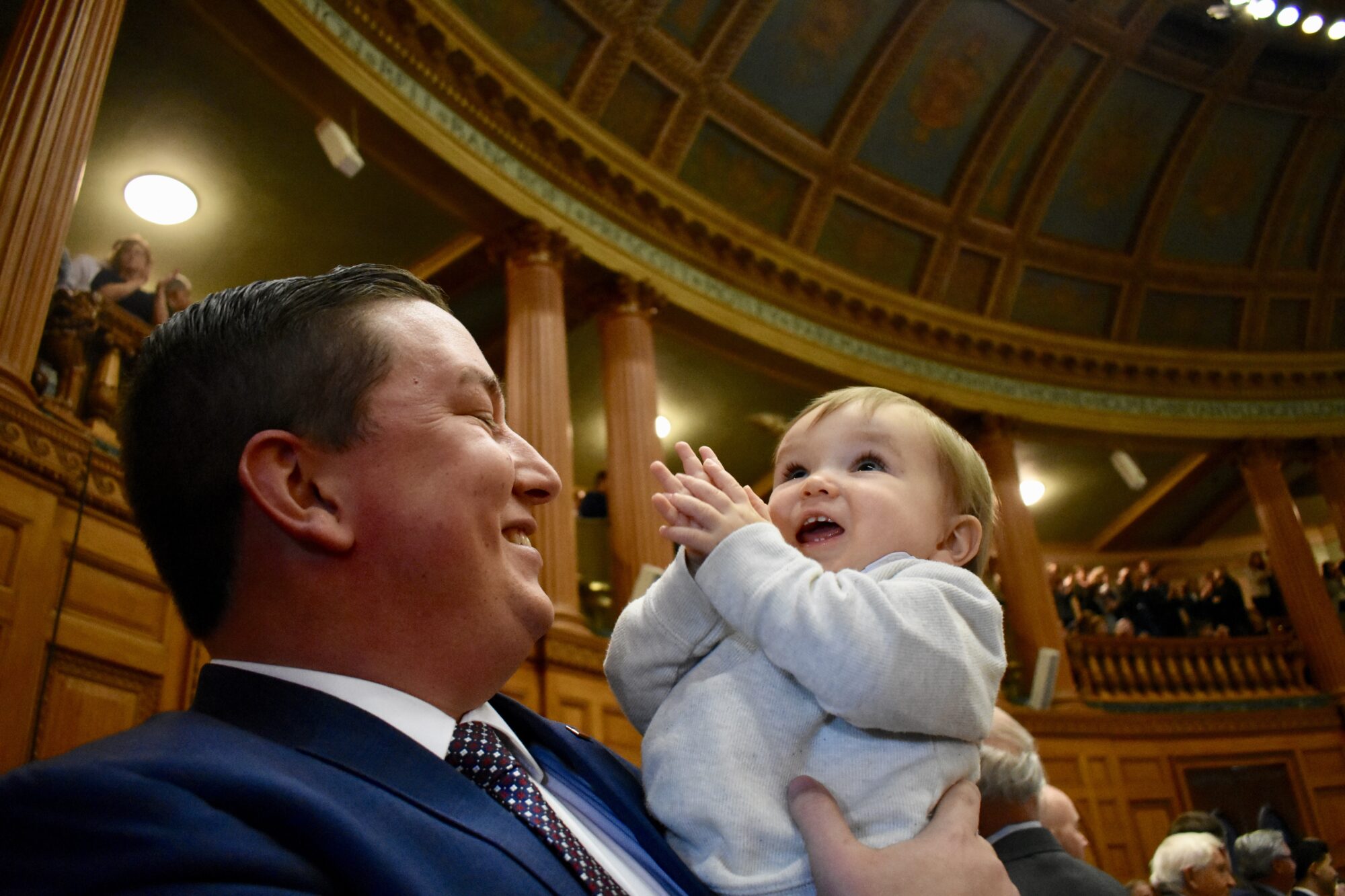 Dan Cullinane taking the oath of office holding his son William.
"When I ultimately won my state representative seat, it was one of the most diverse districts in the state, and I knew it had to be earned on the ground going door to door," Cullinane said. "A lot of that comfort and effort in relationships came out of the caddie scholar program, and I was able to fulfill my dream and represent the community that gave me everything."
Dan won re-election the following year and served four terms as State Representative of the 12th Suffolk District representing Dorchester, Mattapan, Hyde Park, and Milton in the Massachusetts House of Representatives. With two young children, Dan chose not to run for election in January 2020 and joined Kearney, Donovan & McGee (KDM) upon leaving the legislature, where he focuses on expanding the firm's City, State, and Federal lobbying practice in addition to servicing the firm's existing clients.
Dan lives in Canton with his wife, Emily, and their two young children, William and Isabel. He is a Lifetime Member and active member of the Ouimet community, who wishes he got involved as an Alumnus sooner.
"The Ouimet Fund is a family and an unbelievable network who care about you and your success," Cullinane said. "The network and family are available to you right now, whether you can donate yet or not. From personal experience, I urge all Scholars and young Alumni not to wait to participate in what The Fund has to offer."