Mission Statement
The Francis Ouimet Scholarship Fund awards significant need-based college scholarships to deserving students who have worked at Massachusetts golf courses.
Read the Full Report
$49.85
Total Scholarships Awarded
$3.25
Scholarships for 2023-2024
Message from the President
At the 2022 Annual Meeting
Friends of the Francis Ouimet Scholarship Fund,
Thank you for your interest in and your support of the Francis Ouimet
Scholarship Fund. On behalf of the Ouimet Fund Family, I want you to know
we are grateful for your donations of work, wisdom, and wealth in supporting Ouimet Scholars.
The year 2022 was a banner year for the Ouimet Fund. The U.S. Open
returned to Brookline and new generations celebrated the history and legacy
of Francis Ouimet, Eddie Lowery and their incredible 1913 U.S. Open victory.
Generous supporters increased their existing or created new Endowed
Awards which is a cornerstone of the scholarship program. Record numbers
of Massachusetts golfers participated in the Ouimet Bag Tag program,
generating more funds for Ouimet Scholars, and the Ouimet Golf Sprint set
a new high for donations. In addition, and perhaps most importantly, many
young Ouimet Alumni re-engaged with the Ouimet Fund and volunteered in
many of our programs.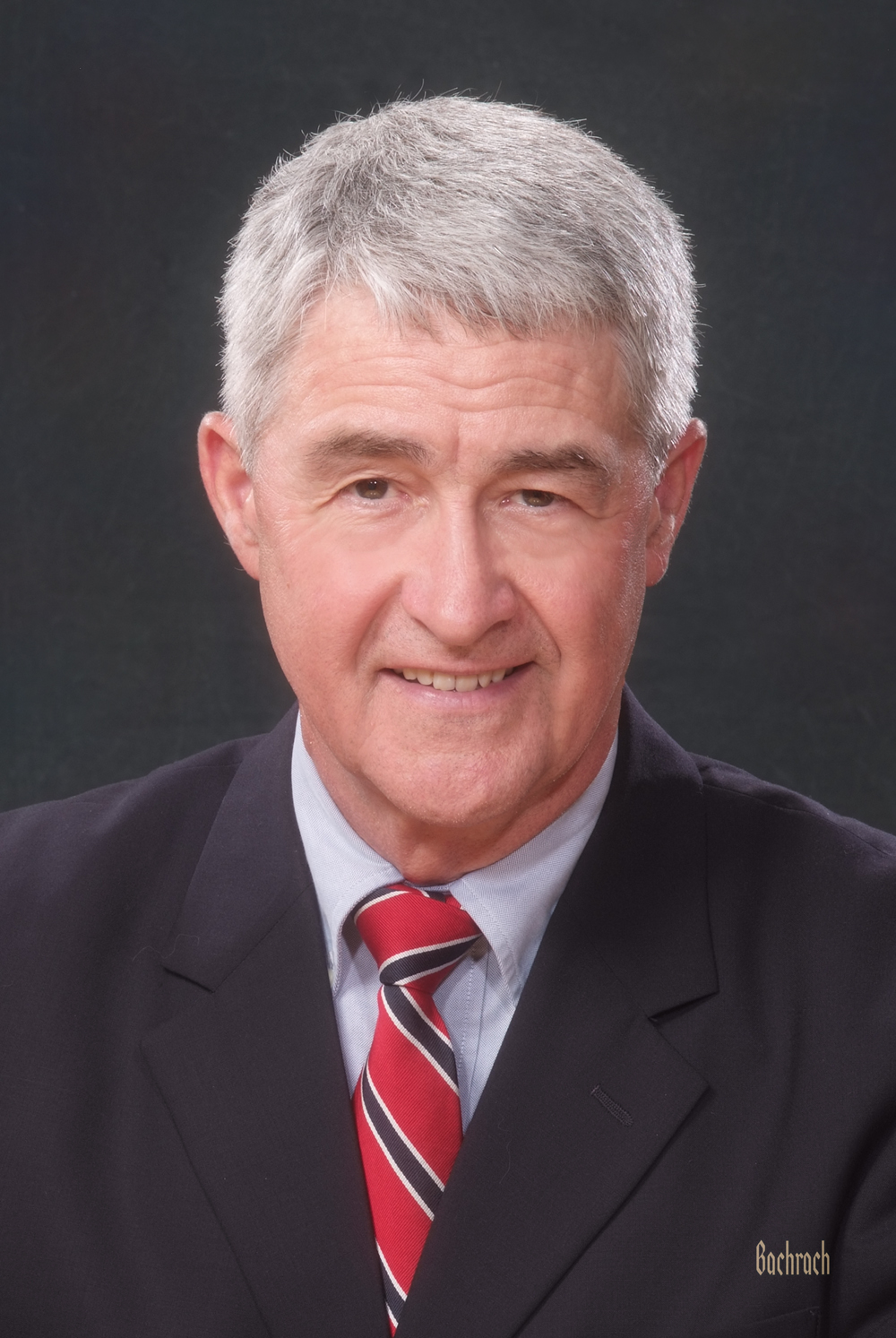 With your support, the Ouimet Fund is now providing $3 million in annual
scholarships to students who attend 135 colleges and universities across
the country. These young men and women have worked in golf as Caddies,
in Pro Shop Operations, and Course Superintendent Operations.
Since 1949, the Ouimet Fund has awarded $46.6 million in scholarships
to 6,500 Ouimet Scholars. The performance of Ouimet Scholars remains
impressive as they maintain an average 3.4 GPA average, and 92% of
Ouimet Scholars graduate from college within four years.
The Francis Ouimet Scholarship Fund is blessed with legions of dedicated
volunteers who work on the Board of Directors, Ouimet Committees, and
at golf clubs across the Commonwealth. In addition, the Ouimet Fund has
an outstanding professional staff led by Colin McGuire, Executive Director.
However, the Most Valuable People in the Ouimet Family are our donors who give and raise the funds required to support Ouimet Scholars.
Thank you for your participation in the Ouimet Bag Tag, Ouimet Golf Sprint,
Annual Fund, Lifetime Membership Program, and Endowed Scholarship
programs, which support Ouimet Scholars.
If there is anything we can do to help you, your family, or your club, please let us know.
Scholarship Application Process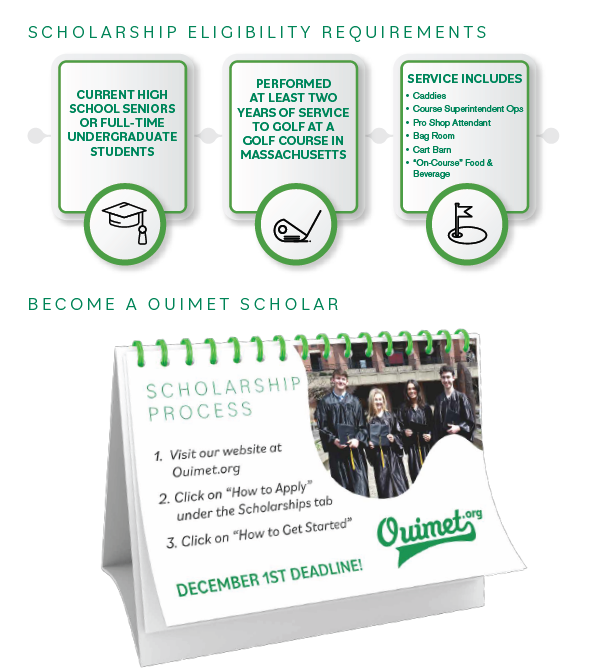 How Are Financial Awards Determined?
Ouimet Scholars are accepted on a merit-based application and interview process.
The amount of a Scholar's financial award is determined by personal financial need. The Ouimet Fund is able to analyze tuition costs, college grants, and the estimated family contribution through the submitted CSS and FAFSA forms.
We believe that all accepted applicants have earned the proud distinction of being named a Ouimet Scholars. Honorary Ouimet Scholars do not display financial need for that year based on the above criteria, but we are pleased to offer each a "Book Award."
Ouimet Scholarships can be renewable for up to four years.
Learn More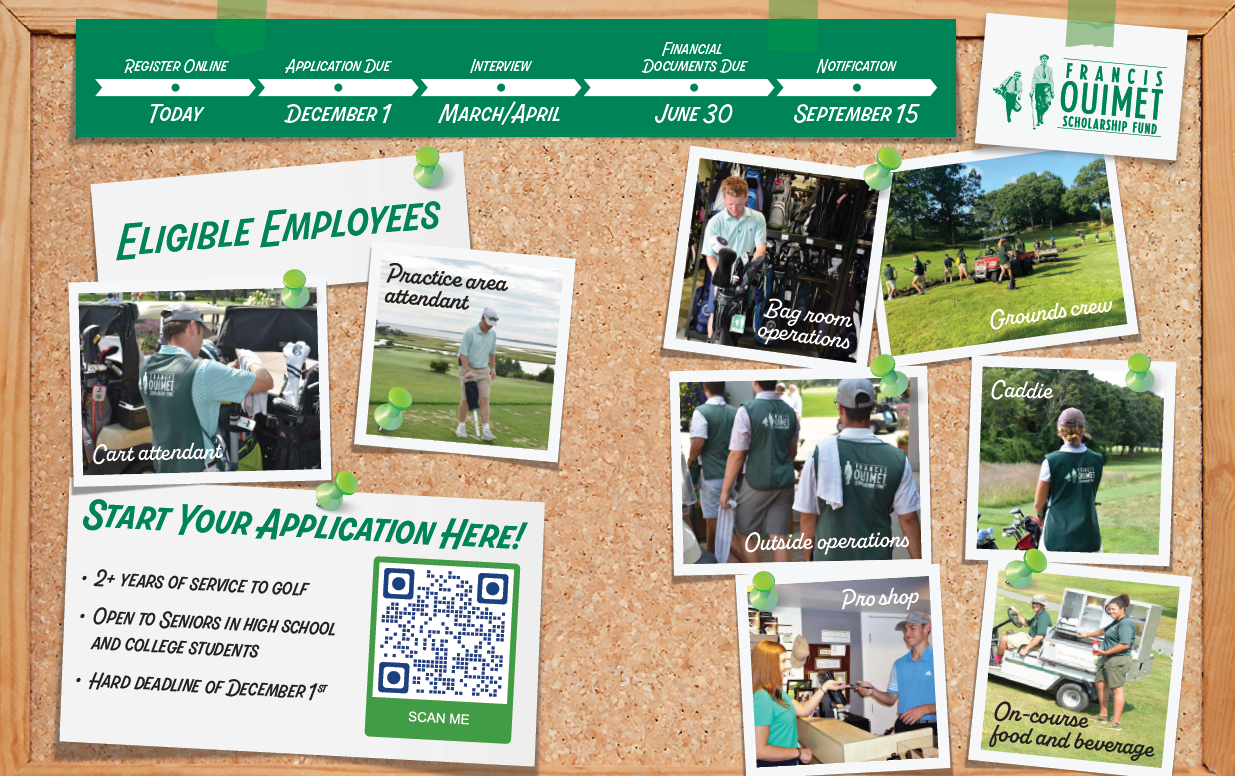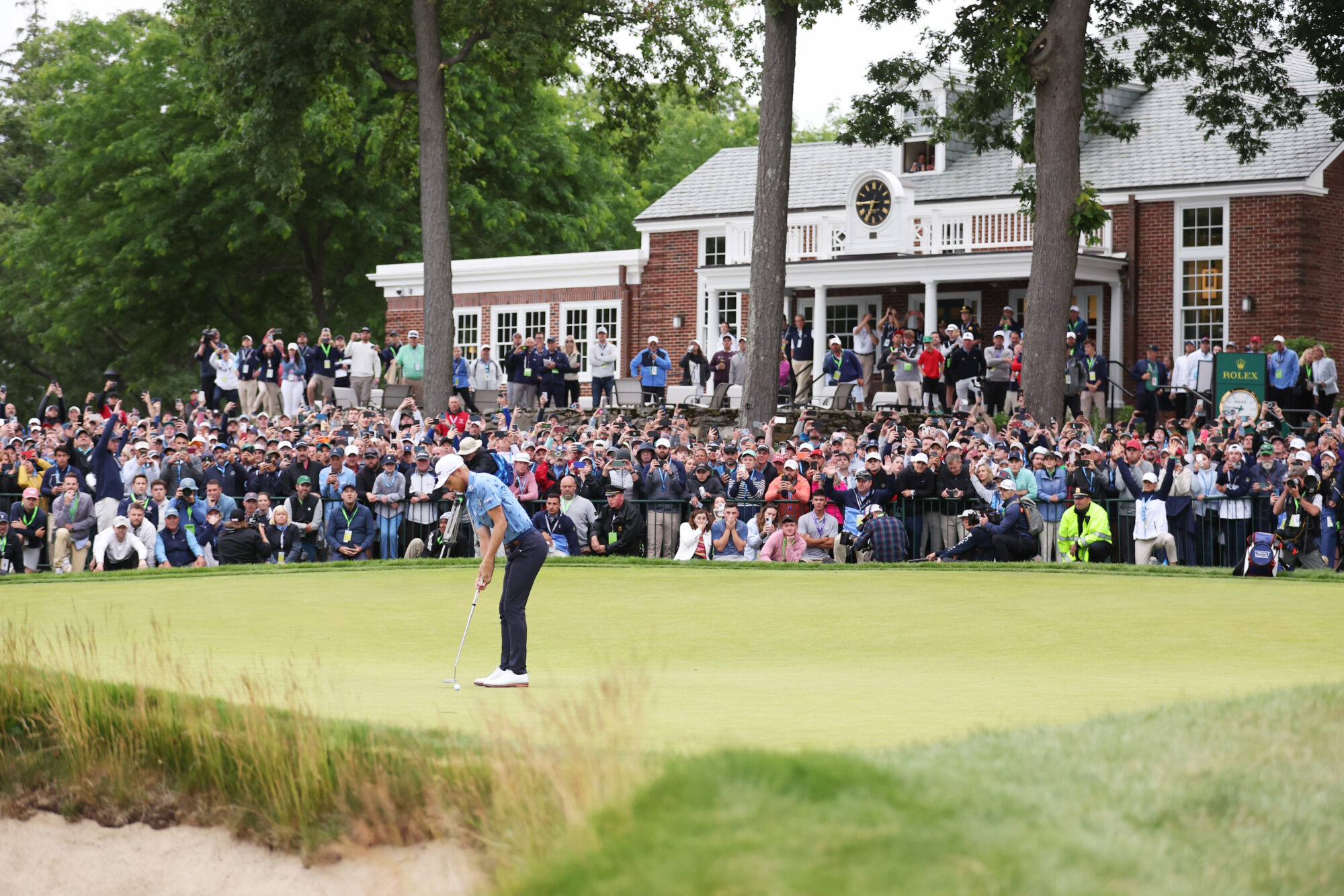 The 2022 U.S. Open Returned to Brookline
For the first time since 1988, the U.S. Open returned to The Country Club in Brookline, where Francis Ouimet made history in 1913 becoming the first amateur to win the championship. This year Matthew Fitzpatrick celebrated his first major championship title on the same historic grounds where Ouimet raised the famed trophy.
The championship was a thrilling display for the roughly 175,000
spectators in attendance, concluding with an exciting final round on
Sunday. Will Zalatoris played in the final pairing and had a putt on
the 18th hole to force a playoff that grazed the hole and just missed.
Zalatoris sported Francis and Eddie on his FootJoy shirt, introducing
the famous story to a new generation. What Ouimet and 10-year-old
caddie Eddie Lowery achieved in 1913 remains one of the greatest
upsets in major championship history and was celebrated this year at
the U.S. Open. Displayed along the grounds were images of Francis
and Eddie, expanding on the rich history they made 109 years ago.
We hope you are proud of the impact you, as a supporter, have
made on that story's legacy – the Francis Ouimet Scholarship Fund.
Ouimet Golf Professional of the Year
We are thrilled to announce Brendan Walsh, PGA of The Country Club as the recipient of the 2022 Ouimet Golf Professional of the Year.
Brendan has been an advocate for The Country Club's strong partnership with the Ouimet Fund since 1998. He has participated in the promotion of our Bag Tag, Golf Marathon/Sprint, Banquet and other donation programs totaling $1.5 million in support from his membership. During his time as head professional, The Country Club has proudly celebrated 70 Ouimet Scholars who have received more than $1 million in Ouimet Scholarships.
The Fund was able to celebrate Brendan's 25 years of advocacy of our mission, preservation of Francis Ouimet's local history, and mentorship to so many Scholars at our fall golf outing at Walpole Country Club.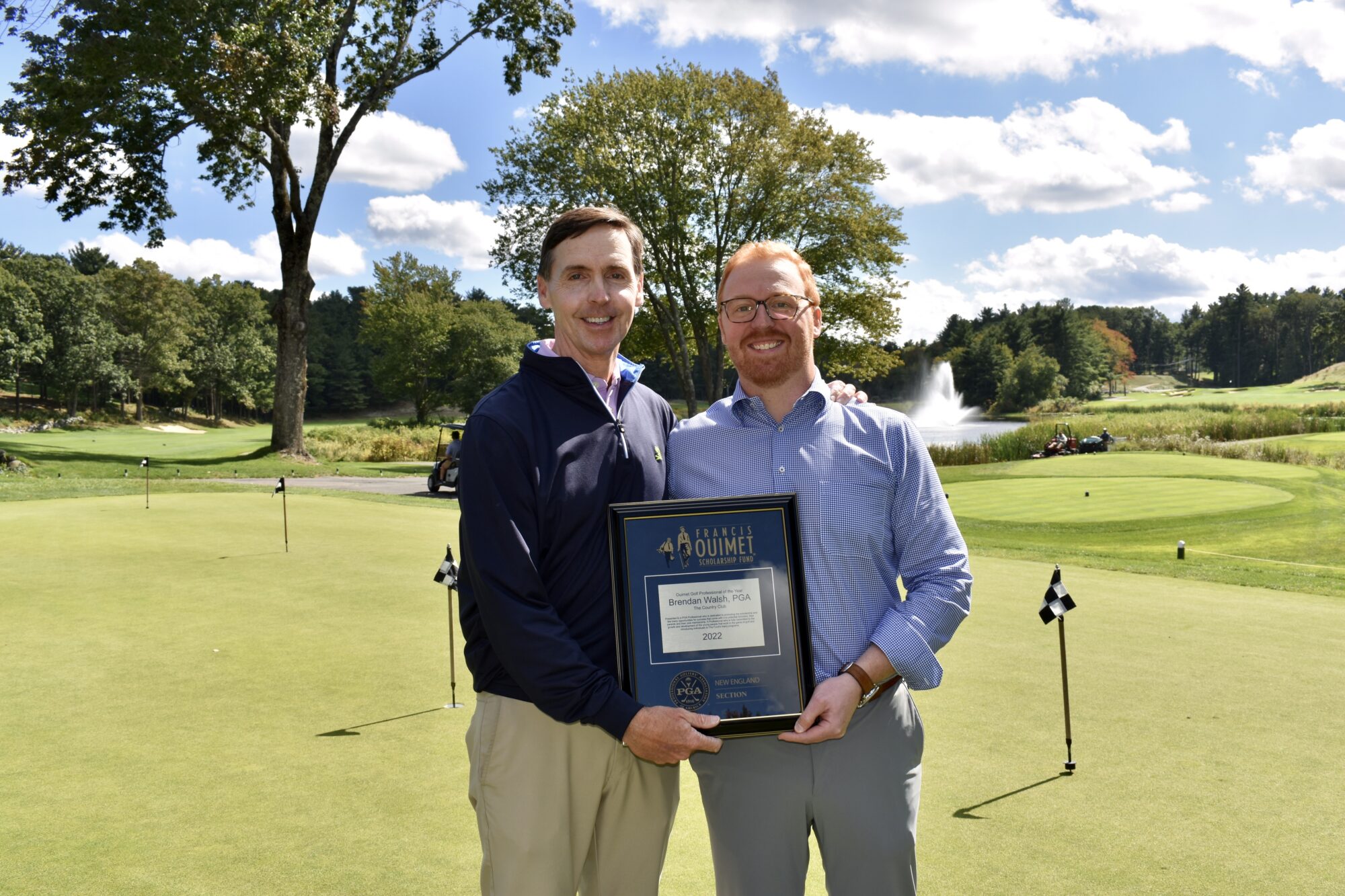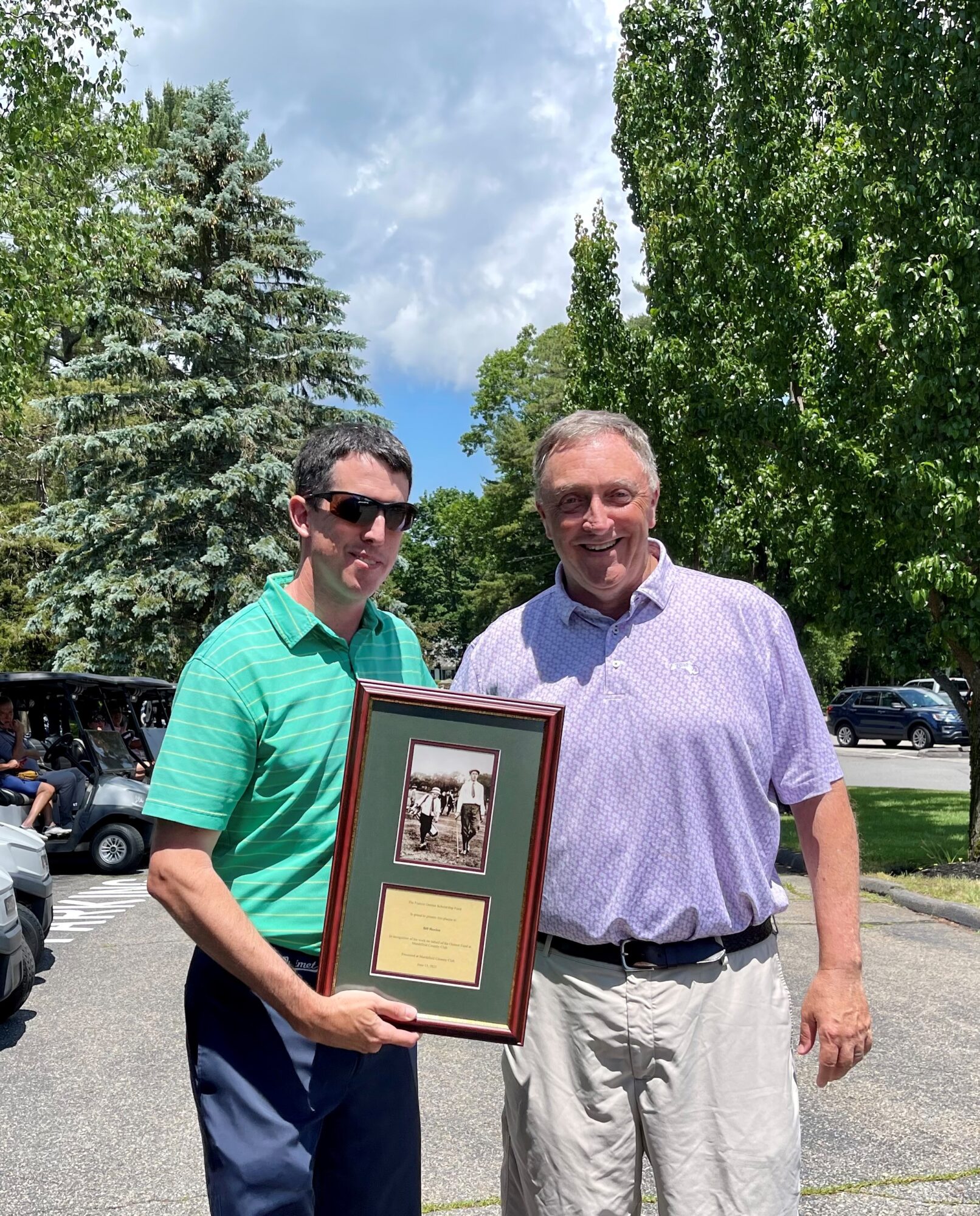 Ouimet Chair of the Year
The Ouimet Fund congratulates Bill Hanlon of Marshfield Country Club for being selected as the 2022 Ouimet Chair of the Year. Marshfield continues to be one of The Fund's top supporting clubs, and Bill's enthusiasm for all the programs helps to keep the entire membership engaged. Since taking over as Ouimet Chair 10 years ago there have been 28 Scholars from Marshfield who received nearly $400,000 in Scholarships.
Bill played a key role in making sure Marshfield committed to becoming a Centennial Club and ensures the Club participates in the Golf Marathon/Sprint annually. He also introduced many more members to The Fund at the Annual Banquet, as he arranged for multiple sponsor-level tables. We cannot thank
Bill enough for his many efforts on behalf of the Ouimet Scholars.
Record Golf Sprint Participation and Impact
The Ouimet Golf Sprint continues to make a huge impact! Formerly the Golf Marathon, the format shifted to the Golf Sprint for the last three years. The new format has offered greater flexibility and awareness and led to more dollars for scholarships! Participants across the state (and some Alumni across the country), creatively compete to fundraise and play as many holes as they can in just one hour. Many more sprinters have taken on this crowdfunding challenge as a fun way to give back. With no date or time restrictions, each sprint can be scheduled around the calendar that works best for them.
Read More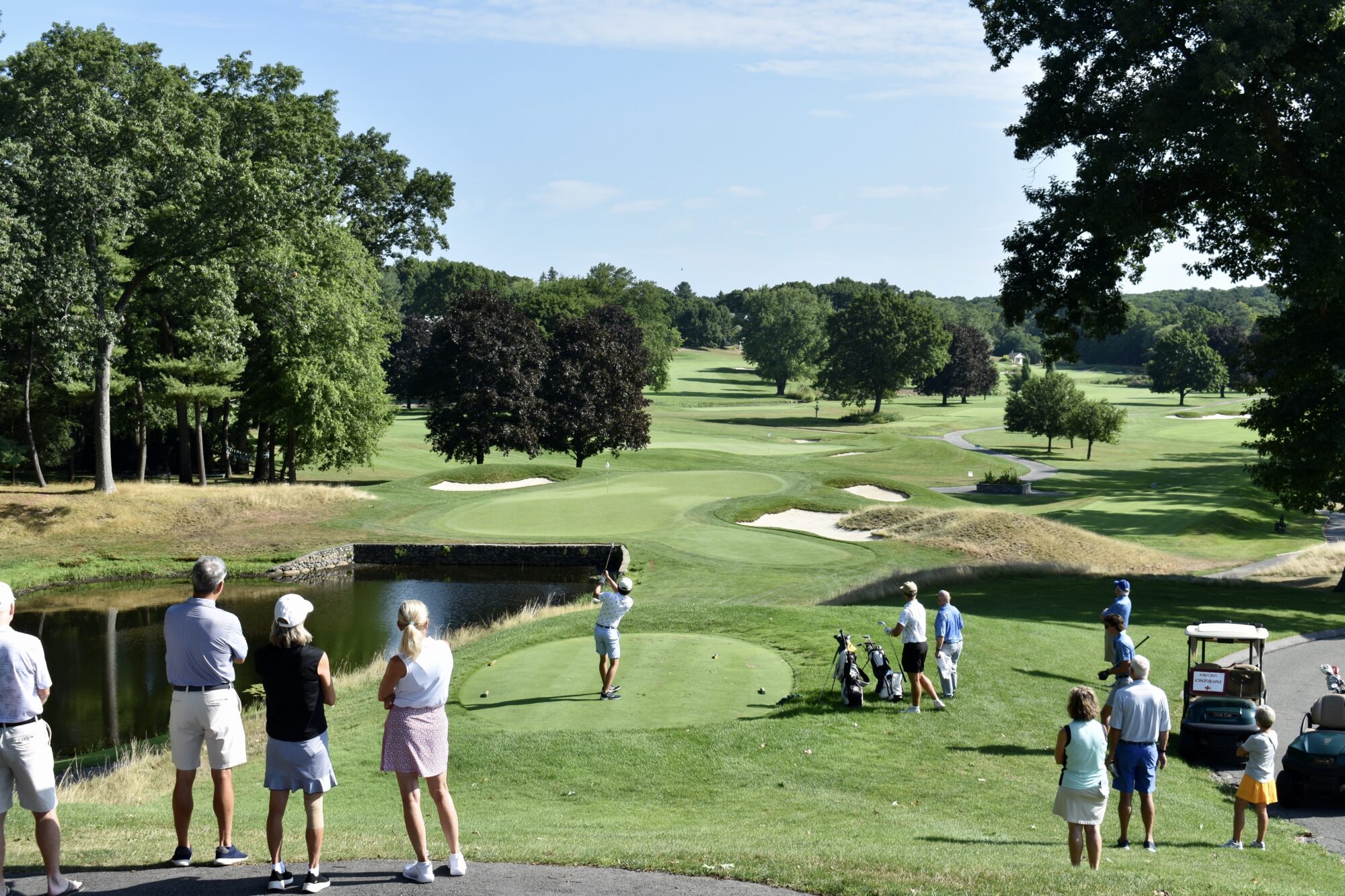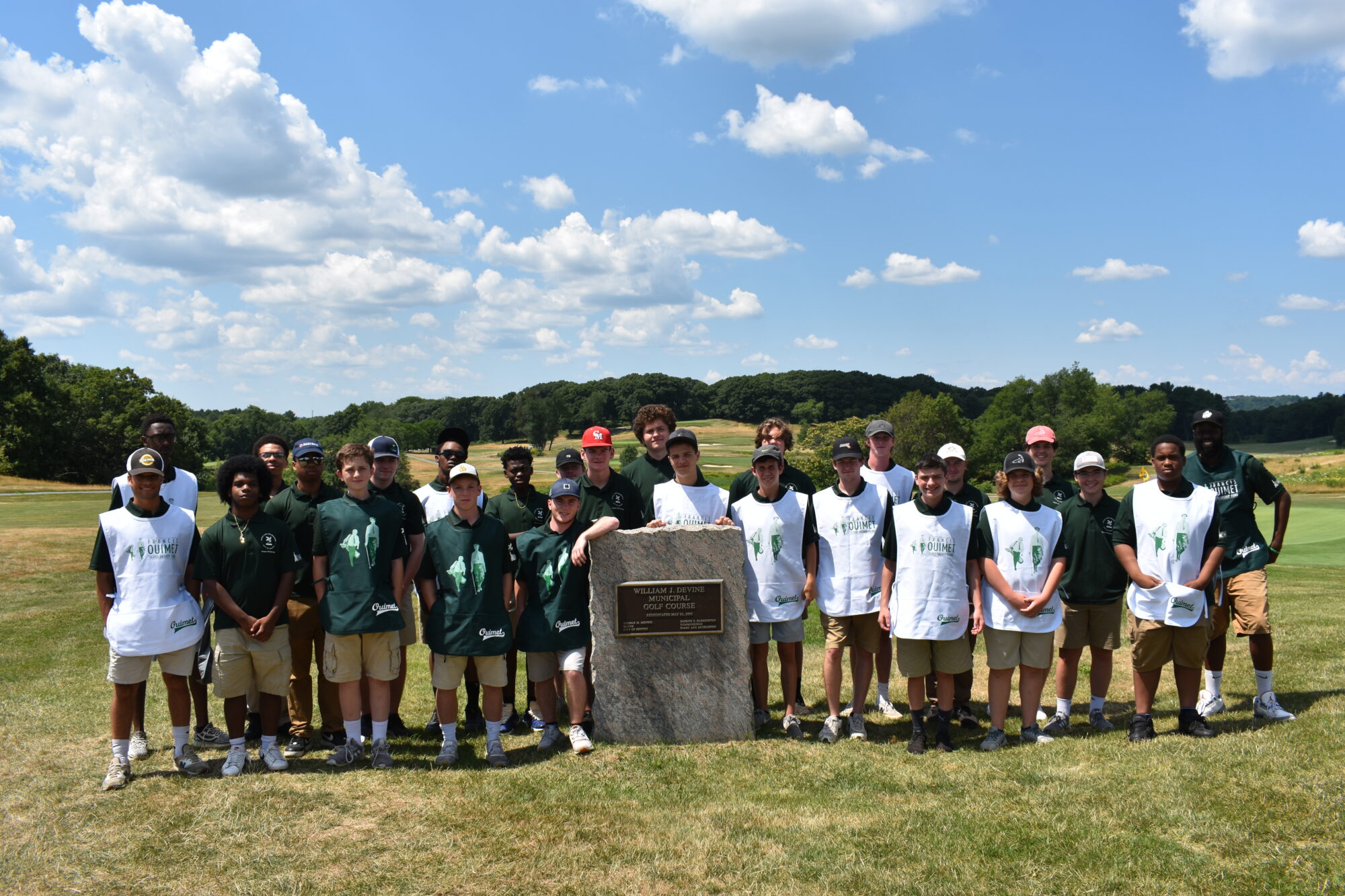 City Program Expansion
Since 1996, The Fund has partnered with the City of Boston and its golf courses to provide underserved communities and minorities the unique chance to earn a scholarship through service to golf by participation in this program. Young men and women work five days a week getting hands-on experience maintaining these local golf courses. For 27 years, 165 Scholars from William J. Devine Golf Course at Franklin Park and George Wright Golf Course have benefited from this program and received $2,203,175 in Ouimet Scholarships.
Read More
Ouimet Onward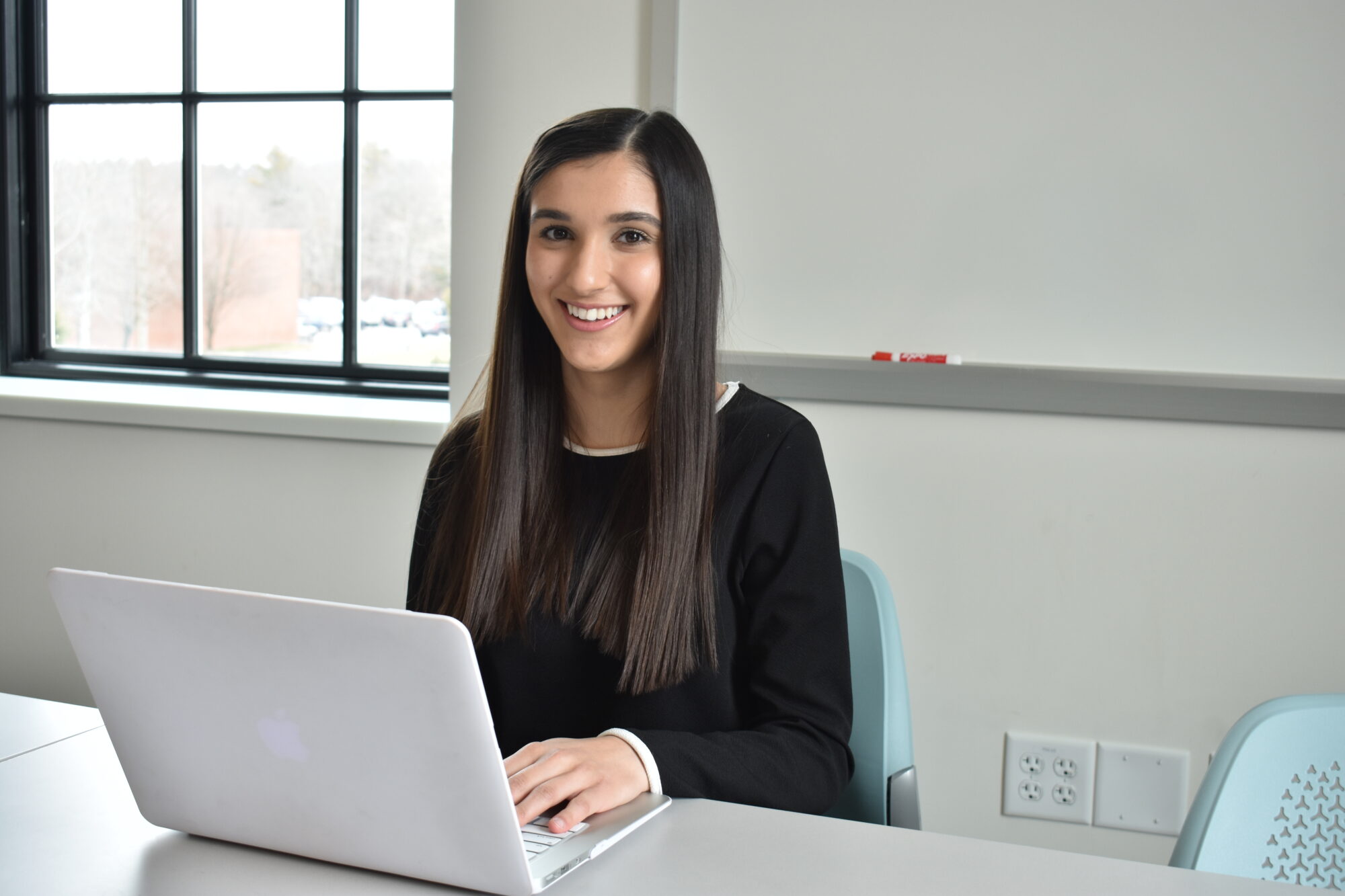 N E T W O R K I N G R E C E P T I O N S :
The Ouimet Fund has committed to strengthening the personal ties developed within the community, and
continues to host networking receptions throughout Massachusetts to bring Scholars, Alumni, donors and
supporters together in a casual setting. Hosted at restaurants every two months, these receptions are free
of charge and have been the catalyst for creating new relationships and friendships. If you'd like to be on the
invitation list, please reach out to Ouimet staff!
C A R E E R P O R T A L :
The Ouimet Career Portal continues to be a wonderful benefit for Scholars, Alumni, and partner companies
alike. Available only to Scholars and Alumni, the Career Portal is a drop-down menu option on www.ouimet.org.
This private, password protected job board promotes open internships and full-time jobs from companies who
are looking to hire from the Ouimet community. Posting an open position is free of charge for companies large
and small, which gives access to the quality talent boasted by Ouimet Scholars and Alumni. Please reach out to
Ouimet staff if you'd like to post an open position!
C A R E E R F A I R :
In September, the annual Ouimet Career Fair saw more than 150 Scholars and Alumni interact with partner
companies virtually via our partnership with a leading vendor in the career fair space, Brazen. The program
allowed Ouimet Scholars and Alumni to video chat with company representatives who are looking to fill open
positions with Ouimet-caliber talent. We thank the participating companies, and applaud the Ouimet Scholars and Alumni who took advtange of this opportunity!
Learn More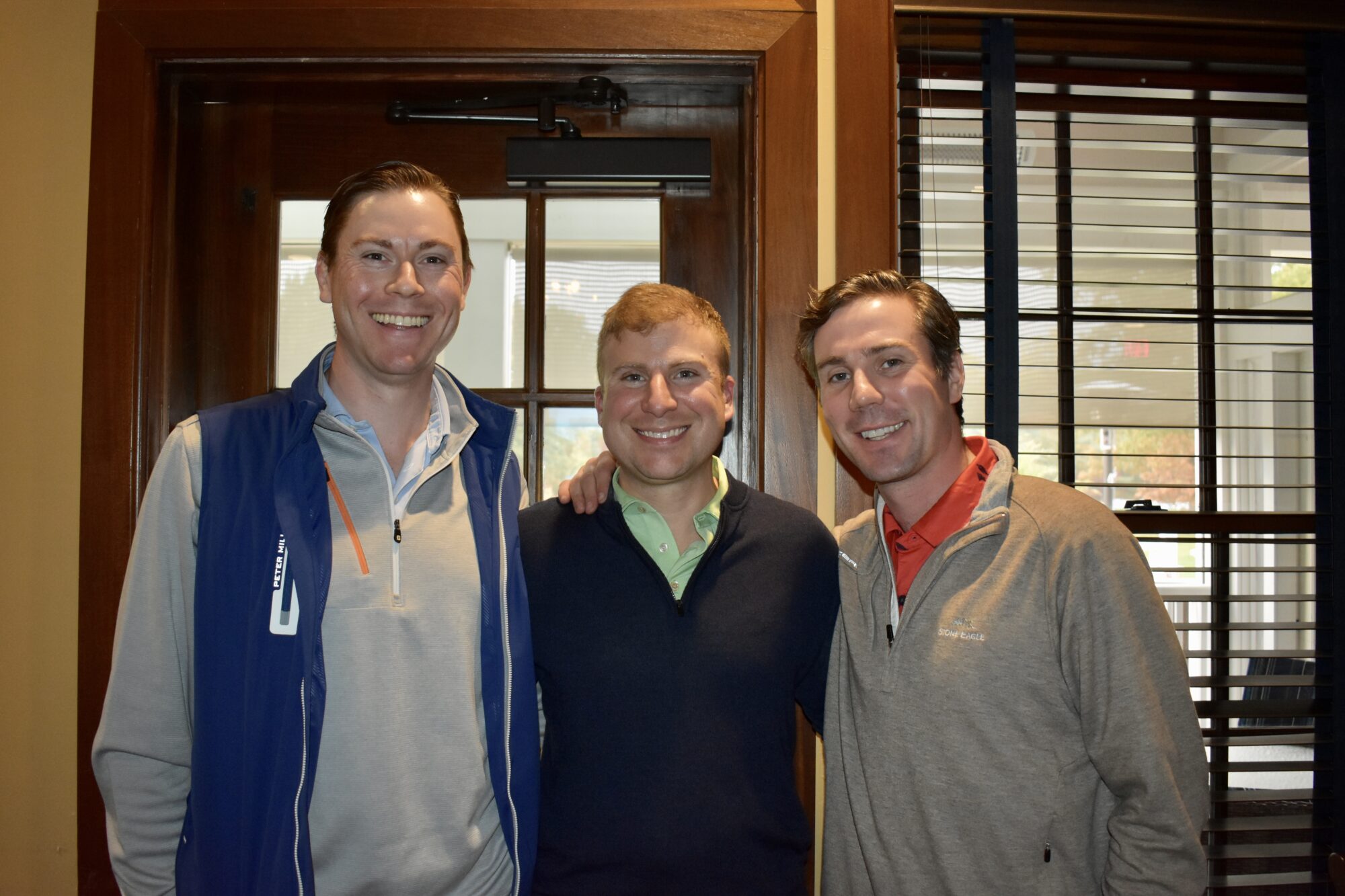 Jake Massar Receives Inaugural Alumni Award
The Ouimet Alumni Association awarded the inaugural Alumni Achievement Award in 2022. Over the years, many former Ouimet Scholar recipients proudly carry on the Alumni legacy with their loyal participation in many of our programs and activities, and this was a perfect opportunity to recognize those efforts. The selected honorees will be generous to the Ouimet fund in "time, talent, and treasure" in a meaningful way. We hope that publicly recognizing this strong participation will inspire future generations of graduates to "pay it forward" for the next generation.
This year's honoree is Jake Massar, a graduate of the class of 2008 at Vanderbilt University. Jake earned his Ouimet Scholarship after many years caddying at Brae Burn Country Club, and was a regular at Ouimet functions during his college summers. Through the years, Jake has remained an active Alumni Committee leader and hosted our first Alumni receptions in New York City. In his 14 years since graduation, Jake has not missed an annual Alumni Fund donation, always supports the Brae Burn Alumni Caddie Fund, an endowment within the Ouimet Fund, and is active in our online golf auction. The Fund is always excited to see Jake in town as he makes a point
to attend as many Annual Banquets, receptions, and other Ouimet Fund functions as possible.
As part of the Alumni Committee's effort to expand "Ouimet Onward," our career resources program, Jake enthusiastically participated in both the 2019 in-person Career Fair (traveling to Boston from New York City for
the day!) and the 2022 virtual Career Fair as a representative of Goldman Sachs, where he has worked for 13 years. Jake told the crowd at the Annual Meeting, when receiving the award, that "growing up as a caddie at
Brae Burn and receiving significant funding from Ouimet for college had a profound impact on my life and where I am today. The generous donors and mentors who have been part of my success strengthen my commitment to giving back in any way possible."
Ryan Carey Receives Denny Goodrich Award
The Francis Ouimet Scholarship Fund renamed its "Honorary Alumnus Award" after Denny Goodrich when he retired from the Ouimet Fund's Board of Directors in 2009 after 37 years of service. Mr. Goodrich, of Dedham Country and Polo Club, was the inaugural recipient of the award in 2003 and also the Ouimet Fund's Richard F. Connolly, Jr. Distinguished Service Award's awardee in its debut year of 2000. For 13 years, he served as the Vice Chair of the Ouimet Fund's Annual Banquets and as Ouimet Fund President from 1990-1992. Denny was the epitome of a Ouimet Alumnus, and this is a special way to always remember his immense contributions to The Fund. The "Honorary Alumnus" must have been generous in their support of the Ouimet Fund, either by contributing financially or by volunteer or exceptional professional service.
The Francis Ouimet Scholarship Fund awarded its 2022 Denny Goodrich Ouimet Honorary Alumnus Award to Ryan Carey, founder of Golden Age Auctions. Ryan began his partnership with the Ouimet Fund in 2017. At the time, many historical items and golf memorabilia given to the Ouimet Fund sat in closets, safes, and due to lack of display space, were generally never seen by the public. They included various pieces from Francis Ouimet, Eddie Lowery, and other exceptional items from golf history.
Ryan's tireless work proved to be an enormous success. The auction created
a new Ouimet endowment in excess of $600,000 and placed these historical
items throughout the world where the golfing public could appreciate them.
After that auction, Ryan remained a close partner of the Ouimet Fund and focused on expanding the Ouimet Golf Auction. This program, has grown to one of the largest in the country for golf rounds and experiences, features numerous top 100 courses and has contributed to our recent significant growth in need-based awards. With his passion for The Fund, and golf history, Ryan has helped keep the Ouimet legacy in the forefront by spreading the Francis and Eddie story to new supporters each year. We
are so grateful to Ryan and his team at Golden Age Auctions for their exemplary work and enormous impact on Ouimet Scholars!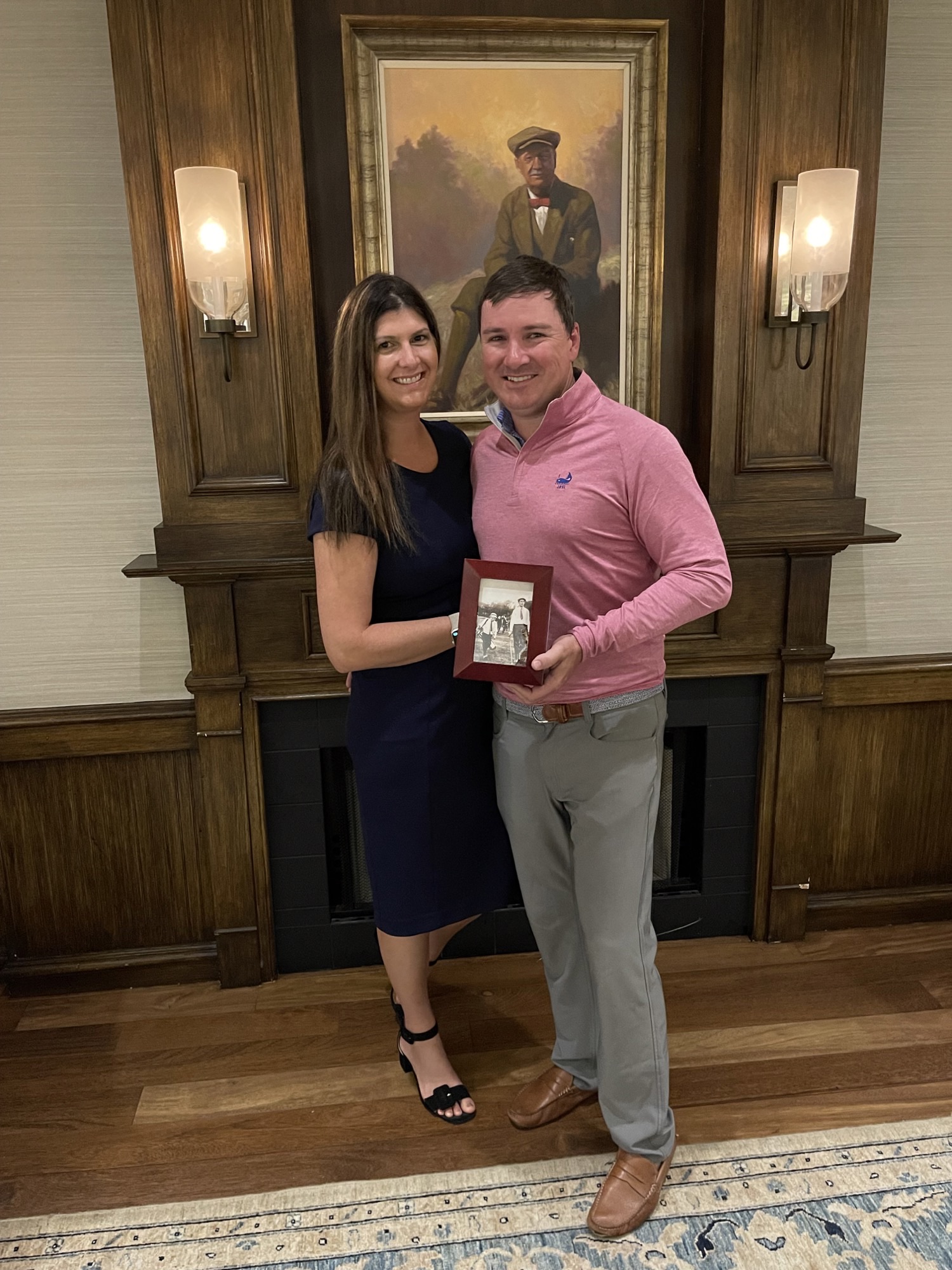 Partnership with Supporting Clubs
At each supporting club, a variety of critical representatives make the Ouimet programs a success.