Ouimet Alumnus and Auburn, Massachusetts native Brian Johnson believes that golf will always be part of his life. He learned to play when he was eight years old and was one of the youngest caddies at Tatnuck Country Club when he started working there at age 12.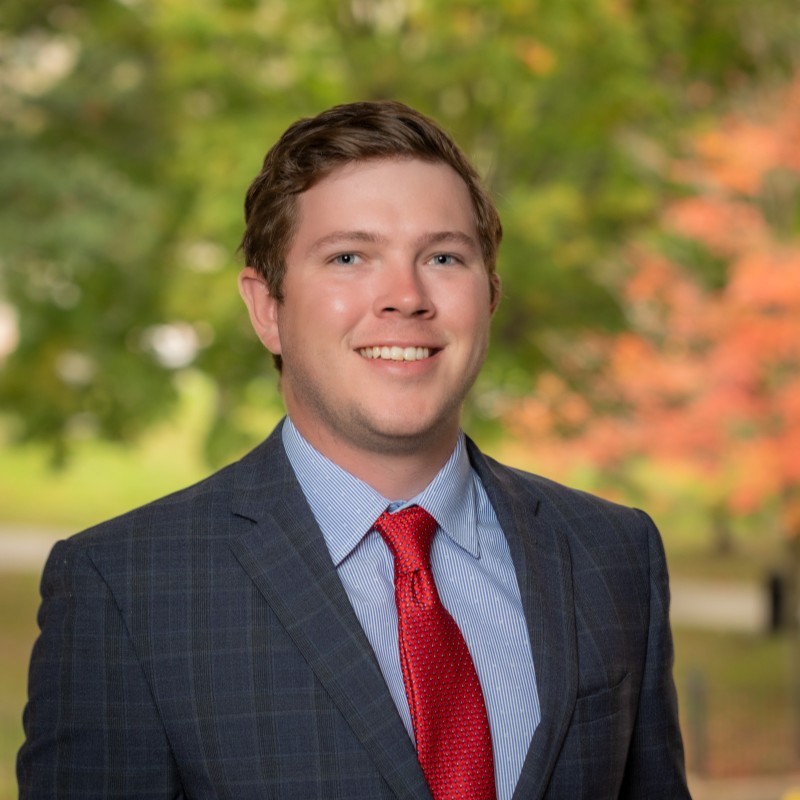 Brian Johnson
"Some of my older brother's friends had jobs at Tatnuck, and my grandfather grew up caddying there as well," Brian Johnson said. "I caddied there throughout high school, and when I could in college, so I was there for eight or nine summers."
Working with older caddies when he first started off taught Brian lessons about interacting with his peers and motivated him to move up in the caddie ranks.
"I learned a lot from the older caddies about how you work and play your role from experience and knowledge," Johnson said. "Learning from them made me want to push myself and be better."
From learning to respect others and the game, Brian's experience on the course with members taught him valuable etiquette and interpersonal skills.
"Being out on the course caddying for a variety of people teaches you a lot and was such a positive experience," Johnson said. "Golf is a good stage to see how adults interact with each other, and you can observe a lot."
A highlight from Brian's caddying years was when longtime Tatnuck member John Budd and Ouimet Fund Board Member Bill Kelleher asked Brian to caddie for them in their Wednesday afternoon game.
"Those guys asked me to come up and caddie for them on a non-caddie day, and that's one of my favorite memories from working there," Johnson said.
Brian learned about the Ouimet Fund and its scholarship opportunities from older caddies at Tatnuck and received assistance from Bill throughout the application process, whom he considers a mentor. Bill also helped Brian with college applications and, years later, connected him with his son, Will Kelleher, who hired him at Kelleher & Sadowsky Associates, Inc., where Brian currently works as a Vice President.
"I first caddied for Bill when I was young, and it took about a decade before I ever asked him about his business," Brian said. "I was respectful of the fact that being on the golf course meant you are away from business, so I wanted to approach it correctly."
Brian graduated from the College of the Holy Cross in 2016 and credits The Fund for allowing him to pursue his college degree.
"The financial help from the Ouimet Fund provided me and my family with comfort, knowing we had support behind us," Johnson said. "Since receiving my scholarship, I believe it's important to stay engaged and connect with kids who have similar stories."
Over the years, Brian has participated in the Ouimet Golf Sprint and attends the Annual Banquet each year with new groups of people he introduces to The Fund. He has been a Board Member since 2017 and is actively involved with the Ouimet community.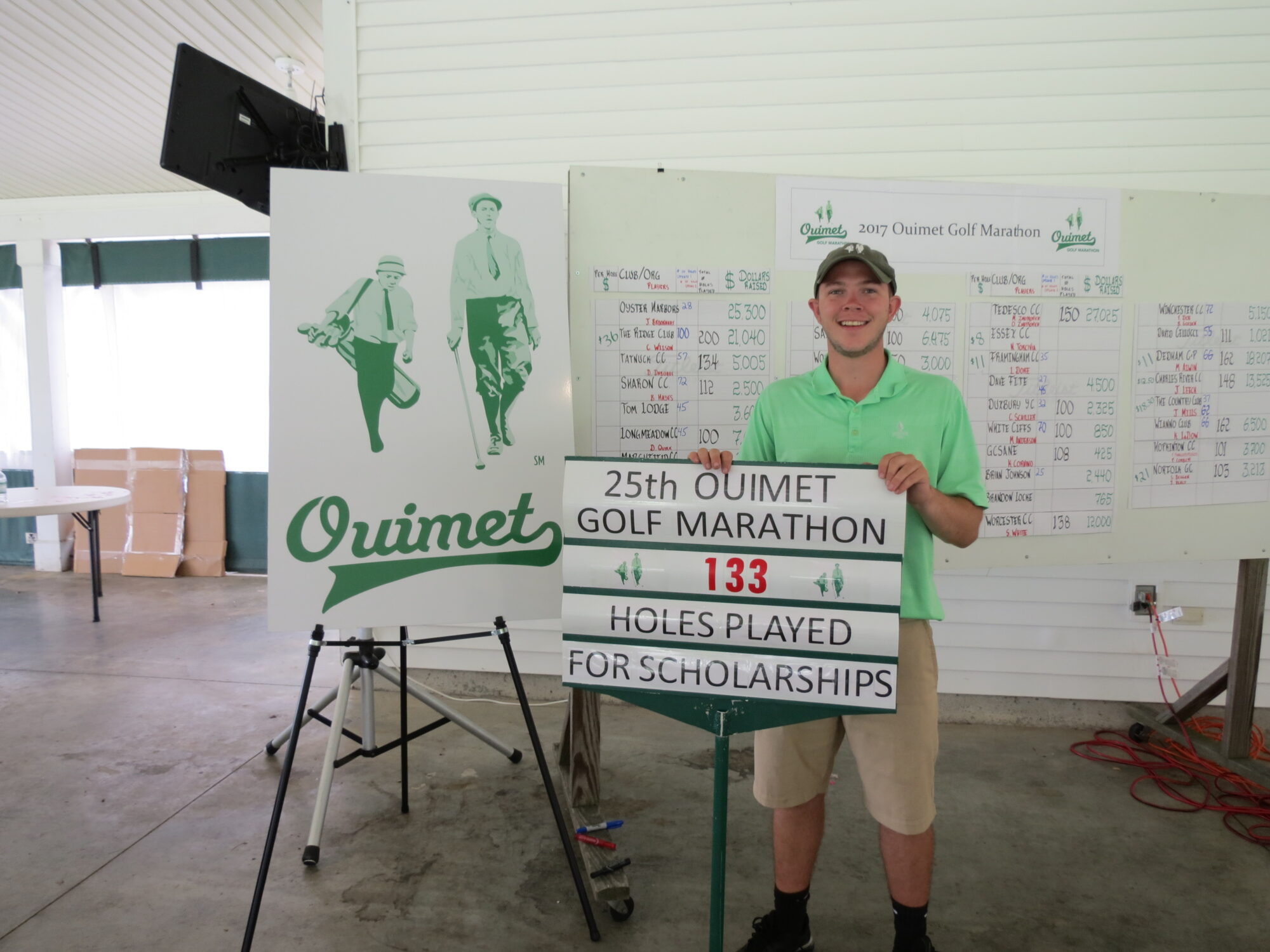 Brian Johnson participated in the 2017 Ouimet Golf Sprint.
"I stay connected with the community because of the people and the mission," Johnson said. "Each year, The Fund gets stronger and continues to expand, and I want to continue supporting its growth and success."
Brian feels a connection to the caddie program at Worcester Country Club, where he plays, and knows golf will always keep him connected to the Ouimet Fund.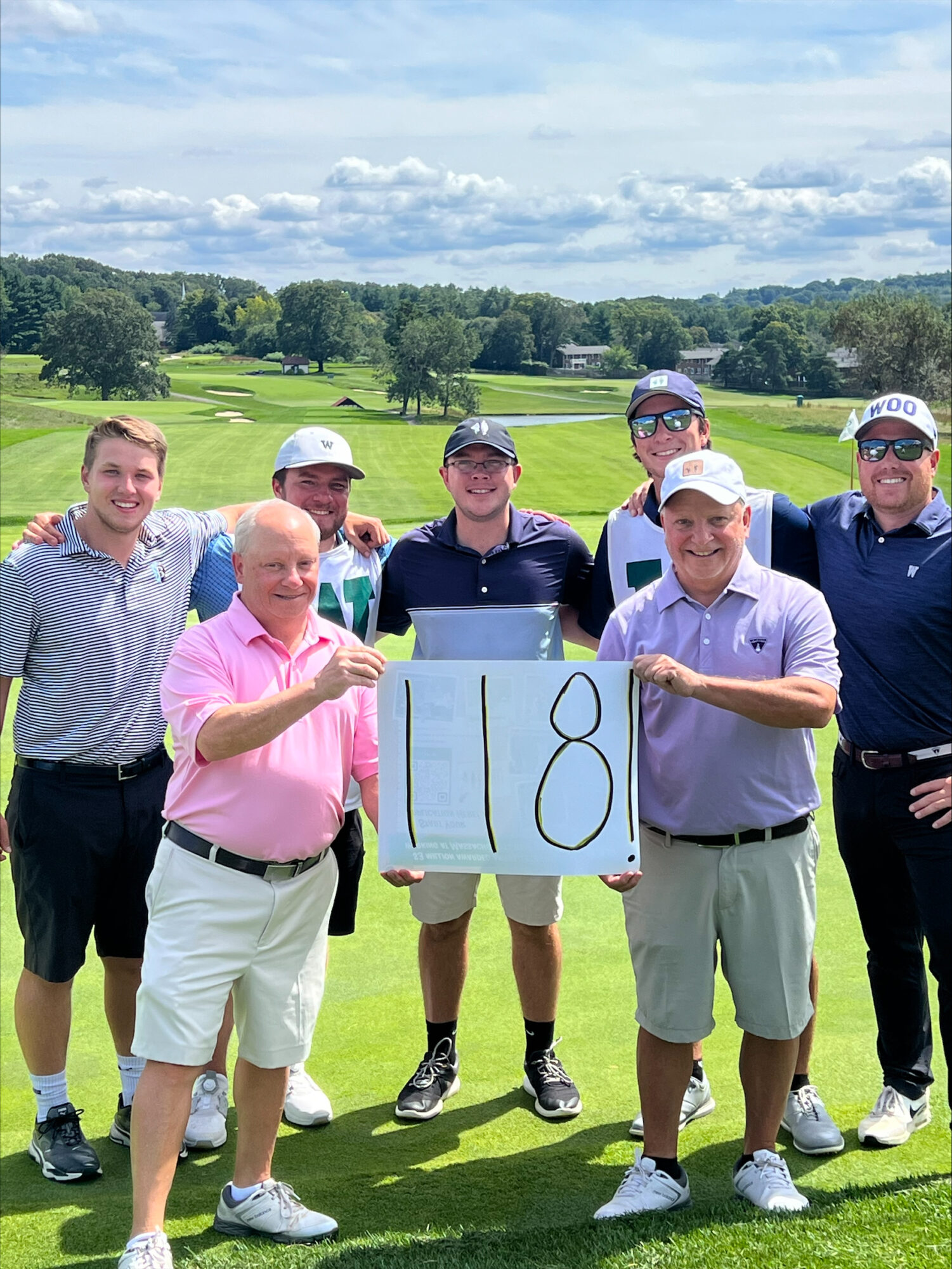 Brian Johnson completed the 2023 Ouimet Golf Sprint with fellow Worcester Country Club teammates.
"I hope to someday be a mentor to the Worcester caddies since I'm not too far removed from what they are experiencing," Johnson said. "Golf will never not be part of my life, and I'm lucky for the people and community the game has introduced me to."