The Fund was excited to speak with Ron Kirby, a Ouimet Alumnus, about his current projects and to learn more about his impressive career in golf. Ron worked as a caddie, caddie master, and maintenance crew member at United Shoe Country Club growing up before attending the University of Massachusetts Stockbridge to study agriculture. After graduating, he worked for Dick Wilson as a design associate before traveling over the United States, Europe, and the Caribbean working under Robert Trent Jones, Sr. Ron founded his own design firm in 1970, designing courses such as Old Head Golf Links and London Golf Club International Course and has worked with Gary Player and Jack Nicklaus. In his recently published book, We Spent Half Our Lives on the Wrong Side of the Road, Ron and his wife detail their journeys and experiences all over the world.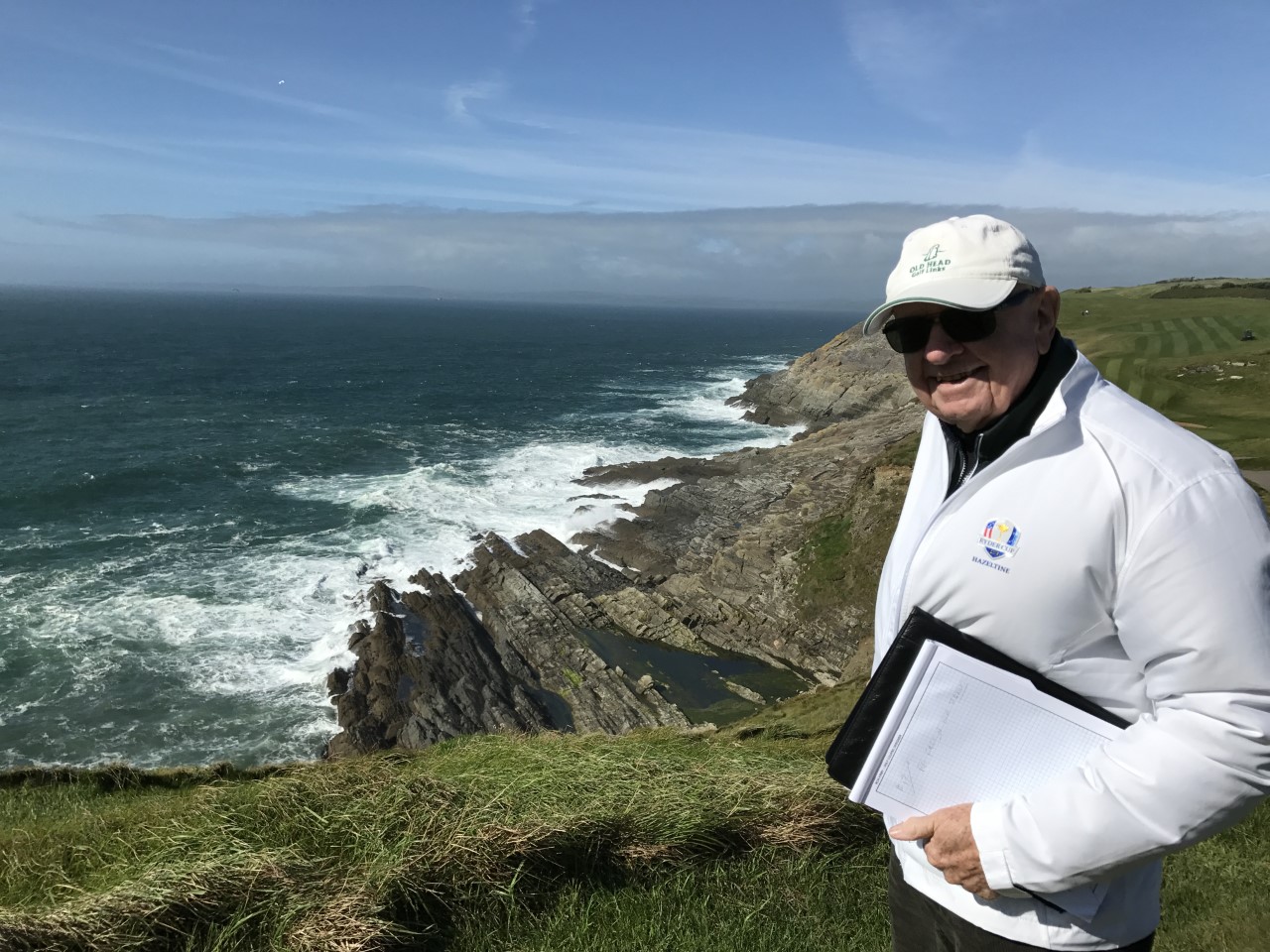 Ron Kirby at Old Head Golf Links in Ireland.
The Fund: HOW DID YOUR CAREER START AND HOW DID IT EVOLVE TO YOU TRAVELING THE WORLD DESIGNING GOLF COURSES?
Ron Kirby: I studied agriculture at the University of Massachusetts Stockbridge with the intent to become a greenskeeper. I got offered a nine-hole job in Massachusetts after college at a small club with 60 members total, and my wife Sally ran the pro-shop. In New England, you can't work as a greenskeeper 12 months out of the year, so in the winter, we went to Miami so I could get a job building courses, and I learned all about the different types of grasses building greens there. After going to Florida for three winters, I got offered a job working on a big project in Nassau, and that's where I met Trent Jones and began traveling and working with him.
The Fund: HOW DID BEING A OUIMET SCHOLAR HELP YOUR CAREER?
Ron Kirby: In 1963, I attended the Ouimet Fund dinner in Boston and asked Francis to sign my program book. He told me to use his name as much as I could, and doing so gave me credibility that helped my career. Having that credential was the seal of approval for me to get my foot in the door because it gave me an edge over the other guy trying to get the job. Francis had the best reputation in golf, so saying I am a Ouimet Scholar carried some weight.
The Fund: WHAT ARE SOME OF YOUR CAREER HIGHLIGHTS?
Ron Kirby: Anytime I was thanked. Jack Nicklaus patting me on the back are days I will never forget.
The Fund: ARE YOU CURRENTLY WORKING ON ANY PROJECTS?
Ron Kirby: Yes, I just got back from Ireland and Spain, where I was upgrading a few things to try and attract a tour event. I'm also working on a course in Barbados that had closed because it was too difficult. I'll be 90 years old for the ribbon cutting there.
The Fund: DO YOU HAVE A FAVORITE COURSE YOU'VE DESIGNED?
Ron Kirby: Old Head in Ireland. It took 10 years to get it mature and really shine it and I am prouder of that than any other course.
The Fund: WHAT WAS IT LIKE WORKING WITH JACK NICKLAUS, GARY PLAYER, AND ROBERT TRENT JONES?
Ron Kirby: You respect their talent. I got to travel a lot working with Gary and learned about marketing. Jack taught me a lot about strategy because he knows where every ball should be hit. Working for Robert introduced me to many connections who have helped me learn and grow. They were all plus golfers in their careers, so I learned from them all, and I am still learning from them.
The Fund: CAN YOU PLEASE TALK ABOUT YOUR RECENT BOOK WE SPENT HALF OUR LIVES ON THE WRONG SIDE OF THE ROAD?
Ron Kirby: Everyone who's met me over the last 20 years told me I had to write a book, so my wife and I would take an hour every day to write, but we never got a lot done. During the pandemic, my daughter helped me, and it took about eight months to finish it. I pen and ink sketched every house my wife and I lived in (18 total), and I sat and wrote what happened in each place and did it that way. I talked to Jack for the forward of the book, and all the proceeds go to the Nicklaus Children's Hospital Foundation.
The Fund: WHAT IS THE GREATEST LESSON YOU'VE LEARNED FROM WORKING IN GOLF?
Ron Kirby: That you can continue to learn. I am still learning, and you never stop finding out the best ways to do something. I am wide open to any better ways to do something and always want to try new methods so that I can continue learning.