The Fund is fortunate to have Jay Askew as an Alumnus and proponent, and wherever he goes in his career, a strong Ouimet program follows.
"My dad brought me to caddy at a young age and I fell in love with the game of golf," Jay Askew said. "I've always cherished my time on the golf course because the environment is infectious. I never wanted to lose that feeling, and I made it my passion to always be involved in golf."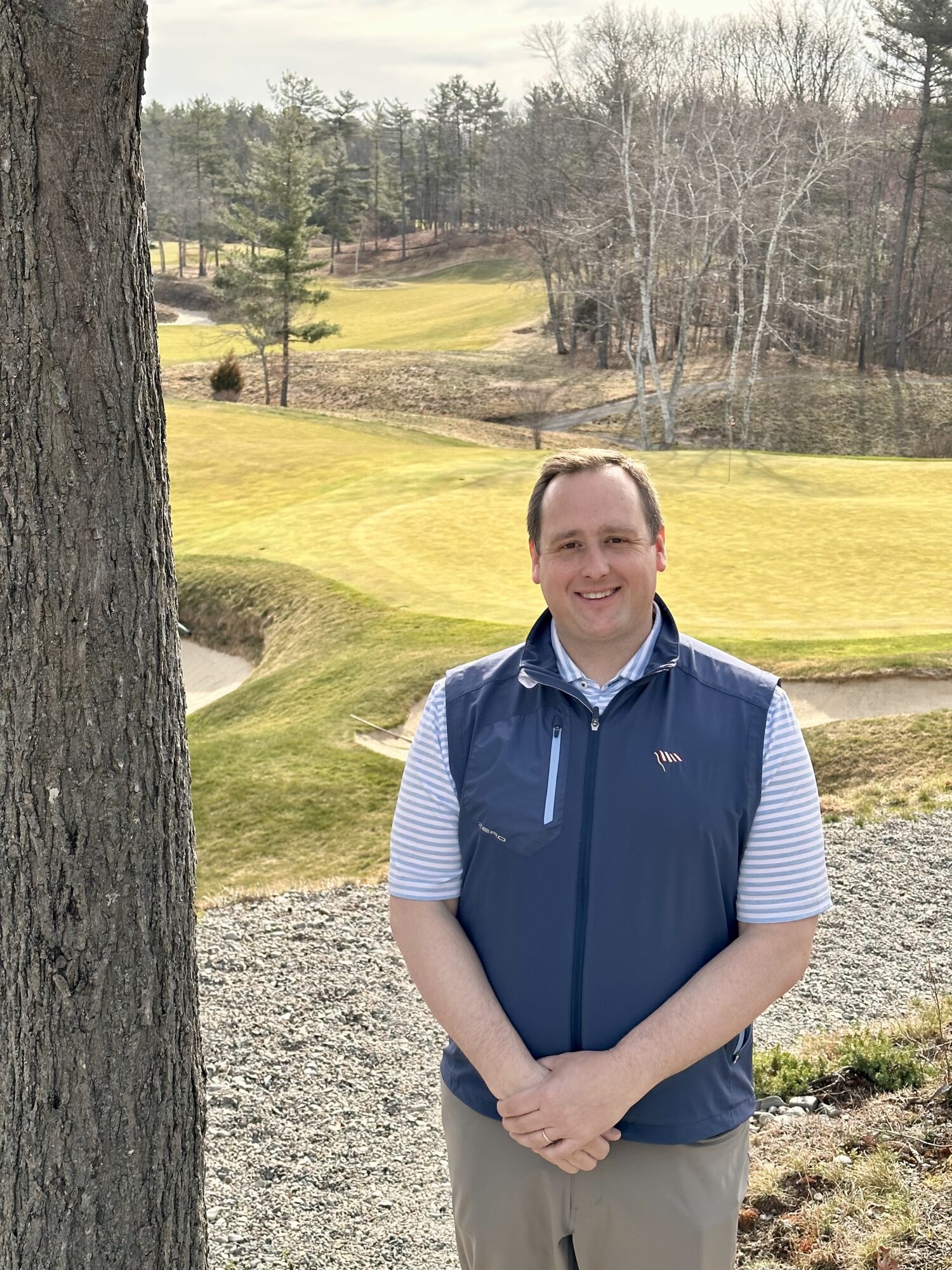 Jay Askew
Ouimet alumnus and Cape Cod native Jay Askew started playing golf at age 8, and over 30 years later, nothing has changed. He describes Cotuit Highgrounds as a mecca for young kids getting into the game, and that's where he and his younger brother, Peter Askew (also a Ouimet Alumnus) fell in love with the game.
Jay caddied at the Oyster Harbors Club from age 12 to 22 and during that time he dedicated himself to the people he served.
"I was young and impressionable and loved meeting successful and influential club members," Askew said. "I enjoyed the relationships I cultivated and listening to the stories of successful folks. My mission was to soak it all up and create connections."
Caddying evolved into interning at Oyster Harbors throughout college under the mentorship of the Head Golf Professional, Jay Wick. Jay returned each summer and worked in the Bag Room and eventually as the Assistant Golf Professional before accepting a full-time job at Sankaty Head Golf Club.
Jay worked at Sankaty for two seasons as the Assistant Golf Professional and spent the winters working at John's Island Club in Vero Beach, Florida. He played competitive golf in high school, passed his PGA playing test when he was only 18 years old, and has had the opportunity to play and visit some of the world's best golf courses. Yet, two years out of school pursuing his dream, Jay had doubts.
"I thought about moving into financial services since I was good at the relationship and financial side of the golf business," Askew said. "At Sankaty, my mentor Mark Heartfield pulled me aside during our year-end chat and said to me, 'You're one of the best young golf professionals I've had the privilege of hiring, don't give up on your dreams.' My dad also said to me, 'You just graduated from the college you've always dreamed of attending, you passed all the tests, and you're just going to call it quits?'"
Instead of leaving the golf industry, Jay was fortunate to be hired as an Assistant Golf Professional at a new course that was under construction and become forever linked to a new mentor, John D. Mineck at Boston Golf Club.
"It was never my aspiration to make a lot of money, I just wanted to do something I loved, and that's golf," Askew said. "I get to come to the course every day as my office and it checks all the boxes for me."
Jay worked at Boston Golf Club for six years before returning to Cape Cod and accepting a position at The Ridge Club, as the Head Golf Professional. Three years in, Jay was giving a lesson at the beginning of the golf season when he had an aneurysm rupture, resulting in immediate eight-hour open heart surgery.
"I was only 34 years old, and it was a life-changing moment," Askew said. "It was a three-month recovery, and when I returned to work, I realized I needed more of a work-life balance."
Jay's recovery granted him more time with his family and made him more in tune with his mindfulness and mental health. After his recovery, he had honest conversations with the members and owners of the club, who suggested he would be a good fit as General Manager.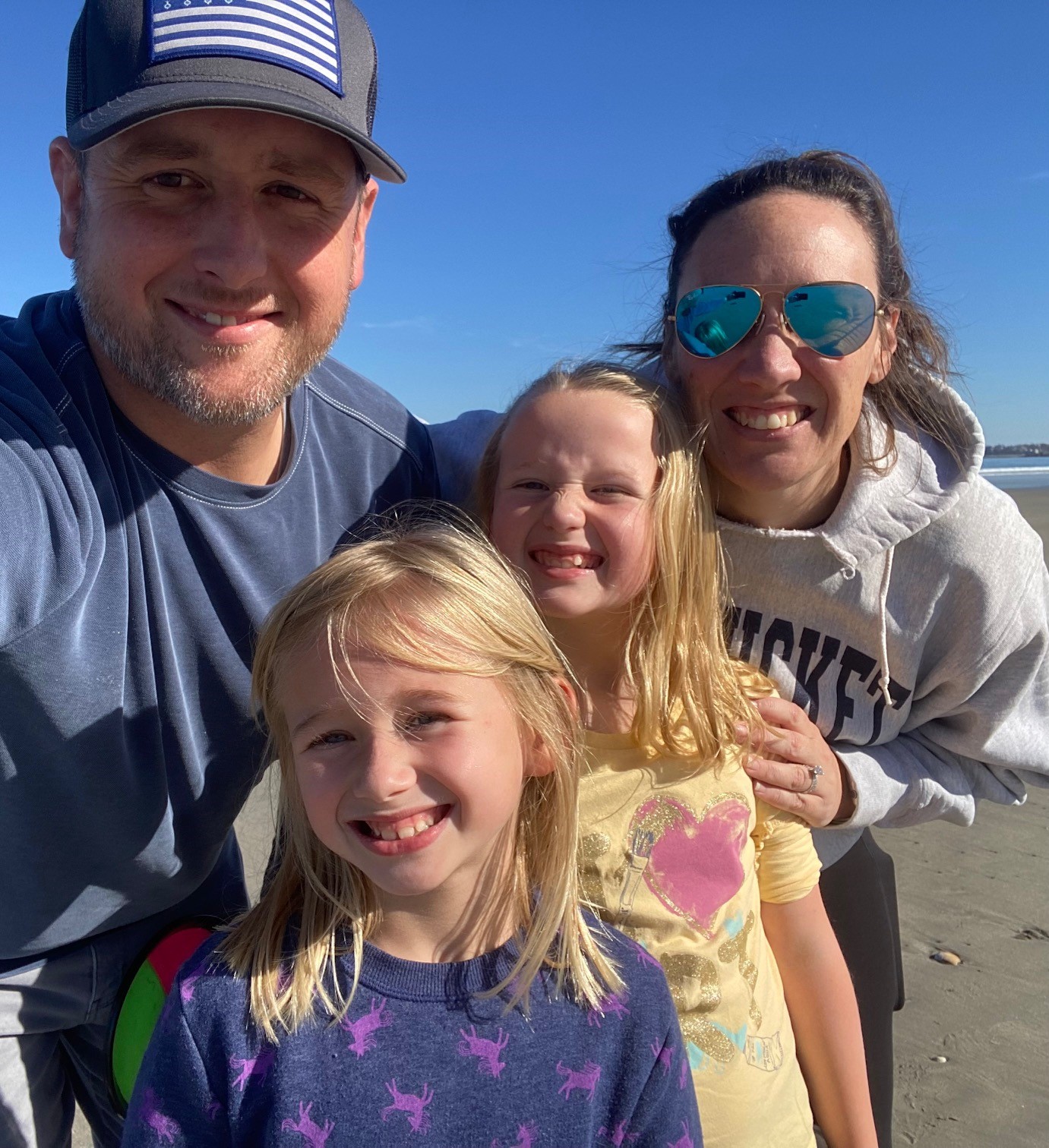 Jay with his wife and daughters.
"I'm passionate about the member experience and having my finger on the pulse of every operation," Askew said. "I transitioned from Head Professional to General Manager and am forever grateful to The Ridge Club for trusting me and allowing me to be a part of their club's history and successes. My time there has propelled me to where I am now."
Two years after his aneurysm, the New England PGA awarded Jay the Deacon Palmer Award, recognizing his outstanding integrity, character, and leadership in the effort to overcome a major obstacle in his life. Jay was especially touched since he received the Deacon Palmer Endowed Scholarship from the Ouimet Fund during his senior year of college.
"I started off in college getting the Palmer award and recognizing the history that comes with that and then suffered this random aortic heart condition that I didn't know about and got an award named after Arnold Palmer's dad again," laughed Askew. "So, it's funny how life has those moments and you come full circle like that."
Speaking of coming full circle, Jay returned to Boston Golf Club as General Manager in 2021. His work over the years at two of the Ouimet Fund's top supporting clubs allowed him to assist future Ouimet Scholars and pay it forward. From 2012-2021 The Ridge Club had 45 Ouimet Scholars and there have been 20 Ouimet Scholars over the last three years from Boston Golf Club.
"So many kids drop out of college because they don't have the financial means," Askew said. "It's extremely rewarding helping young adults achieve their goals and dreams in fields that they are so passionate about – I am very lucky to be someone who has gone from mentee to mentor. Happiness is hard to come by and life has its twists and turns, but golf has always given me a chance to give back, and I believe that's why we're all on this planet, to pay it forward."
Jay studied Business Administration and Marketing with a concentration in Professional Golf Management at Methodist University and graduated in 2004. He is grateful to so many of the club members he has served over the years, but especially to members like the late Dick Stimets who introduced him to the Ouimet Fund, and also to Sue Curtin who personifies what it means to give back to others.
"Without the Ouimet Fund, I would not have been able to attend my dream school, Methodist," Askew said. "The Fund allowed me to go to a small niche private school, helped me graduate without any student debt, and alleviated a lot of pressure that my parents would have endured."
Through Boston Golf Club, Jay met an incredible mentor, John D. Mineck, who passed away in 2007. Jay shared a quote from the back of John's funeral card he tries to live by:
"One friend, one person who is truly understanding, who takes the trouble to listen to us as we consider our problem, can change our whole outlook on the world." – Elton Mayo.
"John was a visionary, and he created a family at Boston Golf Club," Askew said. "In my role at the club, many people trust me with their problems and seek advice as they search for solutions and happiness. I have always had people who listened and invested their time in me and now I cherish those same opportunities too, so I try to live by that every day."