When asked to share his first memory of golf, Ouimet Alumnus and Needham Massachusetts native Tim Murphy automatically replied, "my dad."
His dad grew up in a family of good golfers but only played once or twice a year after raising a family. Tim was fortunate enough to accompany his dad on those occasional golf outings as the oldest of four.
"I remember being five or six years old and walking with him as he pushed his pull-cart," Tim Murphy said. "My earliest memories of golf are connected with my dad."
As he got older, Tim occasionally traveled to Newport Country Club with his dad when he got invited to play during the off-season.
"I'd walk along with him and sneak in a few shots once in a while since no one was around," Murphy said.
Tim grew up playing many sports but took an immediate liking to golf.
"Once you get into it, you decide if it's not for you or if it's the coolest thing in the world, and I picked the ladder," Murphy said. "Golf suited me as a person."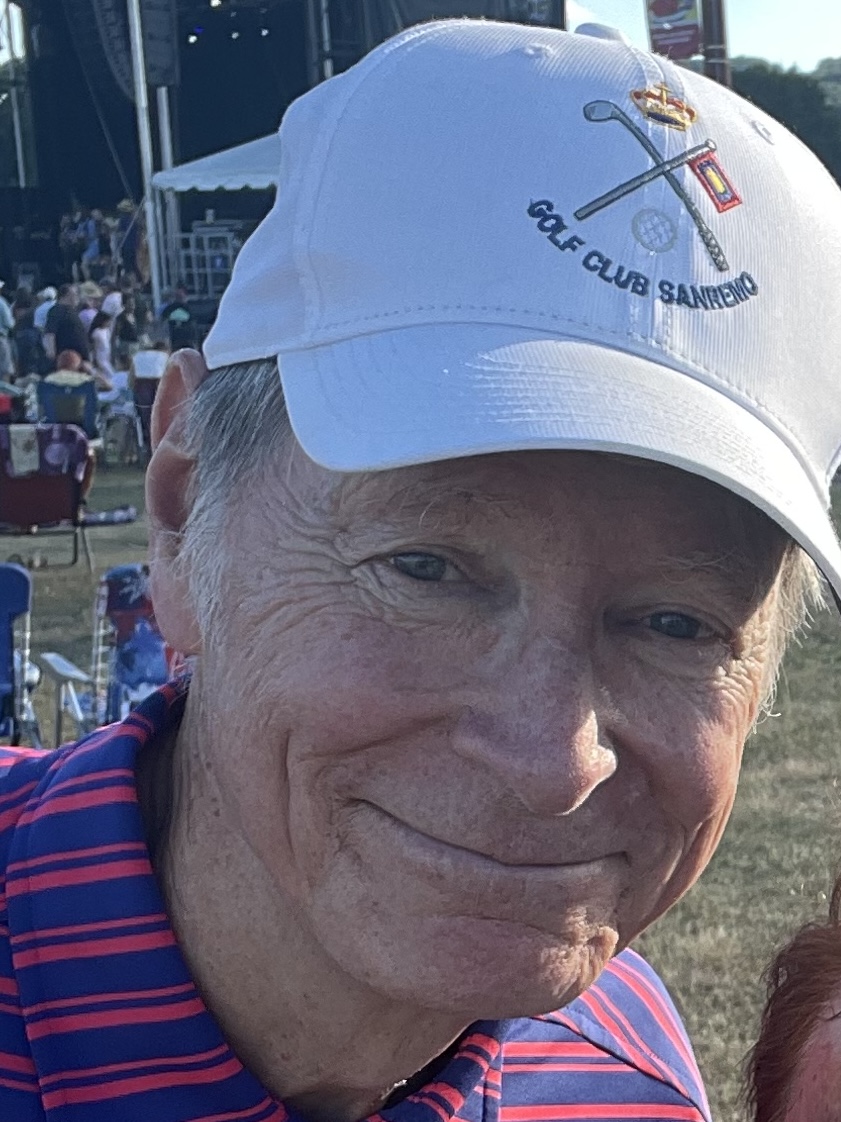 Ouimet Alumnus Tim Murphy.
At age 11, Tim was an "unwilling participant" when his dad dropped him off at Wellesley Country Club to get a job caddying. The idea was inspired by Tim's cousin, who worked there on the grounds crew.
"It was late in the season when I started, so I didn't get out right away," Murphy recalled. "I sat in on a few card games and didn't learn anything about caddying but expanded my vocabulary."
After only doing a few loops that summer, Tim returned the following year and started to get into it. He worked there through high school and into his early college years, returning on the weekends to double bag 36 holes in addition to his weekday job. He ultimately became the club's caddie master the summer going into his sophomore year of college.
"I was never conscious of the lessons I learned in golf, but spending four hours with people is revealing," Murphy said. "I learned lessons from different people and hopefully gravitated toward the people who are unselfish and kind."
Tim found numerous role models at Wellesley who are his friends to this day. From staff members to co-workers and employees, his experiences over the years provided him with memories he cherishes.
"I regularly caddied for Dick and Peggy Brodbent, and I was out with Dick when my dad died," Murphy said. "Dick shepherded me through that and was really a godsend to me."
Tim's dad passed away a few weeks before he graduated high school after suffering a massive heart attack.
"I was only 17, and it was a total shock to my world and my family," Murphy said. "I was caddying when I got the news and didn't understand the severity of the situation, but Dick understood and drove me to the hospital."
After getting dropped off by his dad earlier that day, Tim's world was upside down in an instant. A week prior, Tim received the exciting news that he got off the wait list at the University of Notre Dame, where his dad had gone.
"I was happy knowing my dad had that news before he died," Murphy said. "Initially, I was all set to go to Boston College, and my dad didn't want to pressure me, but I knew deep down he was very happy."
Tim planned to go to Notre Dame, but everything was up in the air after his dad's death.
"I talked to my mom about staying closer to home and working instead, but she insisted I go," Murphy said.
To make that possible, the membership united at Wellesley. Without Tim knowing, a group of members from the club approached The Fund asking if Tim could receive a scholarship to attend Notre Dame, given his circumstance.
"I was invited to apply and received a scholarship, and I don't know how those four years would have worked without it," Murphy said. "The club members got together and shined. I am forever grateful for those people and The Fund at that point in my life."
Tim graduated Magna cum laude from Notre Dame in 1970 and never let go of the friendships he formed at Wellesley.
"Each member was a role model to me in a different way," Murphy said. "I saw how they went about life and how the game inspired and frustrated them, and it all helped shape me."
Jane and David Parker, Endowment Creators at The Fund, were two particularly influential members.
"They were like a second family to me, and Jane, who is in her nineties, still calls me every year on my birthday," Murphy said. "They were good to me before my dad died and certainly after."
Tim also credits them with shaping his career path.
"They would read Golf World magazine, and I would always see it at their house," Murphy said. "That's where I ended up working, so in a way, they pointed me to my ultimate career."
After graduating with a Communication Arts degree, Tim received his master's from Brown University. He dreamed of pursuing a career in sports writing, and Golf World made that a reality.
"Golf is a very big part of who I am, and it's taken me to some fun places," Murphy said.
Tim still holds onto an honor caddie pin he received in 1963 while working at Wellesley from The Fund, and you could hear the pride in his voice as he explained its significance.
"I will always think of myself as a caddie and, more specifically, a Ouimet caddie," Murphy said. "That honor I got 60 years ago was a big deal to me then and still is."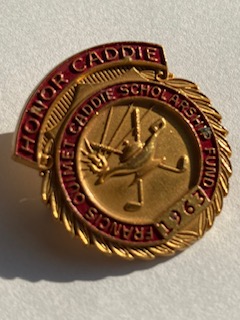 Tim Murphy's honor caddie pin he received in 1963.