The Largest Golf Dinner In America
America's largest golf dinner returned to the Encore Boston Harbor on Monday, April 3
2023 Annual Banquet
America's largest golf dinner returned to the Encore Boston Harbor on Monday, April 3, honoring former World No.1 and four-time major champion Ernie Els! With nearly 1,500 guests in attendance, this was the largest crowd since the 2013 Centennial with Arnold Palmer, as the Massachusetts community celebrated the kick-off of the golf season just days before the 2023 Masters Tournament.
Thank you to our many generous sponsors and donors for an incredible evening celebrating Mr. Els and other members of the Ouimet community.
Make a Donation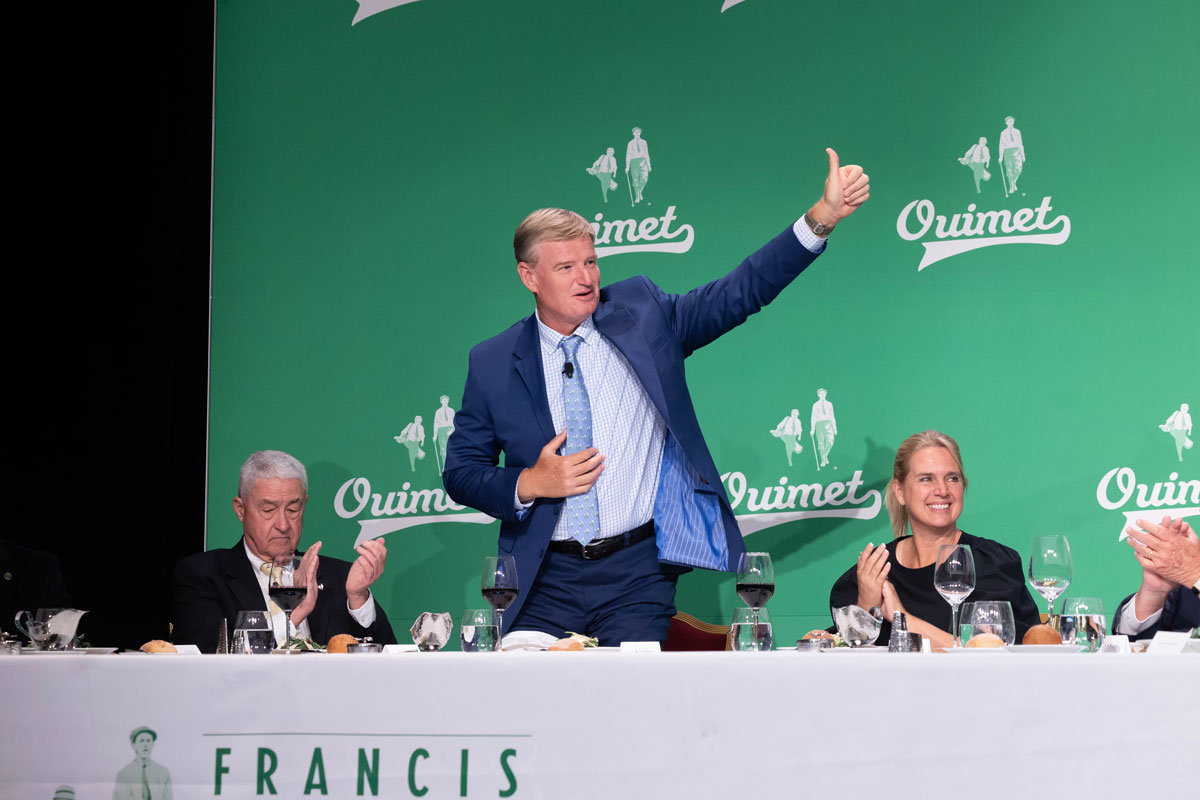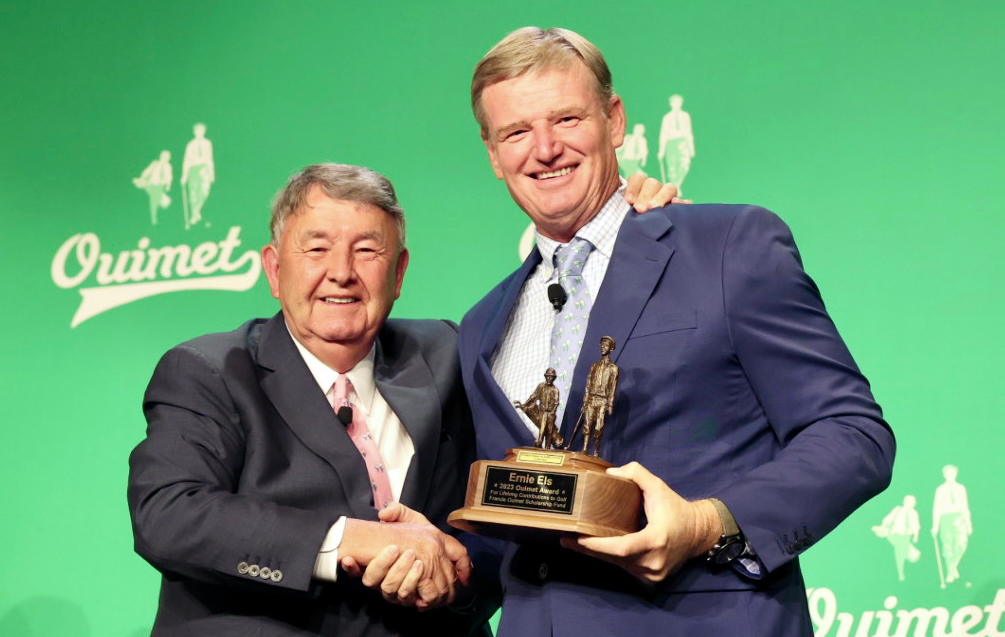 2023 Honoree
Ernie Els
Ernie Els has 76 professional career victories to his name, including four Major Championships, two World Golf Championships and a record seven World Matchplay titles.  As a former World No.1 Ernie is one of the most prolific winners of his generation and the global reach of his victories is almost without parallel. Ernie was inducted into the World Golf Hall of Fame in 2011 and the South African Golf Hall of Fame in 2009.
Ernie has uniquely transcended his sport by virtue of his groundbreaking charitable endeavors and fundraising. Ernie and his wife Liezl founded The Els for Autism Foundation in 2009, spearheading a campaign that led to the opening in 2015 of The Els Center of Excellence in Florida, a world-class site hosting leading-edge programs and services for individuals with autism. Ernie's other great philanthropic passion is The Ernie Els & Fancourt Foundation in South Africa, established in 1999 with the purpose of identifying and assisting young individuals predominantly from families of limited resources and to deliver to them educational assistance and golfing opportunities.
Off the Golf Course
For his charitable endeavors Ernie has received many awards:
Charlie Bartlett Award by the Golf Writers Association of America.
Jefferson Award, essentially a Nobel Prize for Public Service, for outstanding athlete in service.
Named one of the 'Top Five Most Positive Athletes in the World' by the United Nations NGO Voting Academy.
Golf Foundation Spirit of Golf Award for his achievements as a player, for his contribution to golf and commitment to young people in golf and education.
Metropolitan Golf Writers Association (MGWA) Winnie Palmer Award for his foundation work on behalf of autism. The MGWA had previously conferred on Ernie its prestigious Gold Tee Award.
Eighth recipient of the Denver-based Nicholson Award for 'a lifetime commitment and dedication to the game of golf'.
Ernie was also voted the 'Golf Course Designer of the Year' at the 2015 World Golf Awards.
Payne Stewart Award in 2015.
Heisman Humanitarian Award 2017 in recognition of work for autism.
Old Tom Morris Award 2018 from the Golf Course Superintendents Association of America.
Jim Murray Award 2018 from the Golf Writers Association of America.
Receives the Arnold Palmer Open Award presented by the Association of Golf Writers at the 2018 Open Championship.
Event Recap
Networking and cocktail receptions brought old and new friends together, and at 7:00 PM, attendees gathered in the ballroom to take their seats as Dave Marr, III, son of well-renowned golfer Dave Marr and a golf host for SiriusXM Radio, took the stage for his fifth year as the Master of Ceremonies. Guests heard from Ouimet Fund President William Healy, MD, who thanked the many sponsors and clubs in attendance. The Ouimet Fund Executive Director, Colin McGuire, spoke to the crowd about some of The Fund's highlights from 2022 and future goals.
Ouimet Fund Trustee and presenting sponsor Richard F. "Dick" Connolly, Jr. presented Susan J. Curtin with the first award of the evening, the annual Richard F. Connolly, Jr. Distinguished Service Award. We were thrilled to recognize Sue's dedication to The Fund for nearly 20 years and celebrate her contributions in front of so many of her friends, colleagues, and family members. Sue graciously accepted her award and dedicated it to her dear friend, a co-founder of Boston Golf Club, John D. Mineck, whose spirit is perpetually remembered by the Ouimet Endowed Scholarship established in his name.
Another highlight of the night was hearing from this year's student speaker Anthony Adelizzi, who ignited the audience with his emotional speech about embracing his diagnosis of autism spectrum disorder. The crowd was on their feet cheering after Anthony spoke about his time working at Hyannisport Club under the mentorship of Dave Wilson and how he is currently studying at Methodist University working toward his dream of becoming a Class A PGA Professional. After receiving a standing ovation, Fund President Dr. Healy presented Anthony with special news: Anthony would receive an additional Ouimet Scholarship for the year to cover his entire unmet need.
Later in the evening, Mr. Connolly was honored to present Ernie Els with the 2023 Ouimet Award for Lifelong Contributions to Golf before Ernie and Dave Marr, III entertained the audience during a fireside chat.
Guests were fortunate to hear stories from Ernie's childhood in South Africa, his early wins and celebrated career, and how his mentor Nick Price acted like a big brother to him. He also spoke about something meaningful in life beyond trophies, sharing stories about his son Ben, whom he described as his best friend, and how he inspired the outstanding work Ernie and his wife Liezl are doing through their foundation, Els for Autism. We were thrilled the Executive Director of the Els for Autism Foundation, Dr. Marlene Sotelo, flew in from Florida to be with us.
The Fund was additionally honored that family members of both Francis Ouimet and Eddie Lowery were in attendance. Francis' granddaughter Sheila Macomber and his great-granddaughter Caitlin Wallerce (along with their husbands Ed and Alan, respectively) joined Eddie Lowery's daughter Cynthia Wilcox and her husband Tom, along with their son James and his wife Maria, in what was a special evening to remember the legacies of their legendary relatives.
The Fund extends a huge thank you to the Encore Boston Harbor for hosting another extraordinary evening. Thank you to the many sponsors who made this night possible and all the clubs in attendance. We thank Sue and Anthony for their impactful speeches and incredible stage presence. Lastly, thank you, Ernie and Liezl, for making the 2023 Annual Banquet an unforgettable evening.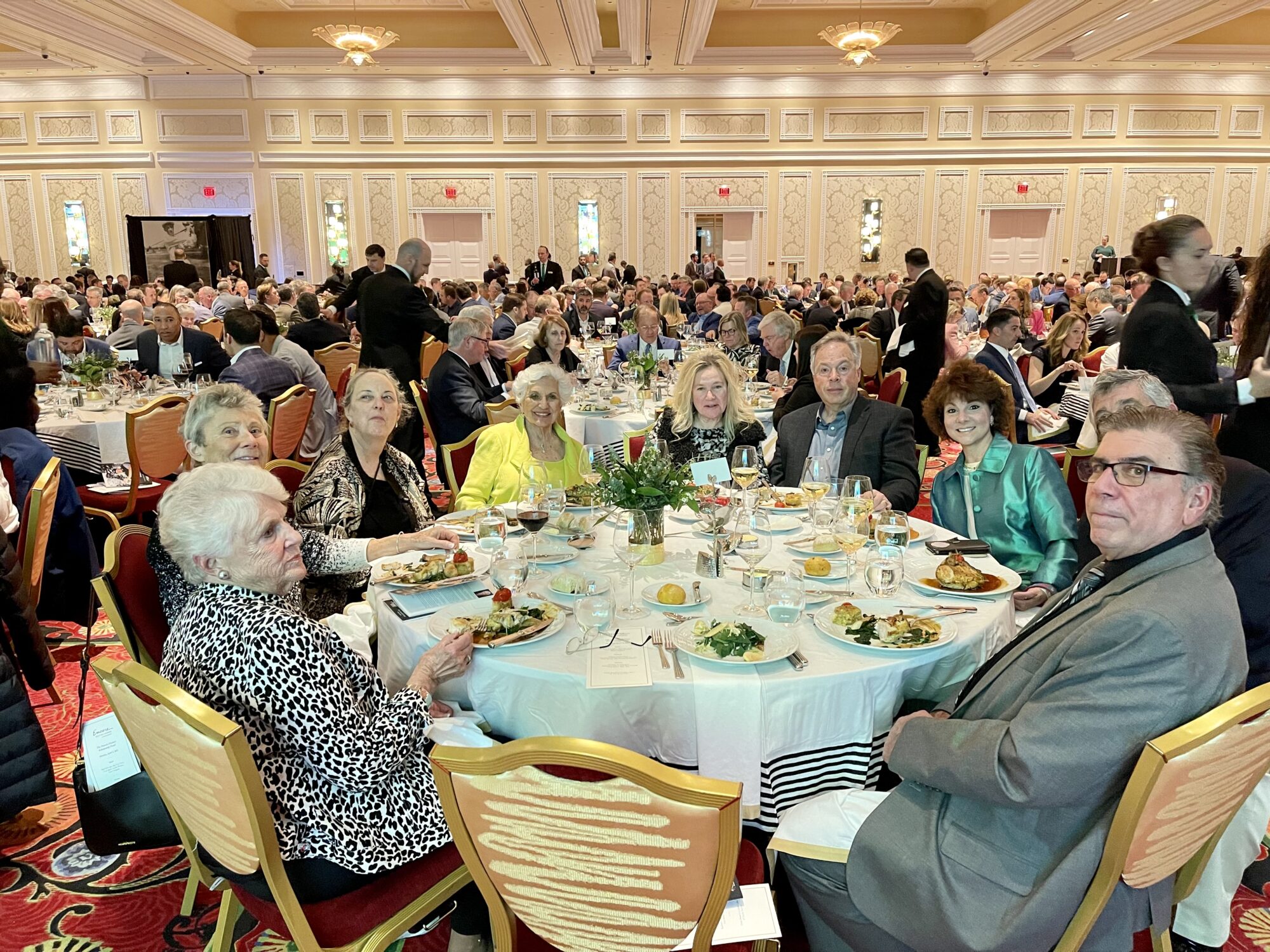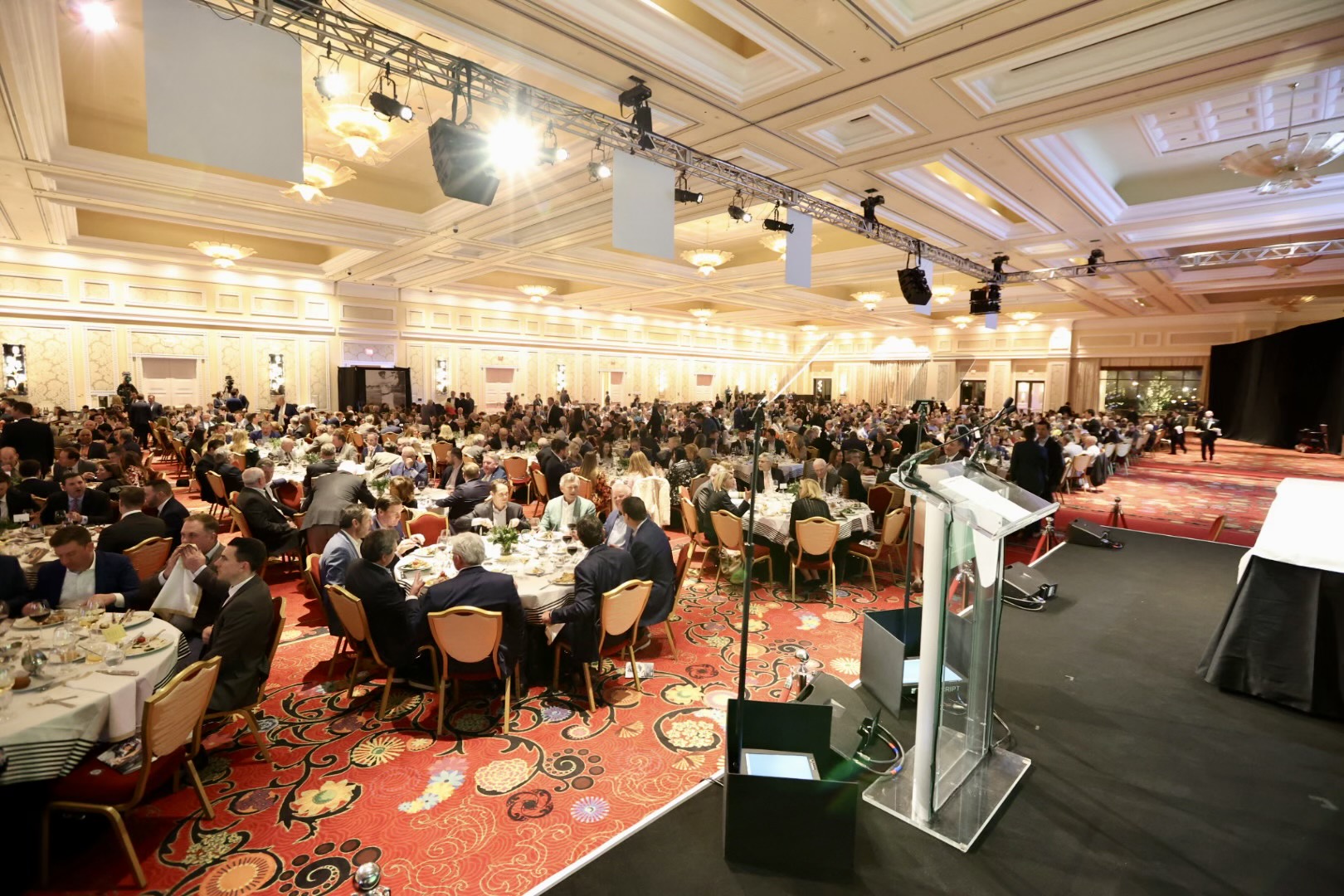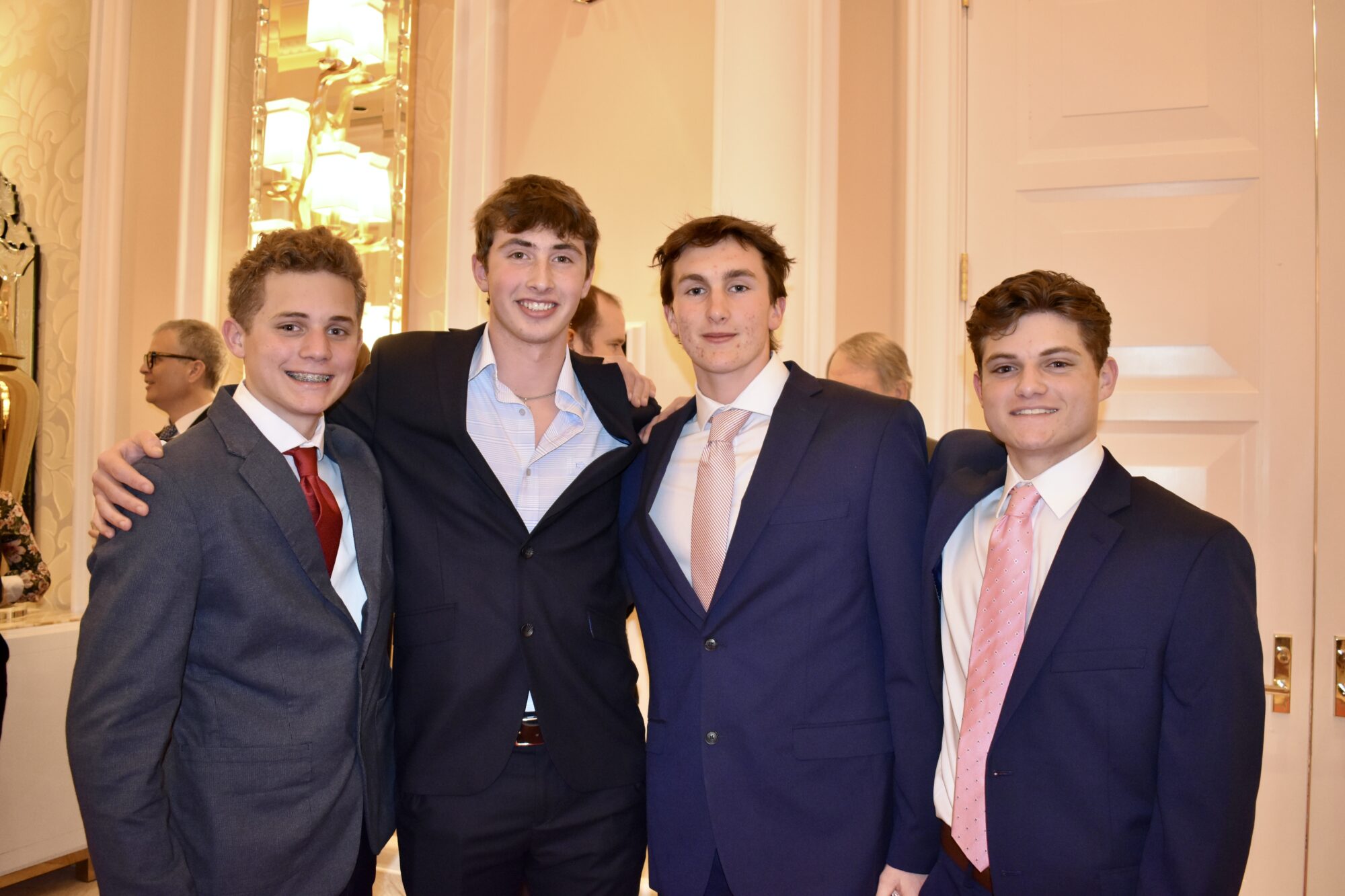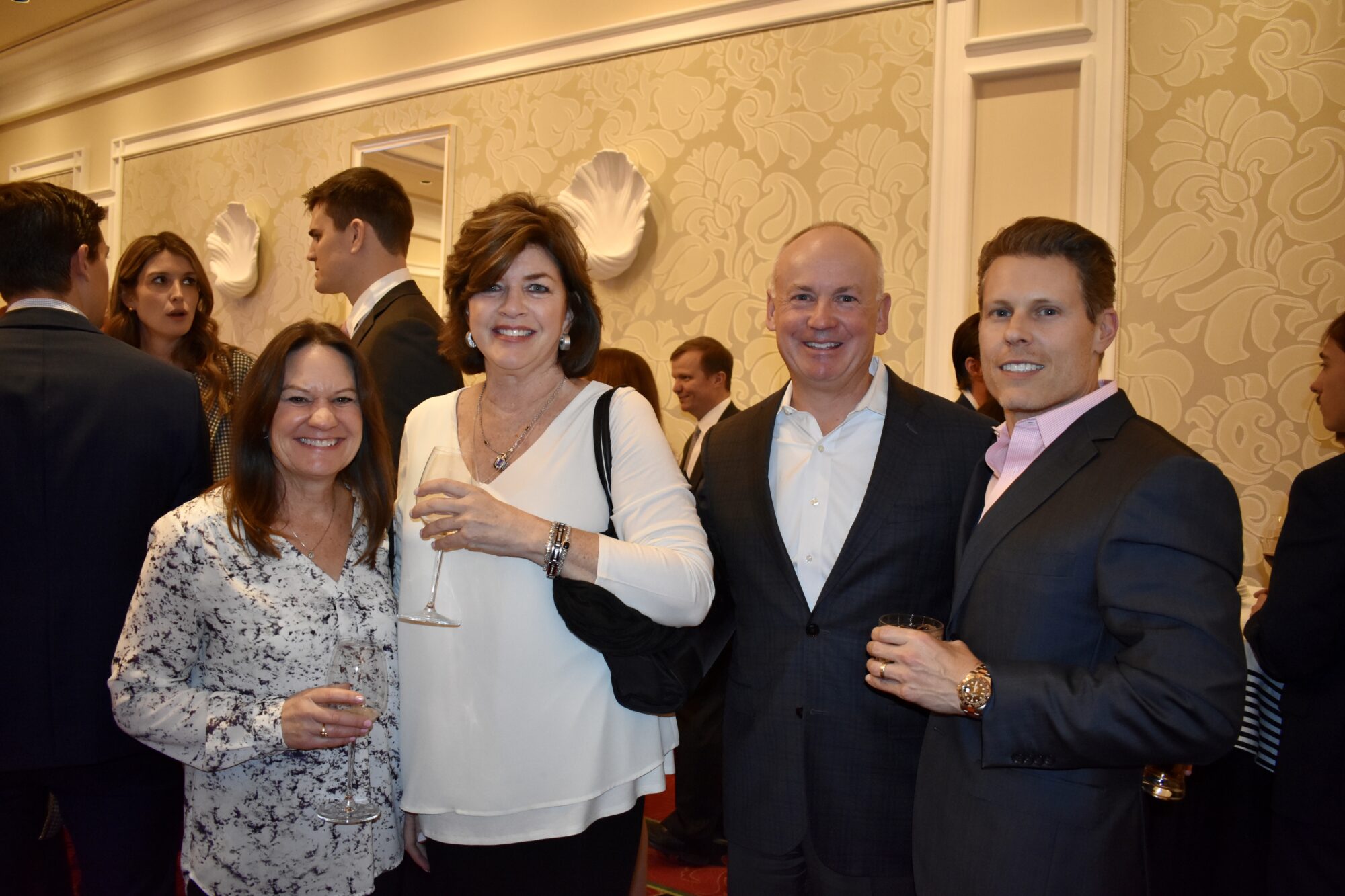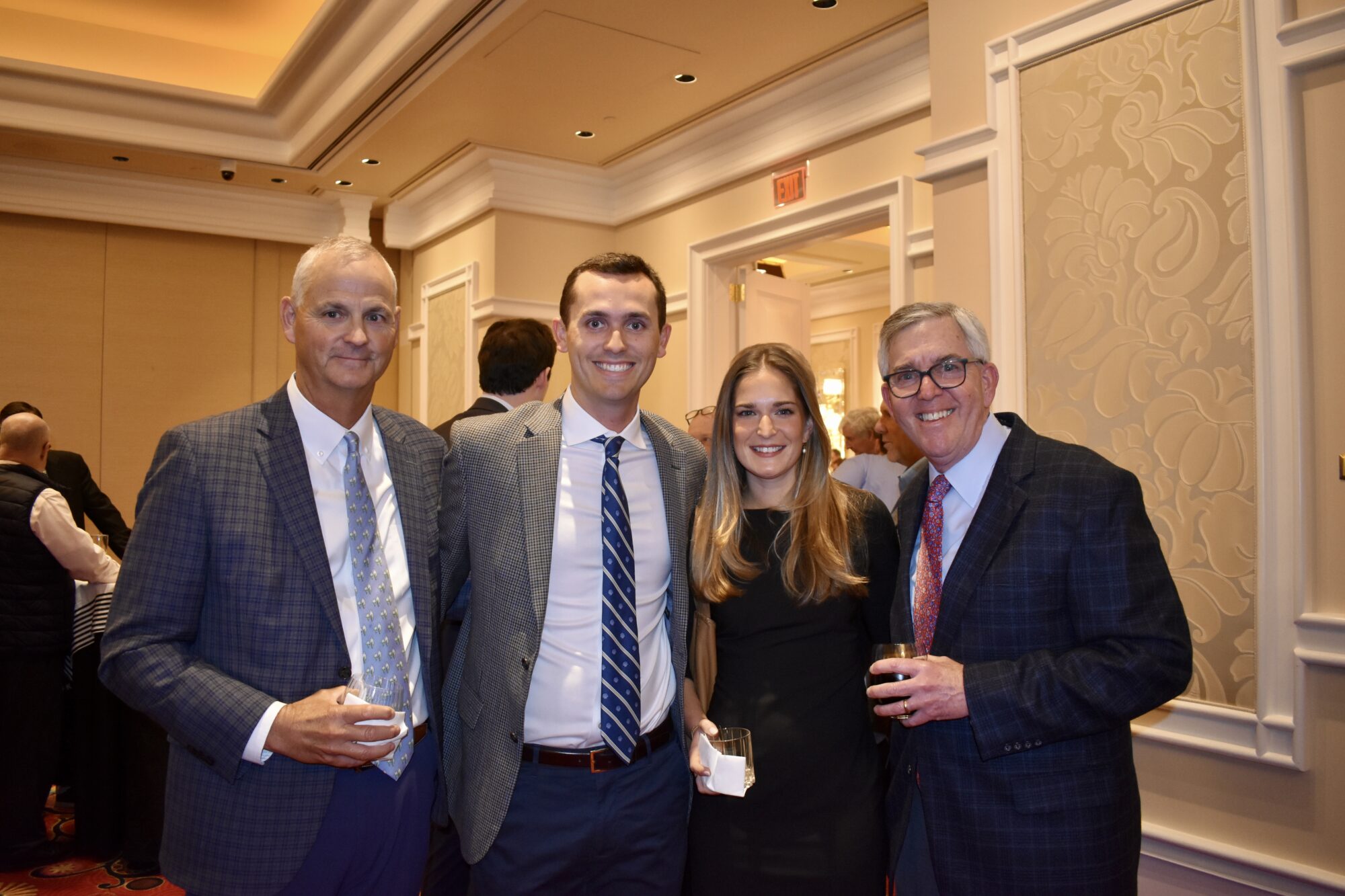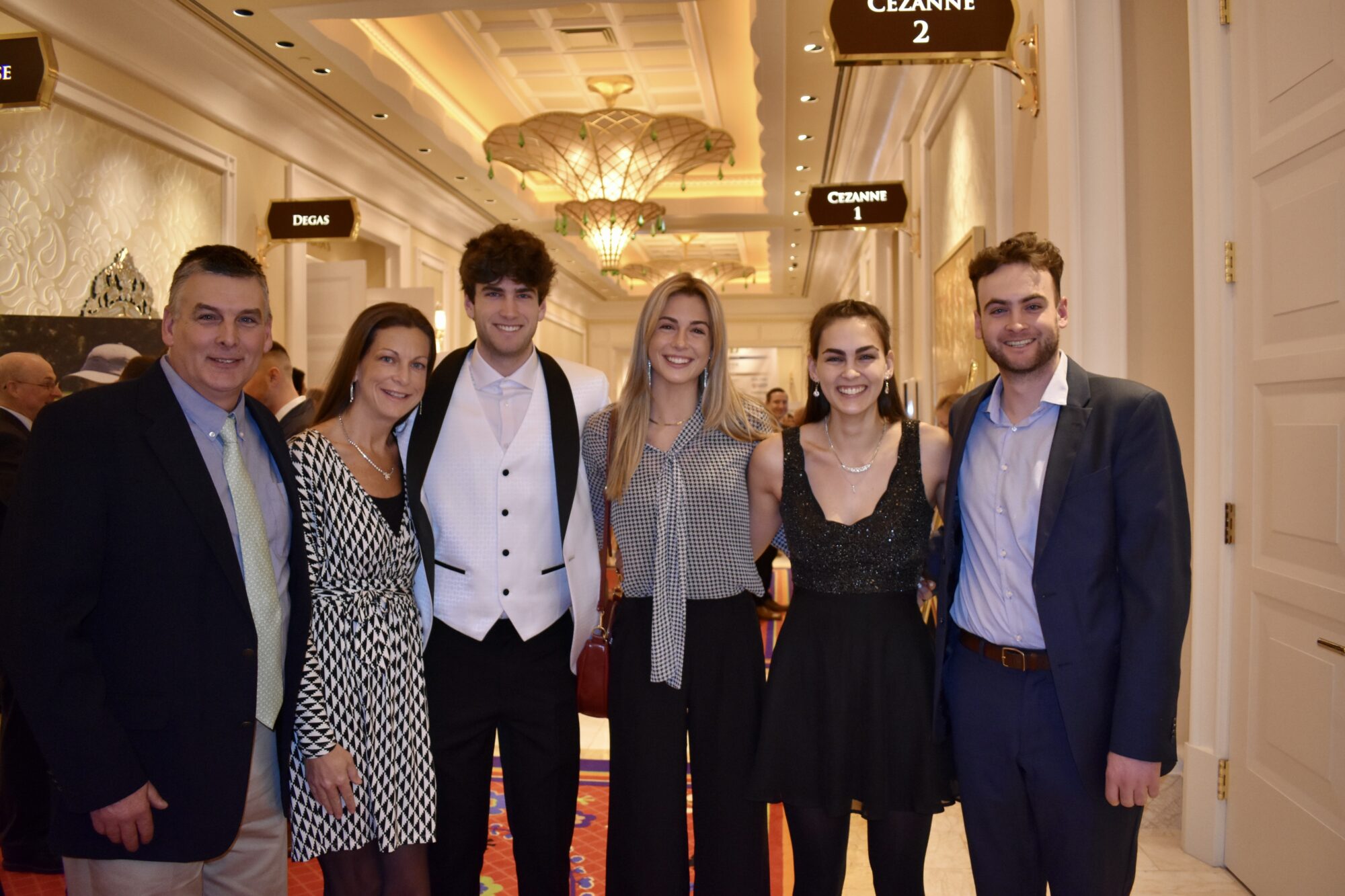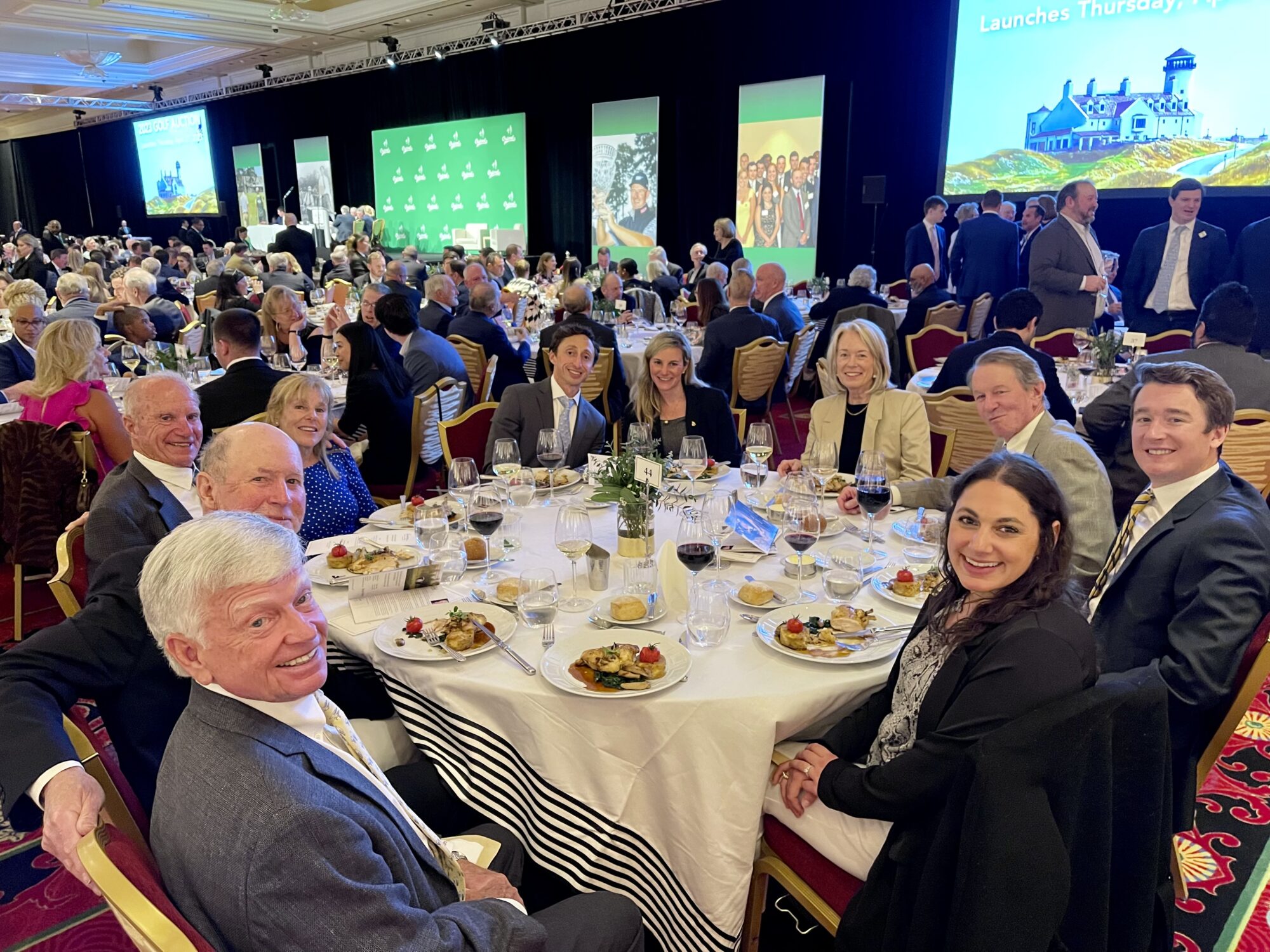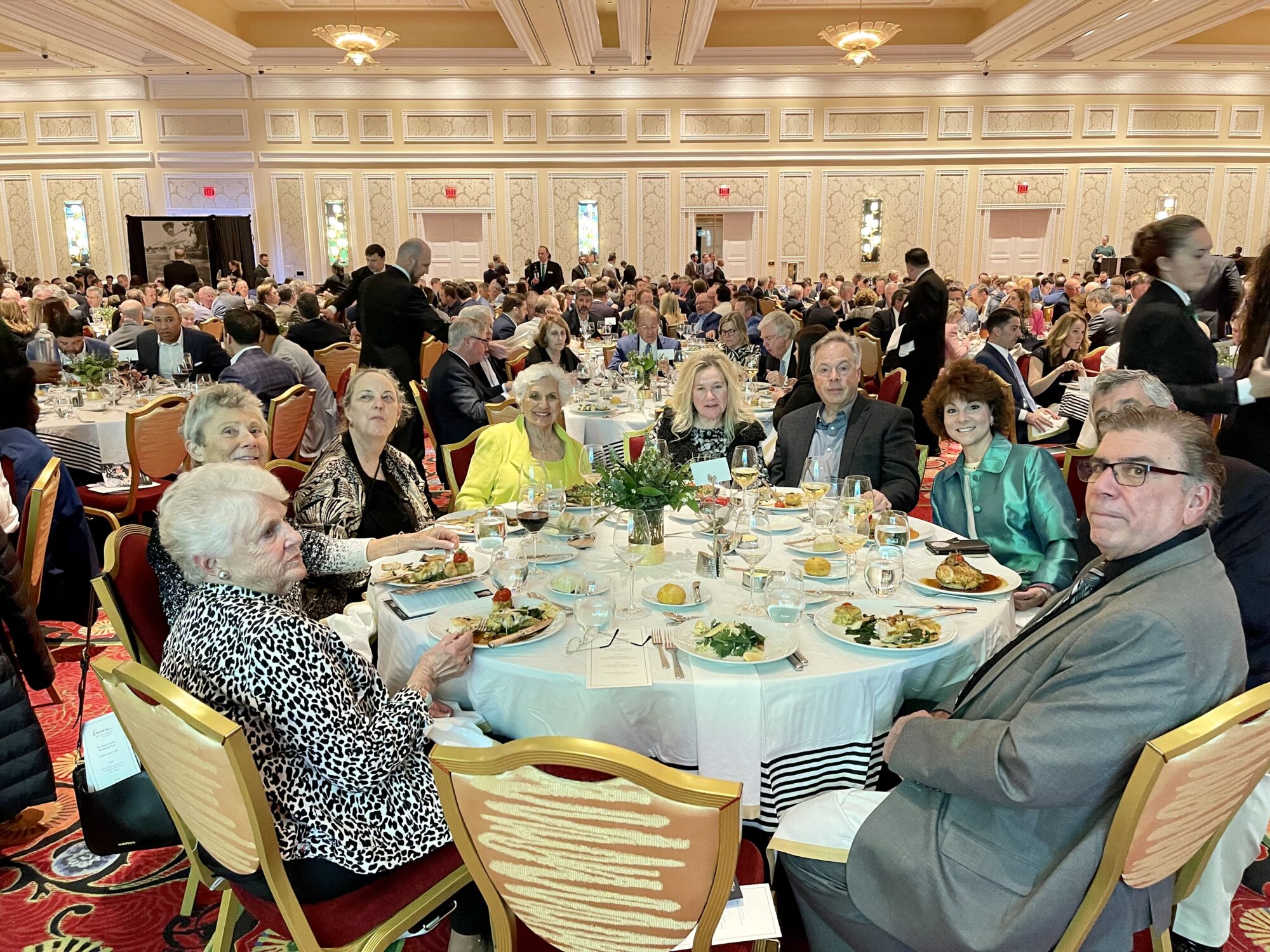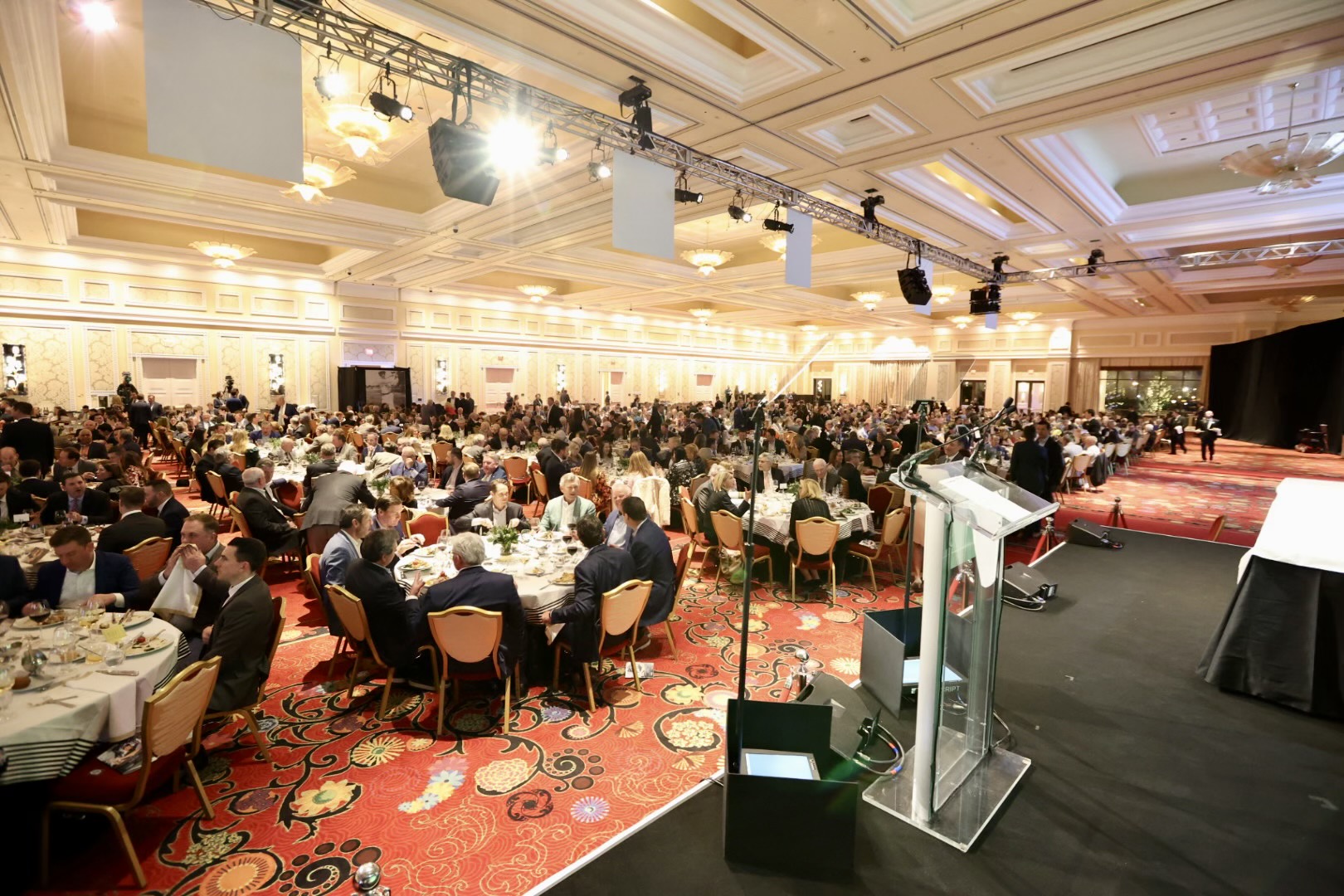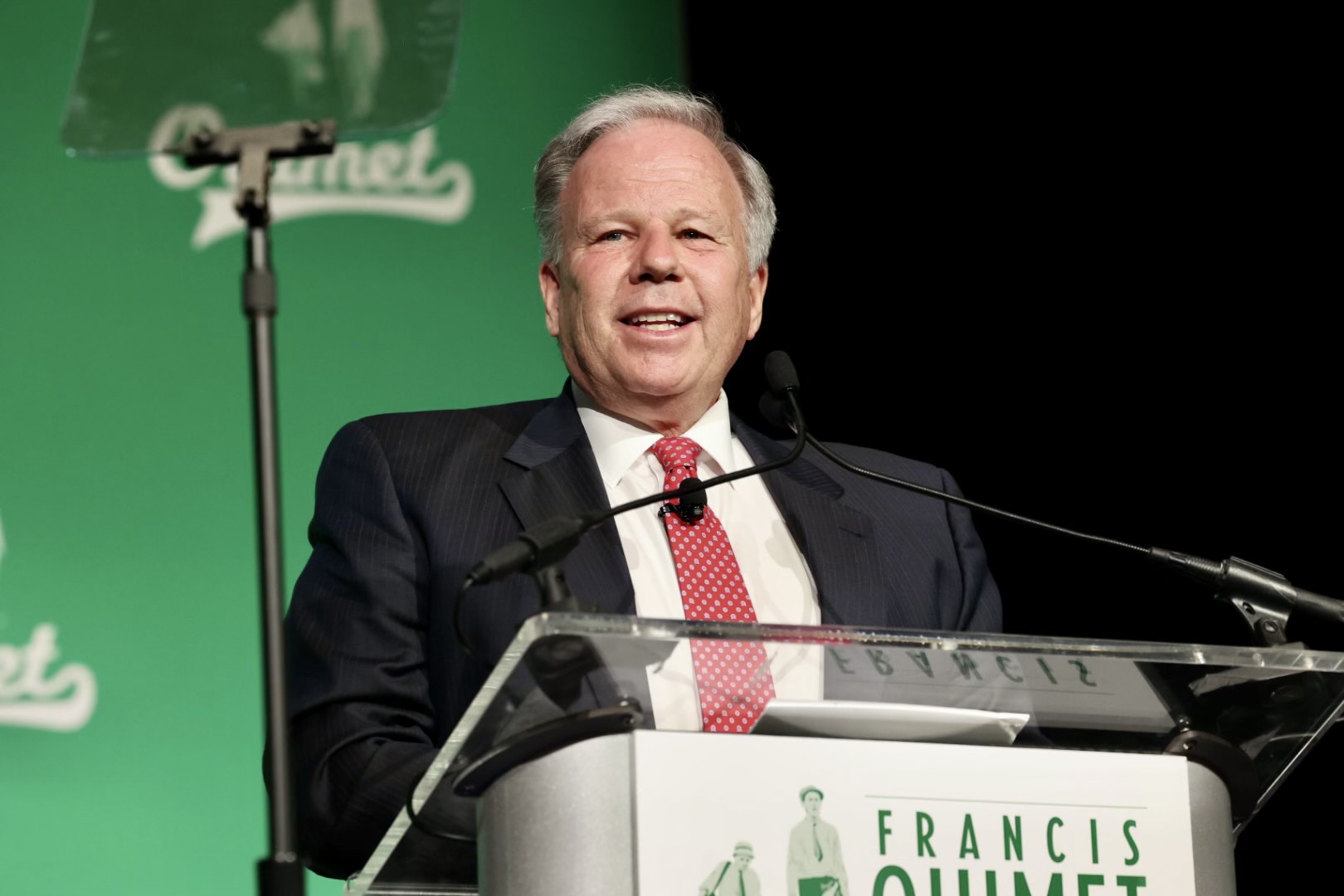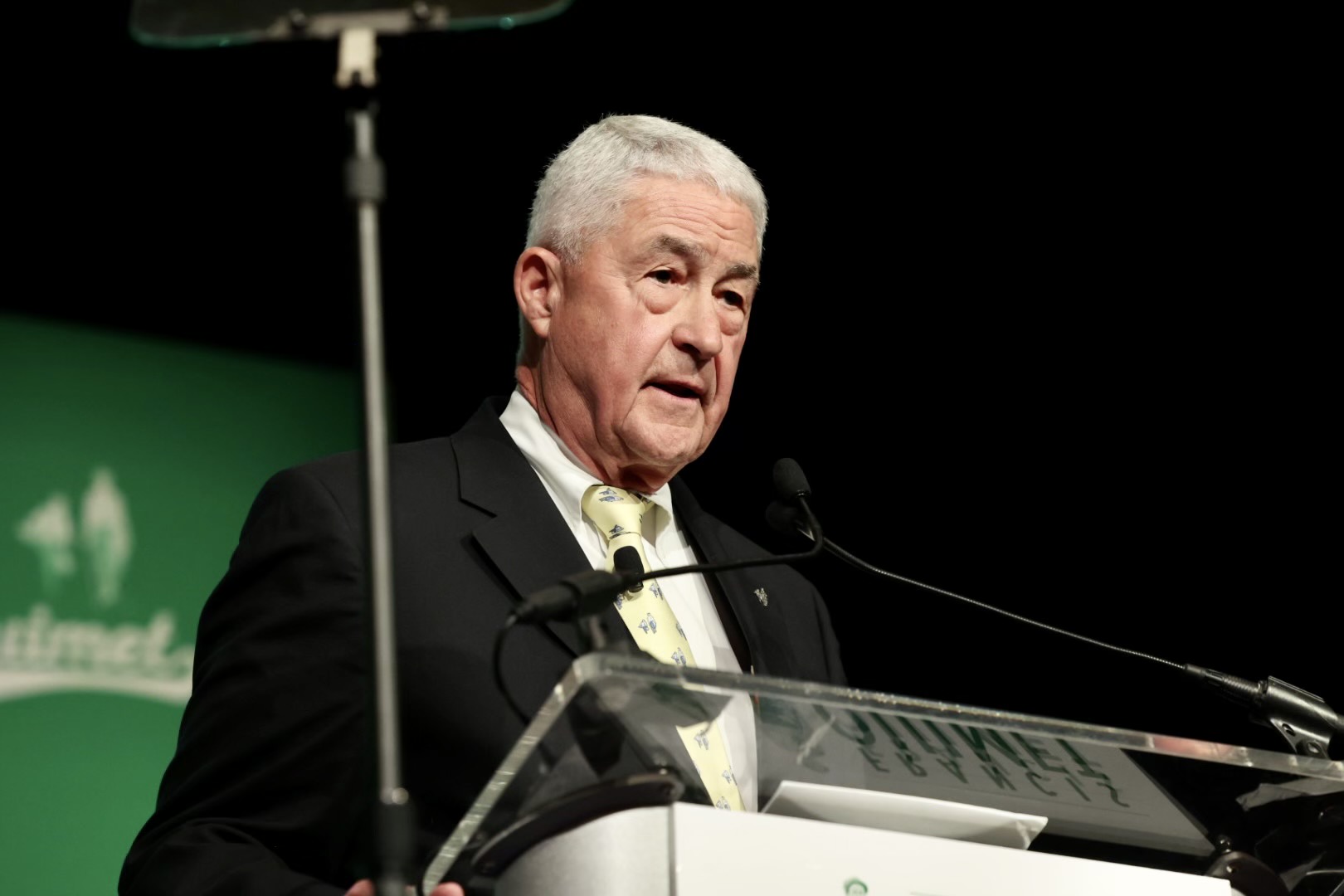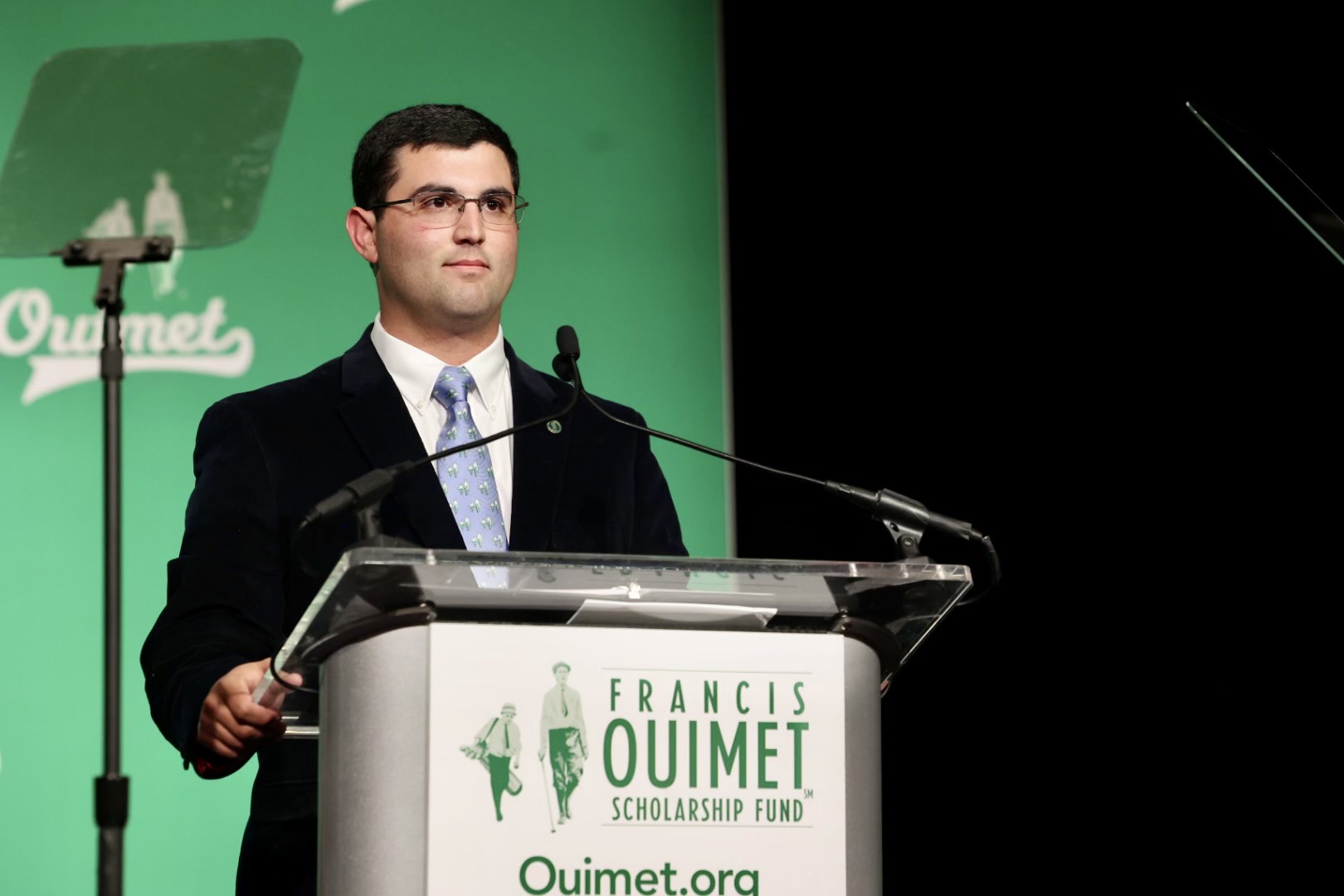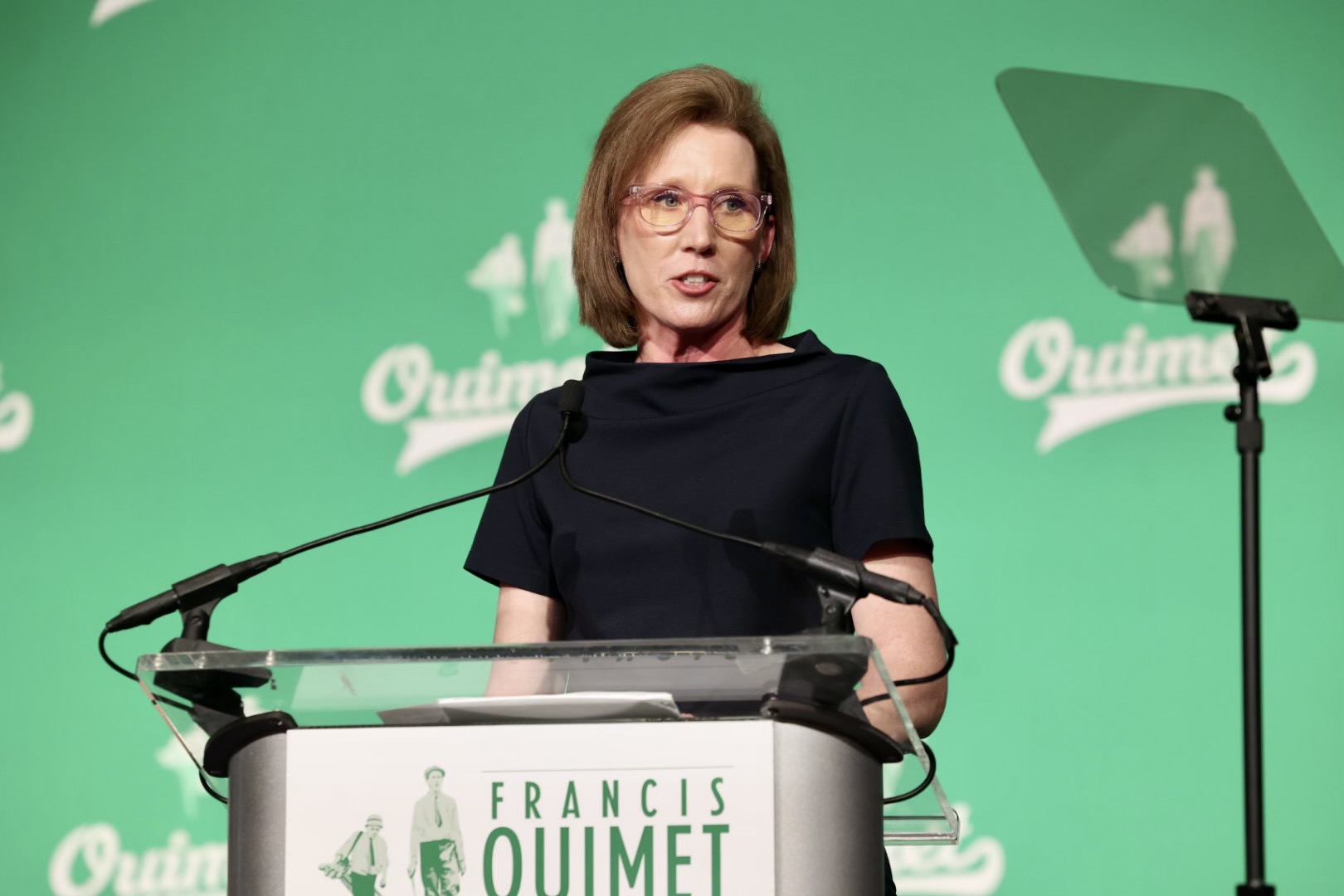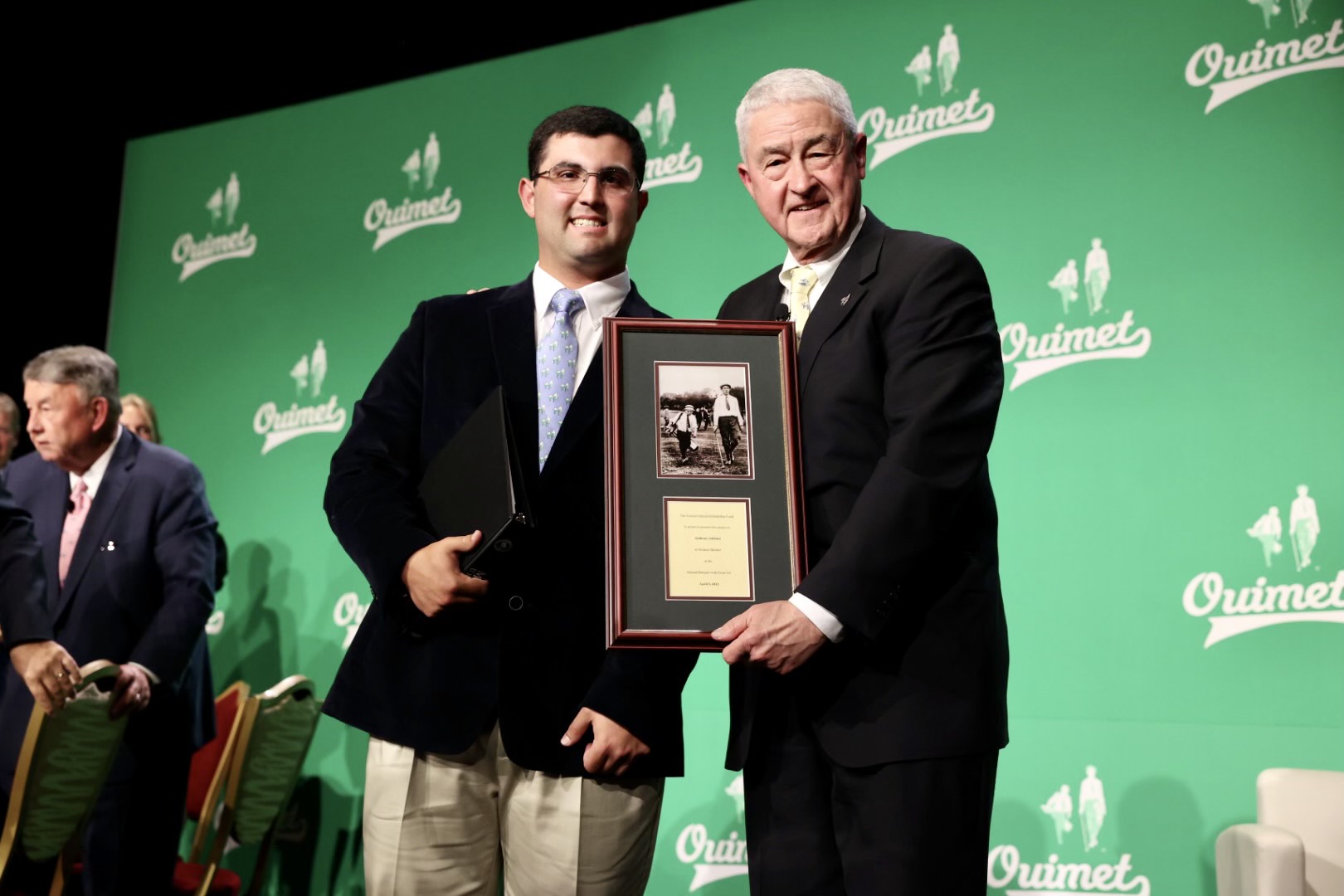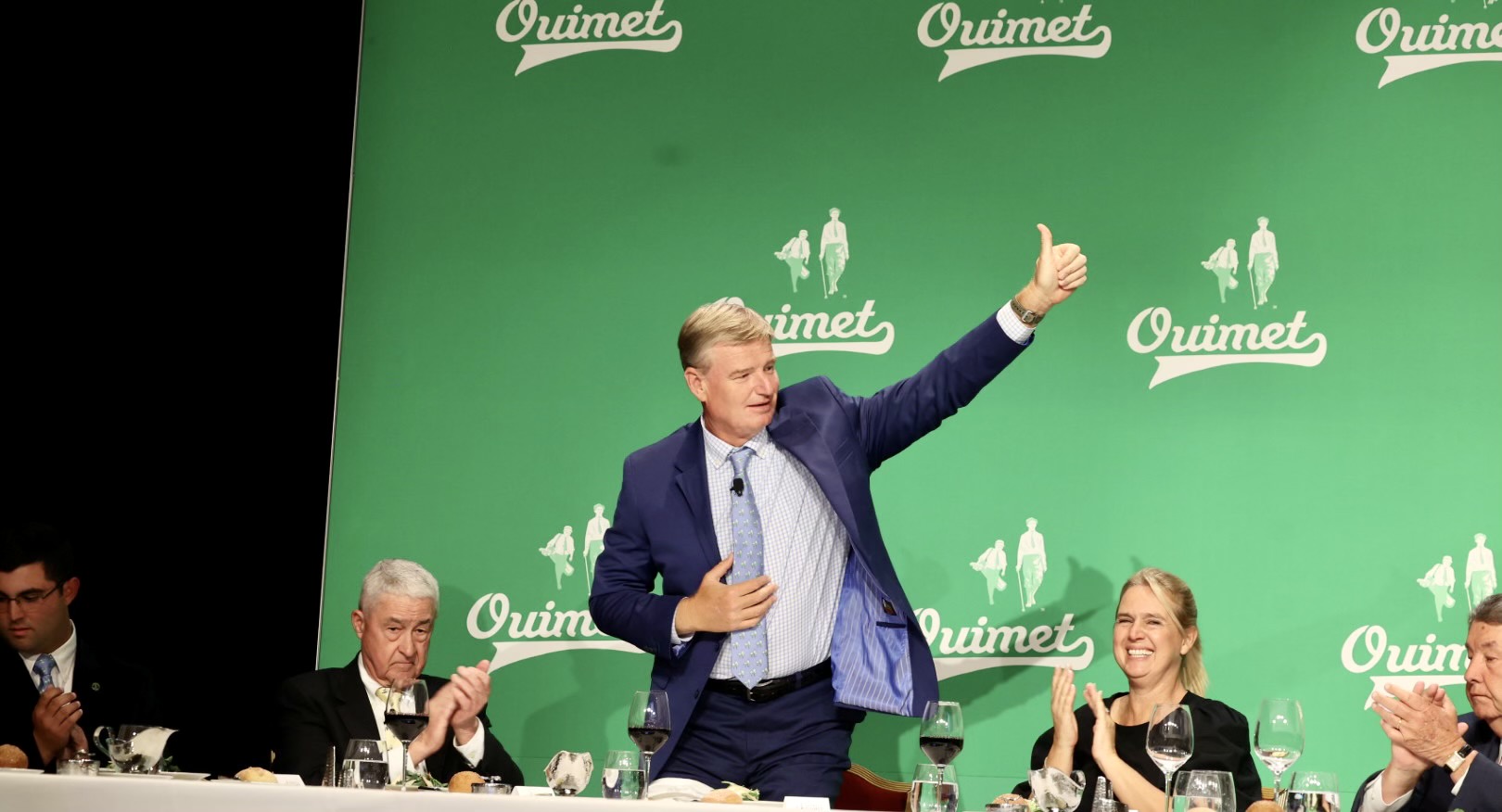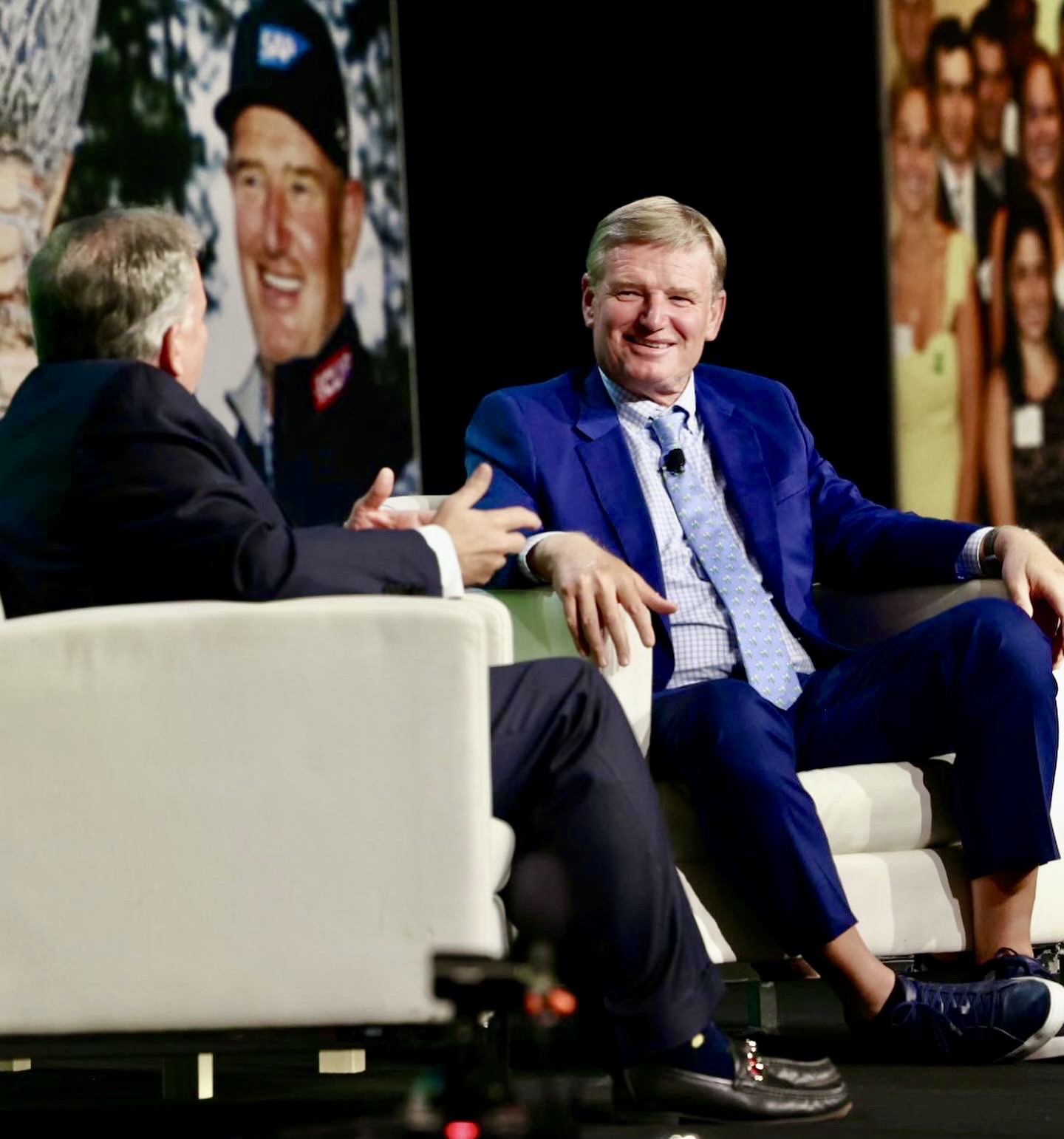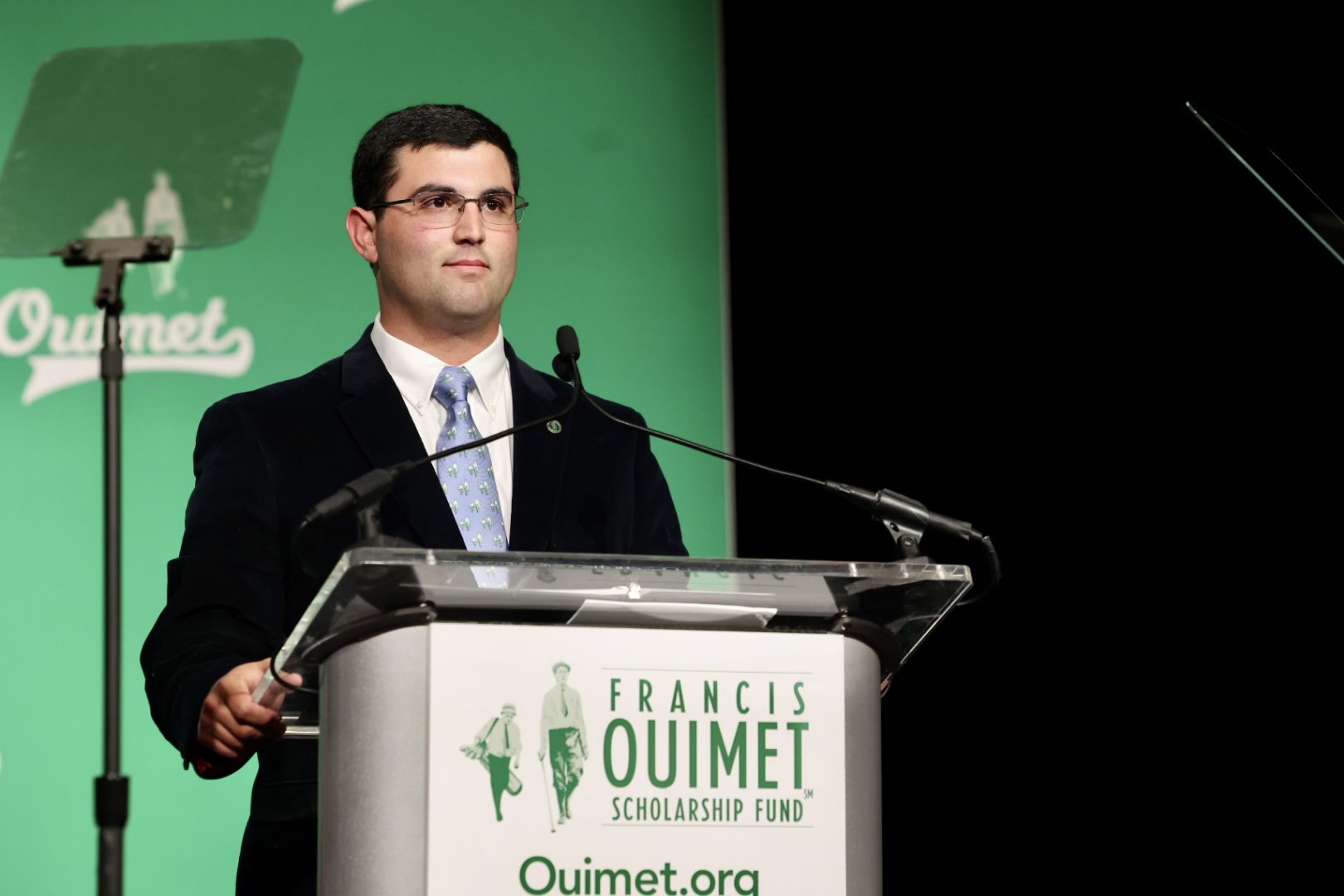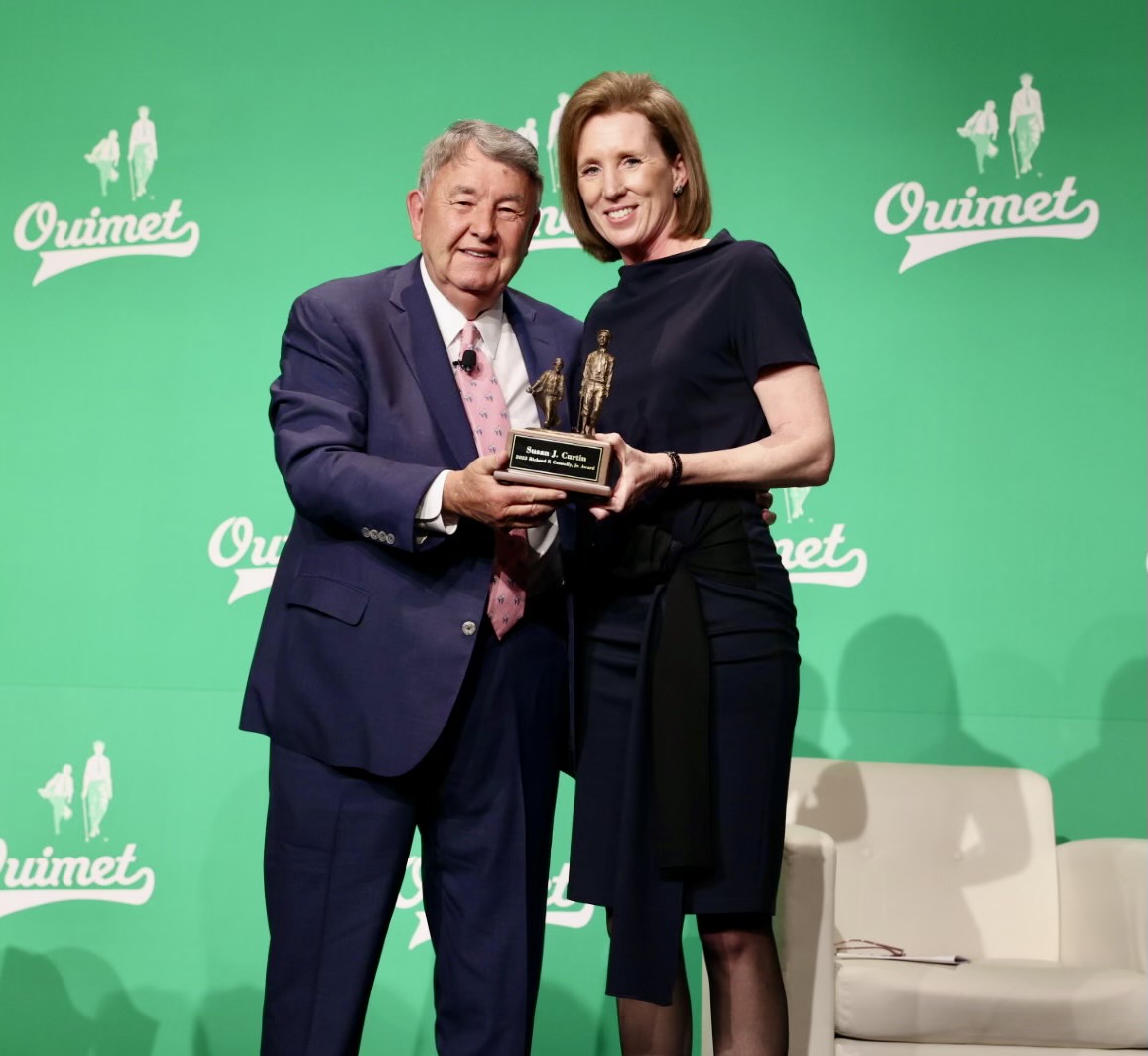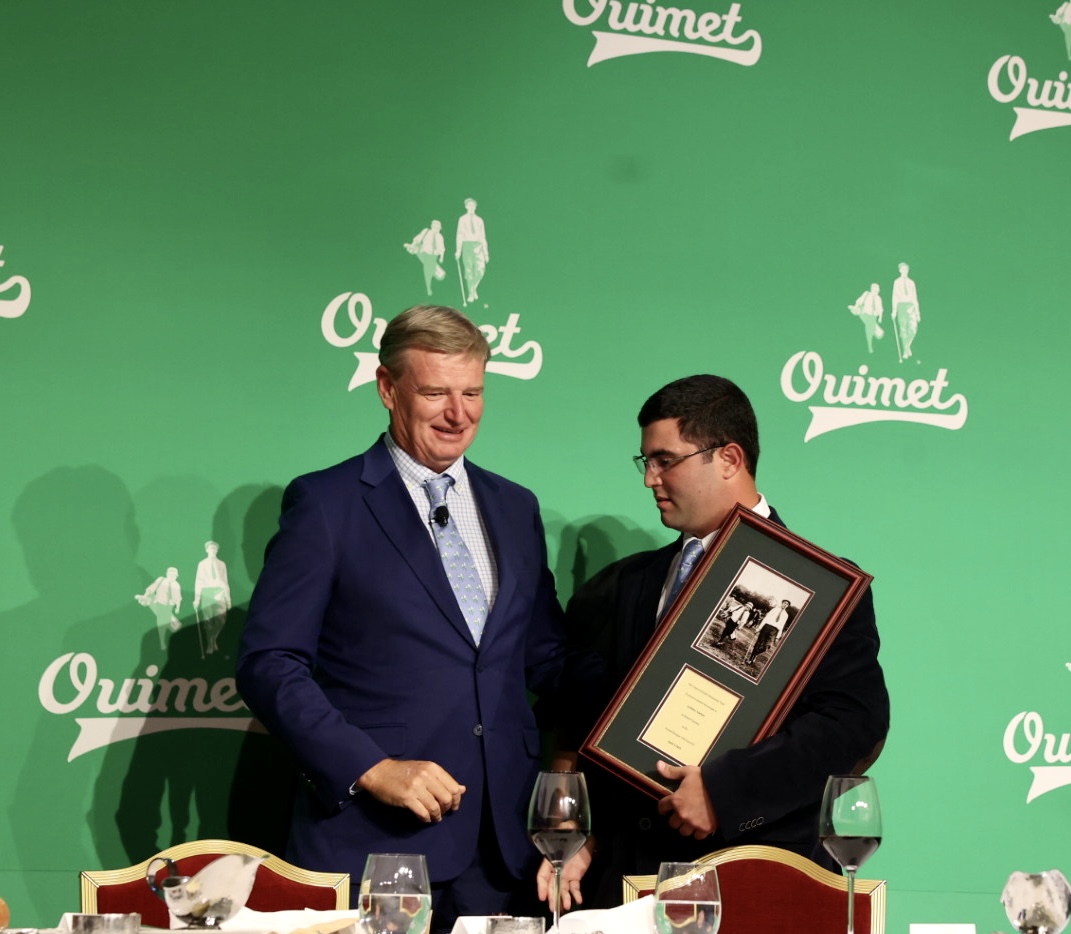 Student Speaker: Anthony Adelizzi
Congratulations to our 2023 Banquet Student Speaker, Anthony Adelizzi! Anthony is a current sophomore at Methodist University working toward his dream of becoming a Class A PGA professional. He completed his service at Hyannisport Club working in golf operations under the mentorship of Dave Wilson.
Before Anthony delivered a powerful speech that brought the entire crowd to its feet, guests watched the video below to hear his inspiring story of perseverance.
Watch Anthony's Remarks
Susan J. Curtin Receives 2023 Connolly Award
The annual Richard F. Connolly, Jr. Distinguished Service Award was established in 2000 in honor of Mr. Connolly, a Ouimet Scholarship Alumnus and former President who has proudly served the Ouimet Fund for over 40 years as Chairman of the Francis Ouimet Memorial Tournament. Mr. Connolly has been the driving force in starting the Francis Ouimet Award for Lifelong Contributions to Golf Annual Banquets, and has personally been their principal sponsor every year. He has also established an endowed Ouimet Scholarship in his family's name and was honored with the Ouimet Fund's Spirit of Golf Award in 2008. Dick Connolly is the embodiment of everything a Ouimet volunteer can be.
Susan Curtin has been a dedicated Ouimet Fund supporter for nearly 20 years. She is a Lifetime Member, passionate about caddie programs, and, as a former board member, led an impactful new effort in 2022. The Fund was thrilled to recognize Sue at the Annual Banquet with this distinguished service award in front of her friends and family.
Read More About Sue's Impact
Sponsors