2021 Annual Impact Report
Mission Statement
The Francis Ouimet Scholarship Fund awards significant need-based college scholarships to deserving students who have worked at Massachusetts golf courses.
2.75
Dollars Awarded for 2021-2022
Message from the President
October 25, 2021
Dear Ouimet Fund Friends,
On behalf of my fellow Ouimet Fund Directors, the staff, and the entire organization, I want to wish you and your family safety and health as we all continue to navigate a confusing and uncertain time, one that has been unbiased in challenging families, businesses, and organizations alike.
As I close out these last two years of my presidency, I want to thank each of you for your support of the Ouimet Fund. Throughout nearly the entirety of my role as President of the Ouimet Fund, we have been unsure if we could continue to meet the needs of the hundreds of families who rely on us each year to alleviate the difficulty of affording tuition. Last year, 25% of Ouimet Scholars experienced a parent lose a job, and the financial impact of that lingers even as we begin to move into a post-pandemic world. Generous donors, sponsors and families answered the call, and that support changed lives. It helped keep our Scholars' financial situation intact so that they could focus on their studies. We are proud to say that Scholars have maintained a 3.5 GPA average and are still graduating in four years at a 91% success rate. You had a direct impact in making that happen for these young people, and we enthusiastically thank you!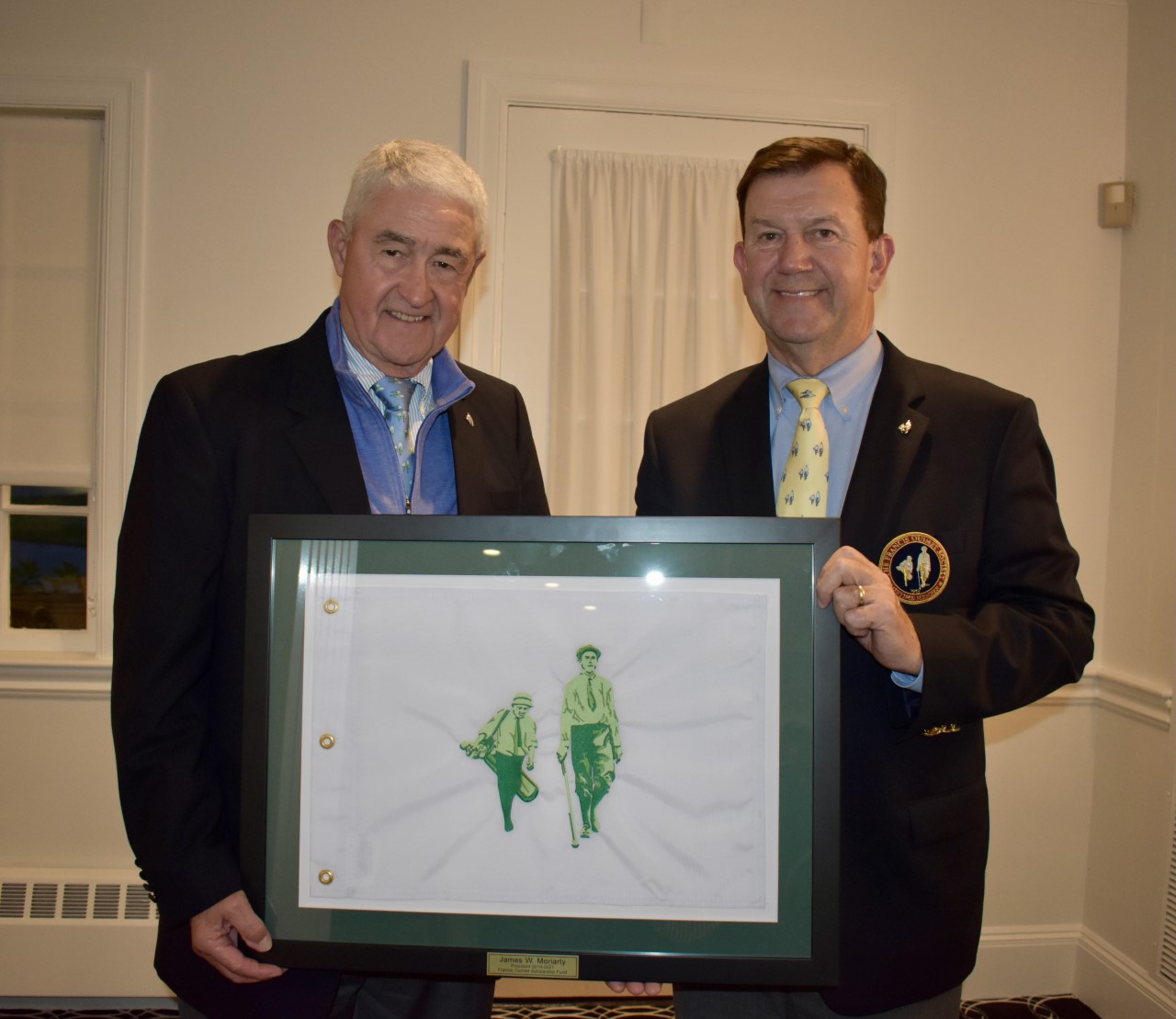 Additionally, we are so thankful to our strong foundation of representatives, both in the membership and the leadership, at our partner golf clubs and courses throughout Massachusetts. These representatives ensure that the Bag Tag Program, which is the backbone of The Fund, remains a priority for charitable giving. Each Ouimet Chair and Committee across the state should feel proud of the impact you are making on young Scholars. Your commitment to youth golf employees, your mentorship on and off the course, and your financial generosity is truly profound.
And finally, I'd like to thank my fellow members of the Ouimet Board of Directors and Executive Committee. We certainly got used to each other's different Zoom backgrounds during the past two years, but your dedication and commitment to the cause was a catalyst for so much of our success. Your strategic input has been so important, particularly in a time when Scholars need our assistance more than ever. Additionally, I am proud of our efficient, hardworking staff who has maneuvered so many "tough lies" during the past couple of years to not only meet our scholarship goals but to exceed them. We continue to keep administrative expenses under 10% and once again we have been given a four-star rating on Charity Navigator.
I have had the privilege of meeting so many amazing people through the Ouimet Fund, and as we tell our current Scholars, the Ouimet community simply continues to grow as the years go on. There have been many mentors whom I met as a caddie who inspired me to work hard, to help others, and to give back. We invite you to be mentors off the golf course by connecting to high performing Ouimet Scholars and Alumni and by participating in our free career services program, Ouimet Onward. Scholars and Alumni are encouraged to connect through the Career Fair and Career Portal regarding jobs and internships at your companies.
It has been an incredible honor to serve as your President and I am excited about Dr. Healy's leadership kicking off the next important chapter of the Ouimet legacy. The U.S. Open at The Country Club is just months away, and our organization's 75th anniversary is coming up in 2024. We couldn't be more excited for the opportunity to share Mr. Ouimet's legacy and our Scholars' stories, and in doing so, work to close the financial gap even more for our recipients!
Scholarship Application Process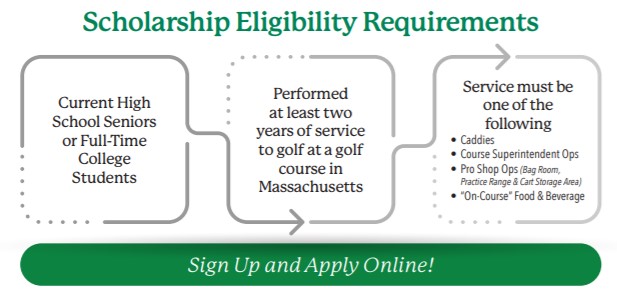 Scholar status is judged on academic achievement and potential leadership, including school and community activities, interviews, essays, motivation, character, integrity, golf service and various recommendations.
The Scholarship is a four-year renewable scholarship.  The Fund is an equal opportunity scholarship program and does not discriminate on the basis of sex, race, religion or ethnic origin.
Learn More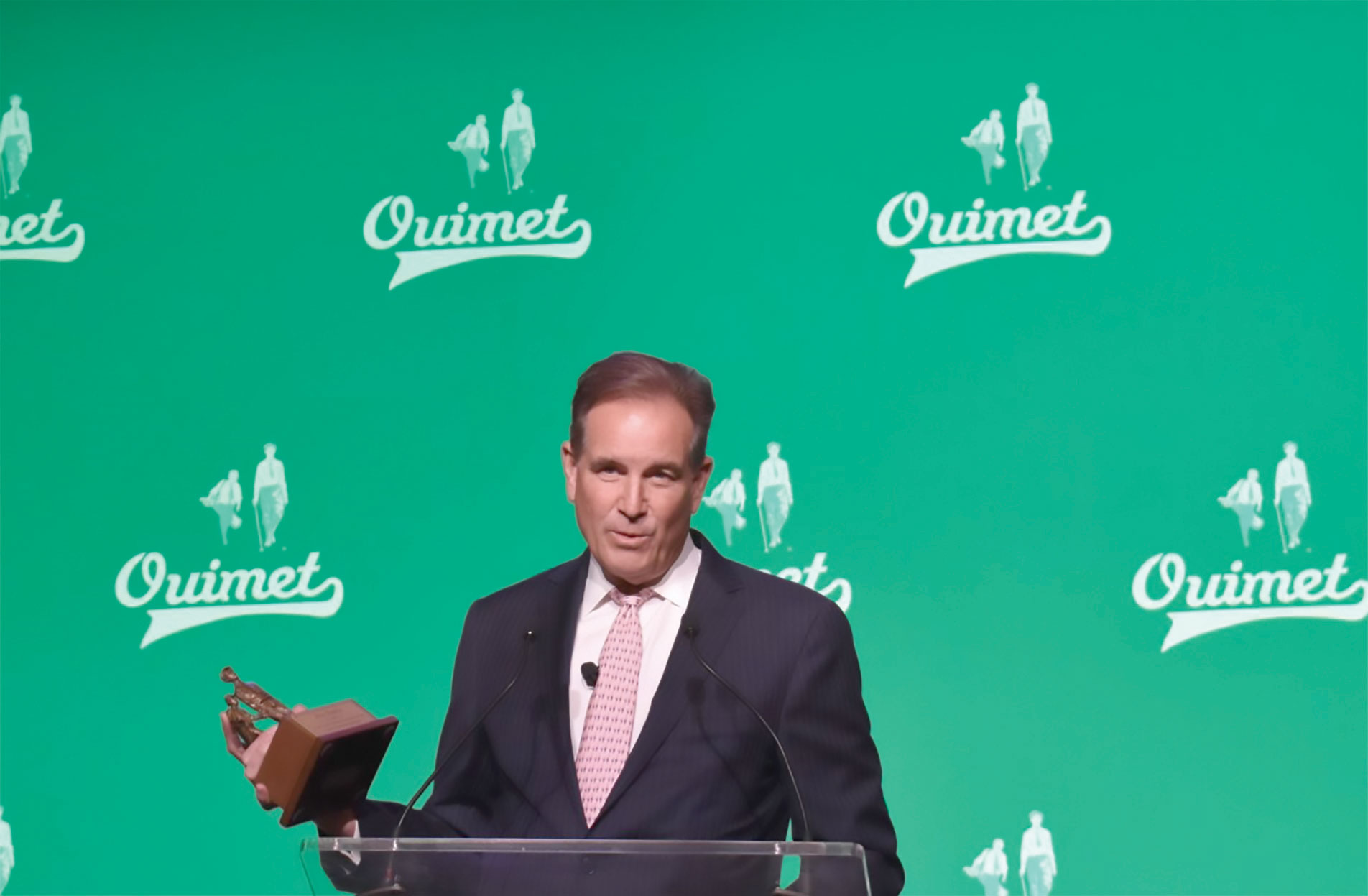 Jim Nantz Honored at Annual Banquet
Jim Nantz, the three-time Emmy Award winner and five-time National Sportscaster of the Year, will receive the 2021 Francis Ouimet Award for Lifetime Contributions to Golf! We are thrilled to have Jim as this year's Banquet Honoree, as his contributions to golf have been immense throughout his nearly forty-year career.
Read More
Bag Tag Program
Since the inception of the Bag Tag Program in 1955, donors across the state have annually contributed the "first" dollars to fund nearly 6,200 need-based Ouimet Scholarships. This tradition has been the backbone of all Ouimet fundraising programs and 100% of the Program's proceeds go directly to scholarships. Currently, there are 75 clubs that support the Program, 27 pf which have chosen to donate at a higher level and are recognized on the list at "Ouimet 100 Clubs."
Read More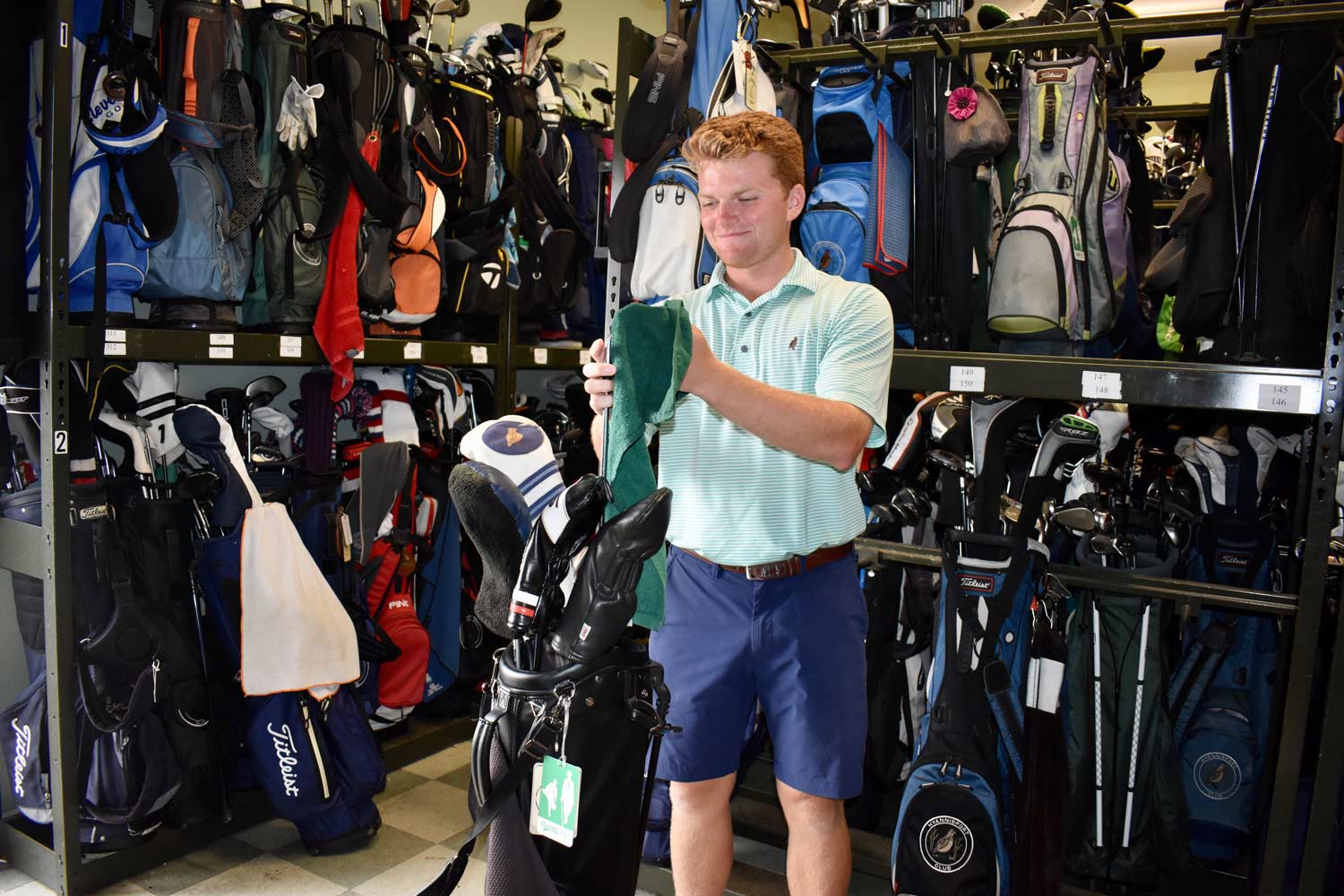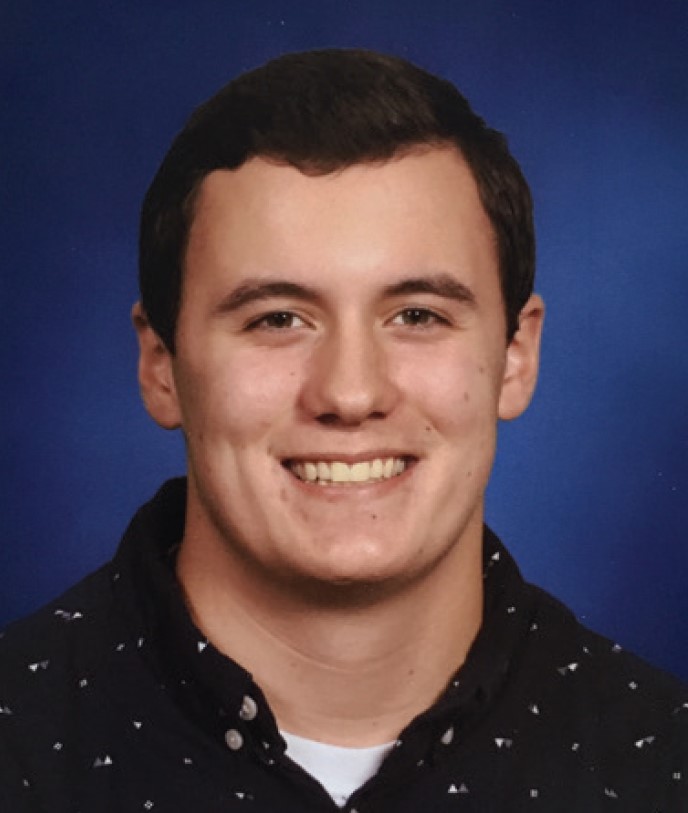 SCHOLAR SPOTLIGHT
Jake Boland
University of Notre Dame '22
Renaissance Golf Club
WHO IS YOUR FAVORITE GOLFER?
My favorite golfer has to be Hideki Matsuyama. He's a model of consistency and level-headedness, and a great ambassador and representative of the game for the nation of Japan. I think we can all relate to his struggle to break through and win his first major. Hideki's triumph at the Master's should be a lesson for all future golfers about dedication and perseverance.
HOW DID YOU LEARN ABOUT THE FUND?
I learned about The Fund right after I got my first job in golf. Even as a 16-year-old, every member I talked to was interested in my life, my passions, and my plan for the future. Often, I would be asked about my plans after high school, and infallibly every member would show me their bag tag and tell me to keep Ouimet in mind. I'm so incredibly lucky that it has become a reality for me, and I hope I can give back to students someday like the members did for me.
HOW HAS BEING A OUIMET SCHOLAR IMPACTED YOUR LIFE?
I think the biggest thing Ouimet has given me is the ability to spark a conversation in every interaction I have. Working in finance for the last few years, any time an interviewer or co-worker looks at my resume, immediately they ask me about the Ouimet Scholarship. Especially when the other party is a golf fan, that one little interaction helps both of us open up and discuss the game of golf, trade stories, and ultimately build a deeply personal relationship.
HOW HAVE YOU GOTTEN INVOLVED WITH THE FUND SINCE BECOMING A SCHOLAR?
I think my biggest engagement with The Fund has been serving as an "unofficial" ambassador in every interaction I have. The most important thing we can do as Scholars is to let the next generation of Scholars know about the opportunities available to them, and make members aware of the difference they can make for people like me through donating and becoming involved in the Ouimet organization.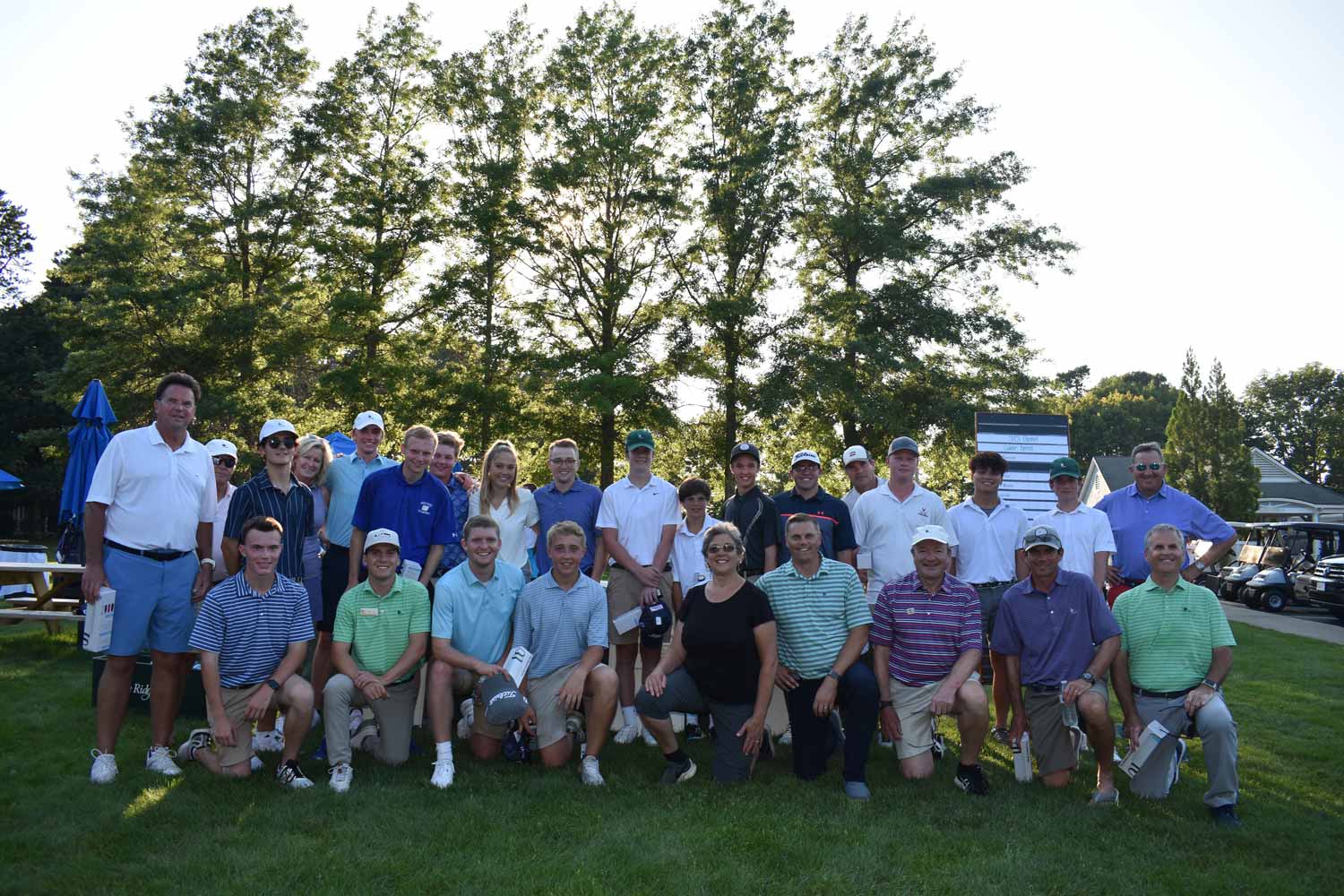 Golf Sprint
Over the last 28 years, the Ouimet Fund had been building what became the country's largest Golf Marathon, an event which raised more than $6 million dollars. Despite facing trying times, 2021 allowed our eager participants to remain involved and ultimately set new records under the new Golf Sprint format.
Read More
Inner-City Program
The Ouimet Fund's Director of Scholarships, Michelle Edwards, attended the orientation at both Franklin Park and George Wright in June and talked to students and parents in person about the Ouimet Scholarship opportunity. This year we are thrilled to have 31 Ouimet Scholars from the two sites, a figure which has grown from 9 in 2015. For 26 years, more than 162 scholars from Franklin Park and George Wright have benefited from this program and have received $2,094,180 in Ouimet Scholarships.
Read More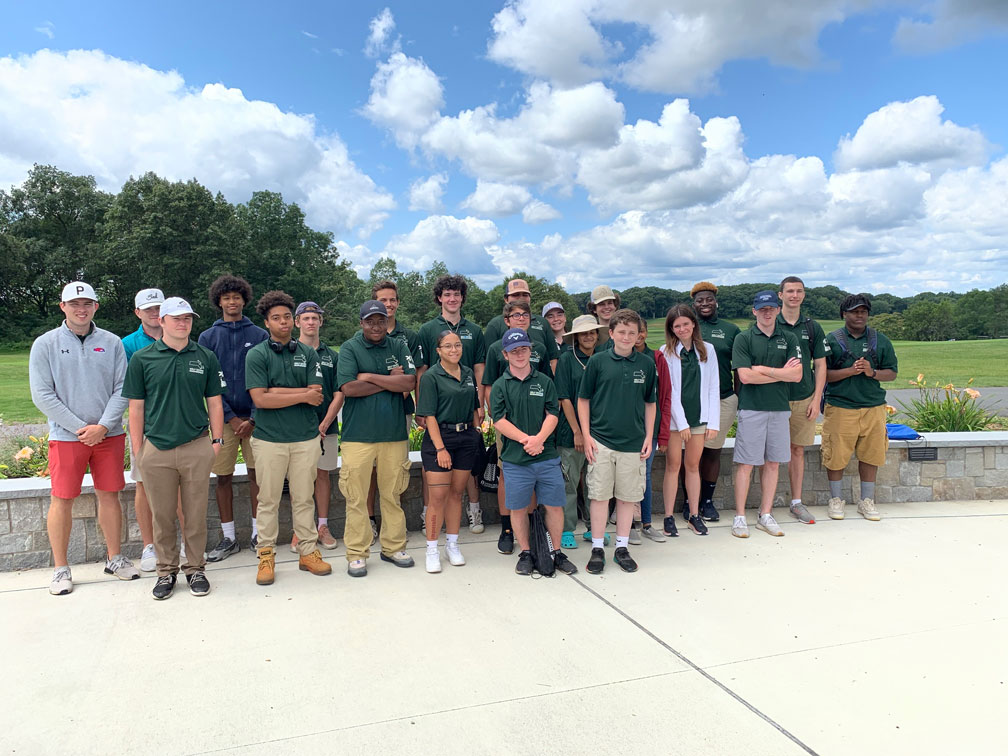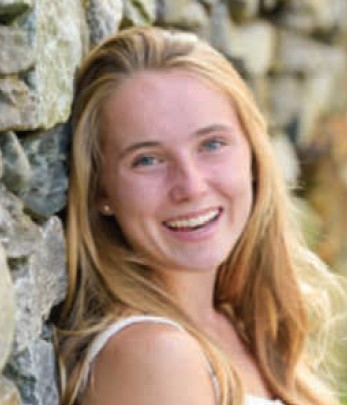 SCHOLAR SPOTLIGHT
Maura McNamara
Hobart and William Smith Colleges '22
Worcester Country Club
WHAT'S YOUR FAVORITE SNACK TO ENJOY WHILE ON THE GOLF COURSE?
Lemonade and a granola bar.
WHAT IS YOUR FONDEST MEMORY FROM WORKING IN GOLF?
I really enjoy our biggest event of the year; the Member-Guest Tournament. Everything from the preparation in the days leading up to the three-day event through the very end of the grand march is filled with excitement. These tournaments are so memorable because the whole club comes together to put on our best service, and we have a blast while doing it. I especially enjoy driving out along the course to see how people are doing. It's a great time for not only those playing, but also for all of us working.
HOW DID YOU LEARN ABOUT THE FUND?
My bosses and a vast number of members continuously encouraged me to apply any chance they got. They raved about how incredible the Ouimet Foundation is and I completely understand why, since The Fund has been so helpful in allowing me to afford school.
WHAT HAS BEING A OUIMET SCHOLAR MEANT TO YOU?
It has reduced the burden of paying for tuition heavily and allowed me to be more involved in the activities I love most here like cross country, work in the Centennial Leadership program, and the HWS student investment committee. I am confident if I wasn't a Ouimet Scholar, I wouldn't have the chance to be as immersed in these activities as I want to be. I am so grateful for everything The Fund has done for my education.
Career Resources Expand with Ouimet Onward Program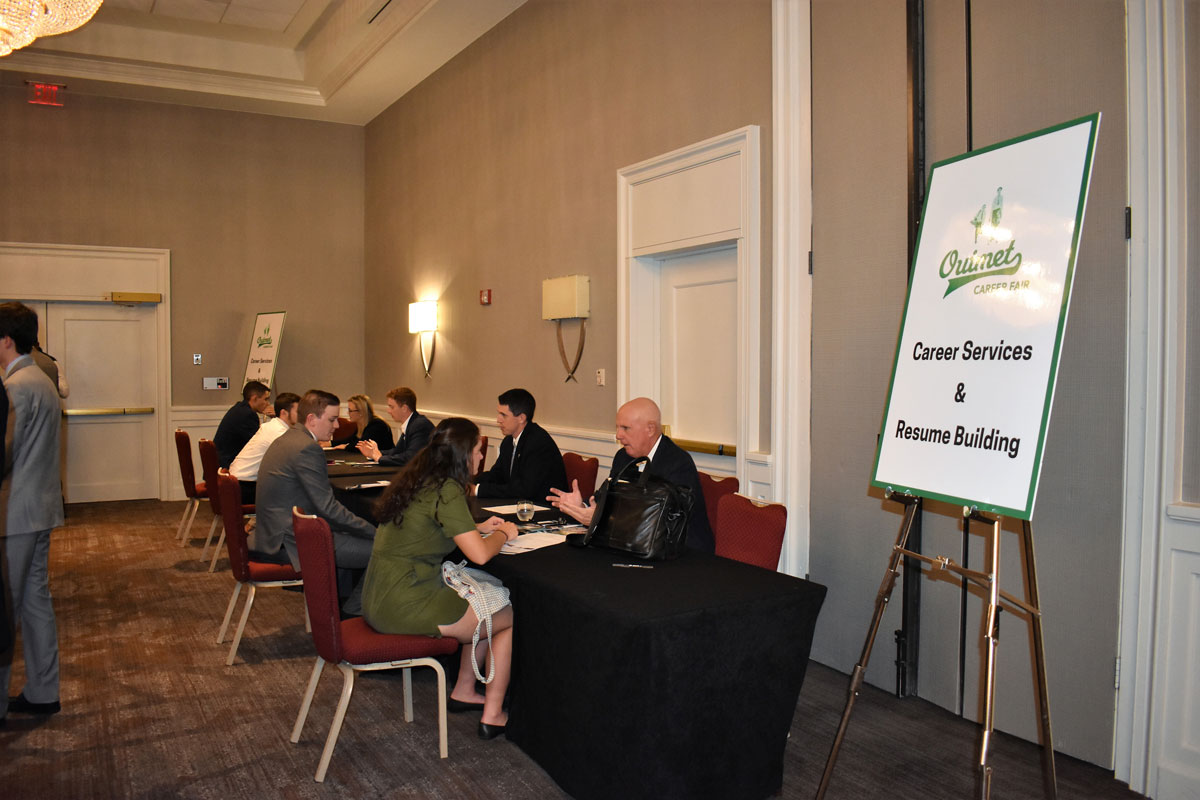 Launched in 2020 and expanding in 2021, the Ouimet Onward program assists Scholars and Alumni with finding job and internship opportunities, as well as growing their respective professional networks. The Career Fair, Career Portal, and Networking Events are an all-encompassing offering to our Scholars and Alumni to assist with their professional trajectory. The goal is to continue to connect our wide Alumni base, as well as our corporate sponsors and generous donors, with Ouimet Scholars & Alumni seeking internships or full-time employment. Ouimet Scholars and Alumni are chosen after a rigorous application and interview process, and are the cream of the crop in their schools.
As the Ouimet Fund continues to expand its efforts in helping Scholars and Alumni not just in school but beyond the classroom, the Ouimet Career & Networking Resources will be the cornerstone of those efforts and the backbone of The Fund's networking campaigns.
Learn More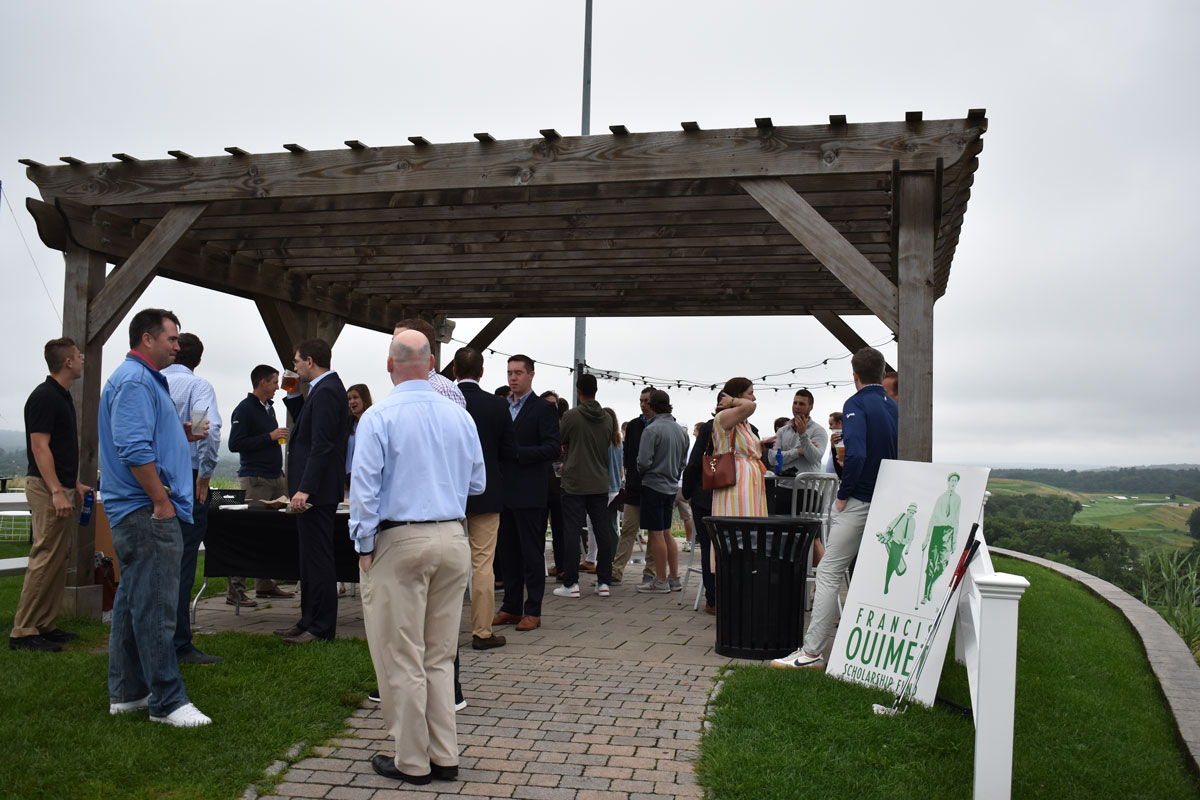 Alumni Community
The Ouimet Fund is proud to report another year of growth in giving among our Alumni! Our Ouimet Alumni Community is nearly 6,200 strong across the country, and it is exciting to see Alumni continuing to pay it forward to the young men and women who now need their support.
Read More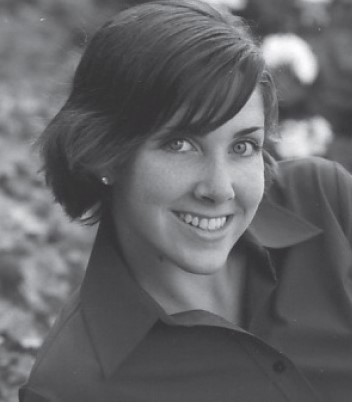 ALUMNI SPOTLIGHT
Caitlin Cavanaugh
Merrimack College '08
George Wright Golf Course
WHAT'S YOUR FAVORITE GOLF COURSE YOU'VE EVER PLAYED?
George Wright – it's where I learned how to play golf and where I was a caddie, so it will always hold a special place in my heart.
IF YOU COULD PLAY A ROUND OF GOLF WITH ANY THREE PEOPLE, WHO WOULD YOU CHOOSE?
Francis Ouimet, Georgia O'Keeffe, and Taylor Swift.
HOW DID BEING A OUIMET SCHOLAR IMPACT YOU WHILE YOU WERE IN SCHOOL?
I wouldn't have been able to attend my school of choice if I weren't a Ouimet Scholar. In addition to being able to attend my dream school, I appreciated it even more, knowing it wouldn't have been possible without the generosity of Ouimet alumni before me.
HOW HAVE YOU GOTTEN MORE INVOLVED WITH THE FUND SINCE BECOMING AN ALUM?
I was recently honored when I was asked to become a board member and give back in different, meaningful ways by conducting scholar interviews and attending more events. I am so thrilled to be able to pay it forward.
WHAT IS THE GREATEST LESSON YOU'VE LEARNED FROM WORKING IN GOLF?
Patience! You need to be patient in golf and in life – take everything one step at a time and make thoughtful decisions.
Supporting Clubs Continue to Reinforce Crucial Ouimet Programs
At each supporting club, a variety of critical representatives make the Ouimet programs a success.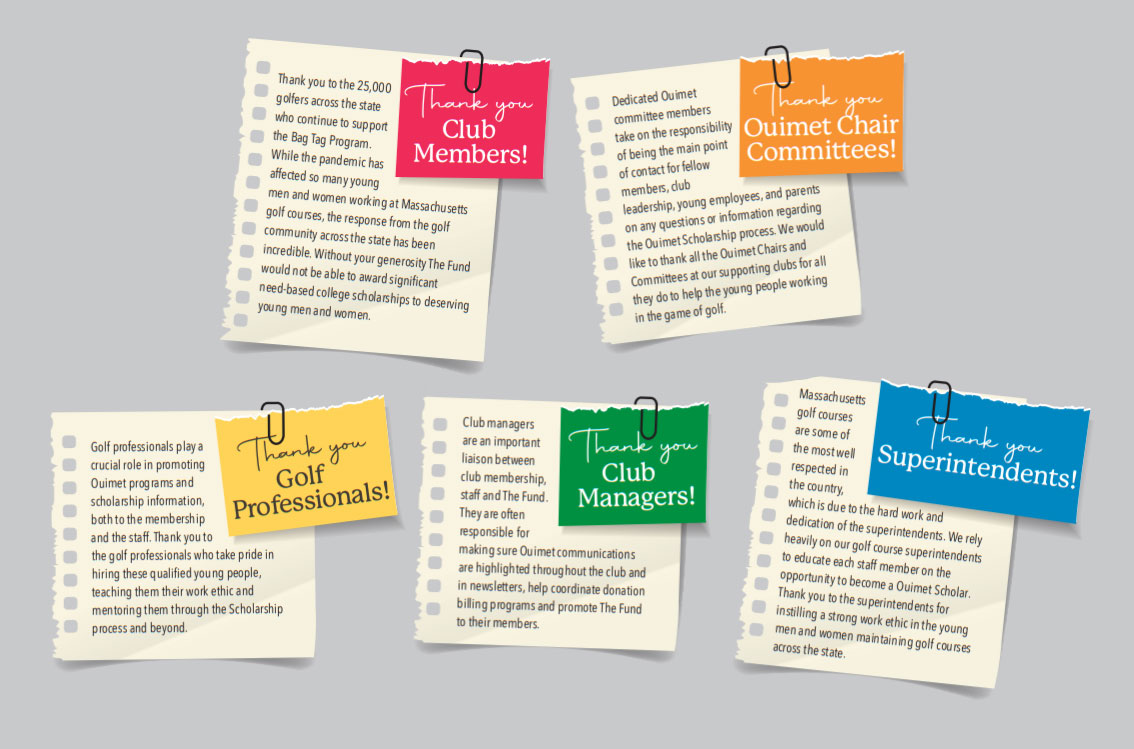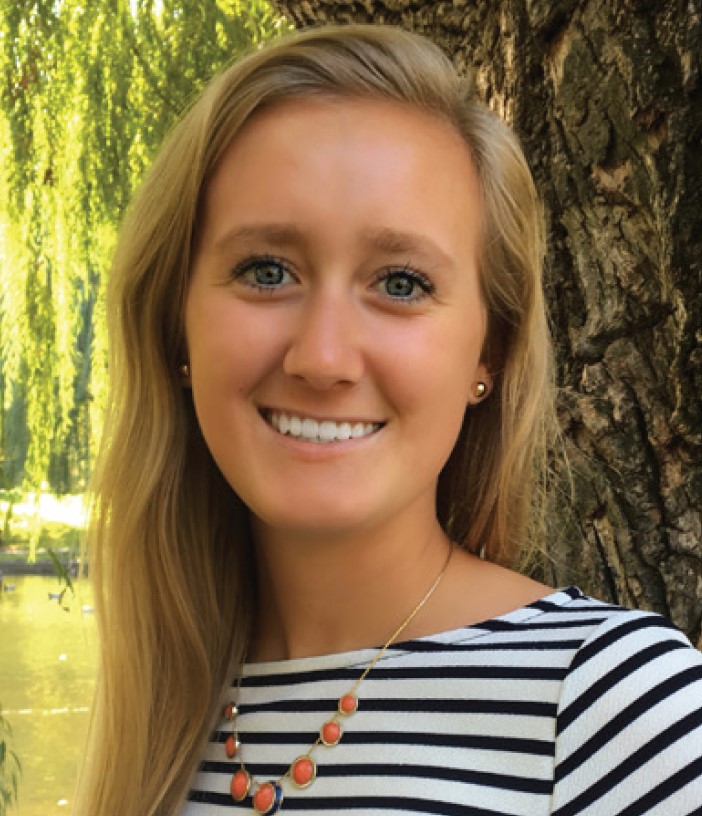 SCHOLAR SPOTLIGHT
Kelsey Cronin
Suffolk University '22
The Ridge Country Club
I started working at The Ridge Club my junior year of high school and that was my introduction to the world of golf. I've been at the club for four seasons, working in the cart barn, as the beverage cart girl, and helping with events. Having a variety of roles has exposed me to many leadership styles and improved my interpersonal and customer service skills, which I've incorporated into my academics and non-profit management work. Between the networking opportunities and forming meaningful relationships, working at The Ridge Club impacted both my personal and professional development and gave me a new appreciation for the golf operation and how much goes on behind the scenes.
Personally, having suffered five concussions, I have cognitive disabilities which makes school very challenging. This past spring, I was diagnosed with hyperacusis, a rare auditory disability, so I am physically not able to work, which is why receiving support from The Fund during this time has been such a blessing. My dad is in the military, and we are a single-income family, so without my scholarship, I wouldn't be able to attend Suffolk University where I am currently a senior. As an Art History major, I will need my Master's at the minimum, so being able to leave college debt-free gives me the ability to pursue my passion with reduced financial worries, and for that I am incredibly grateful to all the Ouimet donors!
In my time I have learned that all Ouimet Scholars are determined and hardworking, so my diagnosis is just another uphill battle I will conquer, like the many battles other Ouimet Scholars face. This past year has taught me the importance of resilience, and I am now interested in pursuing a Master's in non-profit management since I recognize first-hand the unbelievable impact. I can't thank all the donors and supporters enough for all you've done to change my life!