The Francis Ouimet Scholarship Fund renamed its "Honorary Alumnus Award" after Denny Goodrich when he retired from the Ouimet Fund's Board of Directors in 2009 after 37 years of service. Mr. Goodrich, of Dedham Country and Polo Club, was the inaugural recipient of the award in 2003 and also the Ouimet Fund's Richard F. Connolly, Jr. Distinguished Service Award's awardee in its debut year of 2000. For 13 years, he served as the Vice Chair of the Ouimet Fund's Annual Banquets and as Ouimet Fund President from 1990-1992. Denny is the epitome of a Ouimet Alumnus, and this is a special way to always remember his immense contributions to The Fund. The "Honorary Alumnus" must have been generous in their support of the Ouimet Fund, either by contributing financially or by volunteer or exceptional professional service.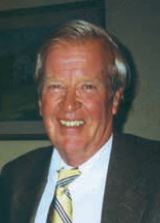 The Francis Ouimet Scholarship Fund awarded its 2020 Denny Goodrich Ouimet Honorary Alumnus Award to the Pitts family.  It is fair to say that their "service" to the game of golf would be considered scratch by any golf standards!
Fordie and Mary Lou Pitts were avid golfers and the late couple could be seen on fairways across the state playing this great game for many years.  The pair originally met at Scituate Country Club one summer where Fordie was giving lessons as a golf pro.  Over the years, their children, in-laws and many grandchildren enjoyed a similar appreciation for the game which continues as a family tradition. Their daughter Lorraine, who recently retired from the New Hampshire school system as an occupational therapist, played for many years in the South Shore League. Their daughter Karen got into the golf retail industry early on, and teamed up with her parents over the years for more than one memorable trophy. Despite being blessed with a great swing, their daughter Corinne does not play much, but her husband and son certainly play enough for the three of them! Their son Fordie III has been with Titleist in their Golf Ball Research and Development and Tour Consulting department for over 20 years and is an instrumental piece of their business and brand.  Daughter Mary Lou, who spoke at the October presentation, is President of Titleist Golf Balls and has been with Acushnet Company for more than 30 years.
In 2011, Mary Lou Pitts created the Fordie H. Pitts, Jr. Scholarship, an endowed award with the Ouimet Fund to honor her late husband who was loved in the local and nation golf community and served as a mentor to many. In a professional capacity, Titleist, through the blessing of young Mary Lou, continues to donate invaluable golf products to the Ouimet Fund, which allows us to minimize costs at our events and maximize our impact with participants.  Education has always been an important fabric of the Pitts family and we are proud to have such a strong connection to them through golf.
"The Pitts family checks all the boxes to earn this special award," commented Executive Director Colin McGuire this fall when he presented the award.  "Golf is in their blood, as are the strong values learned on the golf course including hard work, honesty, passion, mentorship to young people, the importance of education and consistent philanthropy.  We are proud to recognize for their impact on not only the game of golf but on the young Ouimet Scholars of the Ouimet Fund!"