America's Largest Golf Sprint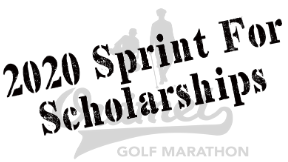 2020 Golf Marathon, Sprint for Scholarships Edition!
For the last 28 years, the Ouimet Fund had been building what became the country's largest Golf Marathon, an event that raised more than $6 million dollars. Despite facing trying times, 2020 allowed our eager participants to remain involved and ultimately set new records under the new Golf Sprint format.
Sprinters took on the challenge to play as many holes as possible in one hour to raise money for Ouimet Scholarships. Participants competed at more than 40 sites across the state, allowing many more people to get involved and share their own Ouimet message with fellow members, family, friends & colleagues.
We are incredibly grateful to all the sprinters, fundraisers and donors who made this annual event a success again this year. Everyone involved should be proud to be a part of a record breaking $420,000 event.
The money raised in the Golf Sprint is a crucial part of the $2.5 Million awarded in scholarships each year. These dollars will make a huge difference in the lives of Ouimet Scholars, many of whom would be unable to attend college this fall if it weren't for their award!
2020 Golf Marathon, Sprint for Scholarships Leaderboard
How to become a golf sprinter!
Register/create your fundraising page
Secure 1 hour at your home course
Share your page with family, friends & colleagues
REGISTER NOW
Marathon History
The first Ouimet Golf Marathon was held at Stow Acres Country Club in 1993, raising $120,000 in its inaugural year. Over the last 27 years, the event has grown annually and has continued to attract new golf course and club teams, as well as dozens of individuals fundraising from their personal networks. This event is the second largest on The Fund's calendar and is critical to the growth of need-based scholarships. Since its inception, more than $7 million has been raised and over 142,000 holes have been played. The Ouimet Golf Marathon remains the leading fundraising Golf Marathon in the United States.